When questioning some aspects of your home, water supply line efficiency or repairs shouldn't be amongst the things to consider. Determining your plumbing's efficiency and condition should be left to an expert. Water supply and waste removal are what makes your life run smoothly. From using it in food preparation, house cleaning to getting a healthy and appealing look. That's why it should be a top priority in making the water supply line always effective. This is where the importance of getting a water supply line replacement expert comes in when one is needed.
You'll receive quality from the experts in the water supply line industry. They will also provide top-notch services that are long-lasting. The only hurdle is how to find a trusted water supply line replacement expert. If you reside in NYC, Team Balkan is your answer.
Here are quick facts to finding ideal experts in your neighborhood:
Have vast working experience in your area
Proven portfolios backed up by positive online reviews
Standing ovation reputation in the neighborhood. Go talk to a neighbor that's had a water supply line replacement done already.
But getting the experts in a home's water line is challenging, making many property owners shy away from the search. Unscrupulous contractors purport to know the plumbing craft but, when presented with the project, tarnish the names of noble contractors who diligently accomplish the water supply line replacement task.
Whether you're searching for a water line repairs technician or want an expert for the same, contact a reputable company. Balkan Sewer and Water Main Service prides itself in offering quality services and has no possession in profit-making.
Reasons Why Balkan is NYC's Water Supply Line Replacement Expert
After over 70 years in business and over 90,000 satisfied customers, there's many reasons why Balkan is The team You trust.
Quality Customer Care
The first impression everyone looks for anywhere is a welcoming service. From your first interaction, Team Balkan will treat you with courtesy, respect, and understanding. When you make a call, send an email, or visit our offices in NYC, you will always get a warm welcome to make an inquiry or when making an appointment.
Our customer care is supportive and will guide you through the inquiry until you find the required satisfaction. We are your ultimate plumbing partner for all residential and commercial properties.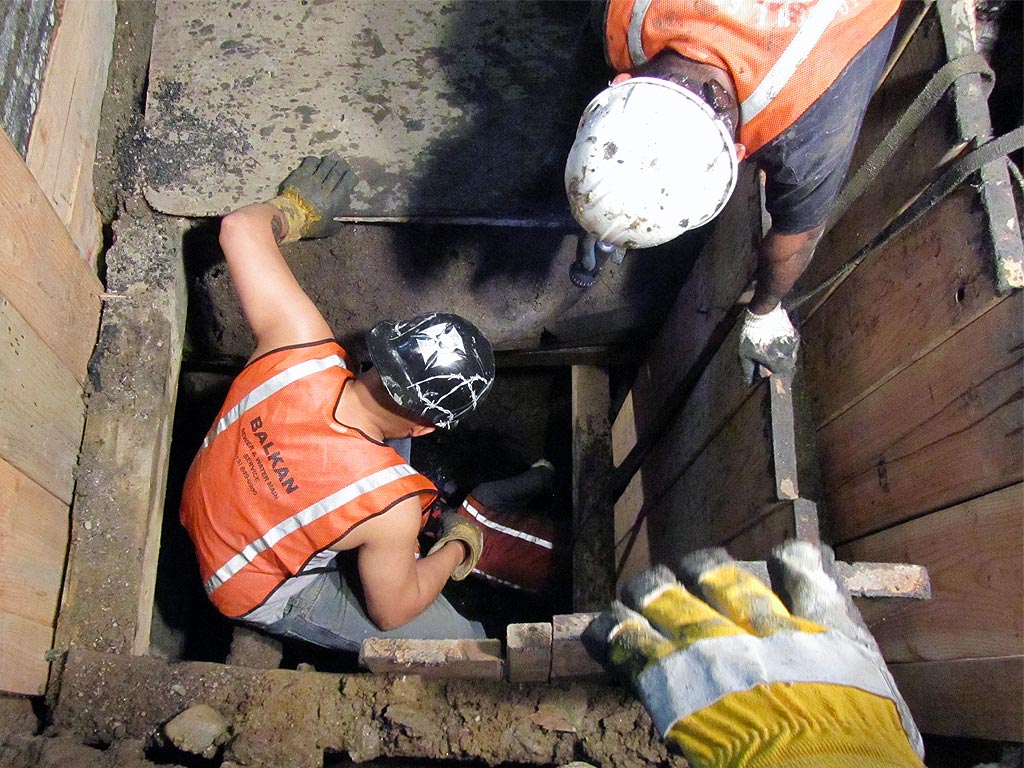 Free and No Obligation On-Site Inspection for Water Supply Line Replacement Work
The first step to assessing the type of problem in your water line is through inspection, which we offer at no cost. When you alert us of an impending problem, we reach the site to know whether you need a sewer repair, water main replacement, sewer line replacement, new installations, or line disconnections affecting your water line.
After the inspection, it's when the professionals begin their craft to fix the available plumbing problem. The free inspection cost is an indication that we value your well-being as opposed to wanting to extort you. Besides, it's after evaluation that you'll be presented with a rough estimate of the total cost of the repair or replacement, a reason to contact us for all your water line maintenance and care.
Expert Plumbing Craftsmen and Superior Plumbing Materials
Even though companies ride over the reputation tag, most of the time, the success is determined by the craftsmen. A team of experts who enjoy their work is what Balkan is composed of for the years it has been in service.
We are a company of technicians having constant training on the latest plumbing methods, equipment use, and acquisition of relevant skills to accomplish sewer and water main services, making us the market leader touching a wider clientele within NYC.
If there is no reason to hire us for your plumbing works, perhaps our confident and skilled craftsmen should be the only leeway to have us do magic on your property.
A 10 Year Unconditional Guarantee on Water Supply Line Replacement Work
When looking for a caring partner, a company offering a service guarantee tops the list. And that is the unbeatable offer the Balkan team prides itself on all the time. Balkan will provide a ten year unconditional guarantee for all your sewer and water supply line replacement work. The Balkan guarantee includes all costs associated, including materials, labor, permits, as well as any restoration that may be required.
We offer the ten years because we don't gamble when working on your project. The task is given the best approach with an able team to guarantee its durability. However, if your damage comes because of a third-party interference like damage by another technician, the guarantee will not be applicable in that case.
Up-to-date Plumbing Methods, Materials, and Code Compliance
Remaining competitive in the market requires a contractor to have the latest skills and equipment. And, that is why we continuously train our workforce to have in-depth latest skills alongside the use of the current equipment.
This trend makes us have the integrity and proud history of serving New Yorkers in homes and other properties. When you reach us for a project, we start it as agreed, finish, and even goes the extra mile to fix what goes wrong before the guarantee period.
Fully Licensed and Insured New York City Sewer and Water Main Service
Another reason to hire us is our simple way of working- we believe in legit operations. Unlike other companies who don't comply with government directives, Balkans offers noble services at affordable price points through the acceptance of the local authority.
We are a registered company to offer sewer and water supply line replacement services in New York. Besides, we have the insurance policy cover for our team of workers plus all the projects under our care.
A Proven Reputation throughout Brooklyn,Queens, Manhattan, and the Bronx
One way to edge out a contractor is through its reputation. It can be through negative reviews on social media sites, the website, or comments from former clients. And, if you have to settle on a company, this factor should be something to give an upper hand.
A reason, Balkan is the plumbing name within the New York environs for its excellent service. Homeowners and other property owners should look no further because, for a record of under 70 years, all successful water supply lines and sewers function courtesy of our noble service, evident from the positive reviews on our site and referrals.
Want To Know More About Team Balkan?
Knowing the quality of service you require spearheads every decision you make matters plumbing. Residential or commercial plumbing tasks are simple and need the right expertise and materials to be effective. And, this is an assurance you can only get from professional contractors.
If you need an epic service in your water line, Balkan Sewer and Water Main Service is the partner to look for any day. Call us today for an inquiry or book an appointment to solve all your water line problems.