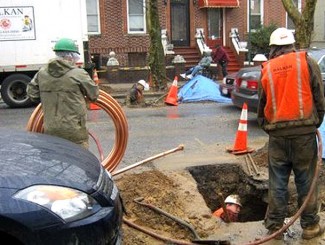 Just recently a Brooklyn homeowner needed a main water line repair. While at work on a Thursday night shift they got word from home that the main water line for their house was broken and a water line repair was needed. They couldn't get home until 9AM Friday morning; it looked unlikely that a water line repair could be completed before the start of the weekend.
Balkan Sewer And Water Main Service prides itself on a company-wide dedication to customer service. Sometimes this means thinking outside-the-box to produce great main water line service. In the case of this homeowner Balkan checked various in-house and on-line records to verify all the information required to give an accurate quote for a water line repair over the phone. Part of being a reputable water main and sewer contractor is standing on your word. In this case that meant Balkan would stand by a verbal quote, meaning Balkan's word means something. But even more than that, this homeowner was promised a representative would be at their house at the same time they got home from work, and a full water main crew standing by to provide same day service.


Sure enough when the homeowner arrived at their house the Balkan representative was there to meet them and stand by the verbal price quote. The price was based upon Balkan's uniform pricing policy, which meant there was no additional charge for same day water main service. Within the hour an experienced water main crew arrived in a fully stocked truck and commenced work on the water line repair. By the end of that same day all water main repair work was completed. The entire job site was left broom clean and the homeowner was left to enjoy a relaxing summer weekend without worrying about a main water line break.
It is customer experiences likes that this that cause people to say 'Balkan provides answers not excuses' for sewer and water main problems throughout Brooklyn, Queens, Manhattan, and the Bronx.
About Joseph L. Balkan, Inc.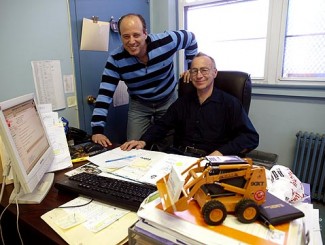 Balkan Sewer And Water Main is the largest sewer & water main replacement company in NYC. We are licensed, bonded, and insured. As a family run business in continuous operation for over 50 years. Our 10 year unconditional guarantee on replacements means that we continue to stand by our work, long after the job is done. We are expertly equipped, from our 48,000 square foot facility to dozens of trucks, heavy moving equipment, backhoes and pneumatics. Choose Balkan Sewer And Water Main for your next sewer repair, water main installation, water repair, water line leaks, NYC DEP violations, sewer replacement, water line replacement, sewer trap, backwater valve, hydrants, manholes, specialty water main work, area drain, and trench drains. Contact Balkan Sewer And Water Main today.