A wet tap connection refers to the connection made into a cast iron or ductile iron New York City water main (or any public water main) for a water service line installation. Usually such a connection is for one individual property. In New York City, before the advent of cast and ductile iron water main pipes, the city's water mains were actually constructed out of wood. They were typically hollowed out tree trunks, frequently with the bark of the tree still left intact (as pictured below). In those days long gone by the tap connection was driven through the wooden mains. To learn more, read the NYC DEP water service line connection full technical explanation.
Where Did The Term "Fire Plug" Come From?
The common term 'fire plug' refers to a time before fire hydrants. Back then, when a fire erupted the firemen of the day would actually cut a hole into the wooden water main. They would then attach a hose in order to have access to water, and attempt to put the fire out. This actually was a step up from a 'bucket brigade'. At the conclusion of putting out the fire, there would be no further need for water. The opening made for fire department use would then be plugged. Hence the term a 'fire plug'. A wet tap connection for a water service line would be installed in the same like manner.
A Wet Tap Connection for water service lines
The tap connection, is sometimes also called a wet tap. It is the connection from a water service line to the NYC DEP owned water main usually located in the roadway. If your connection is undersized it will not permit proper water volume to enter your premises. That is true no matter how large your water service line is. This is even more of an issue in the old Jamaica Water territory since the NYC DEP took over ownership in the 1990's.
As a point of interest, a new tap costs around $700.00 in NYC DEP permit fees. This is a small price to pay for ensuring you get the correct main water line job. Watch the tutorial video below to learn more about water service line connections.
Who installs tap connections for water service lines?
New tap connections are easily installed by NYC DEP field forces in around 20 minutes after a NYC licensed plumber has secured the proper permits. With the modern tools now in use only a minimal amount of water is lost on the process. When a hole for a new connection is drilled into a NYC water main, only about a 1/2 gallon of water is lost.
A wet tap connection ranges in approved sizes from 3/4″ up to 2″. An 1/2″ water line connection pictured below is not legal for use, and should be replaced if found. If a size larger than a 2″ tap connection is required, then a 'wet connection' would be required. Wet connections are installed by a different process, as described below.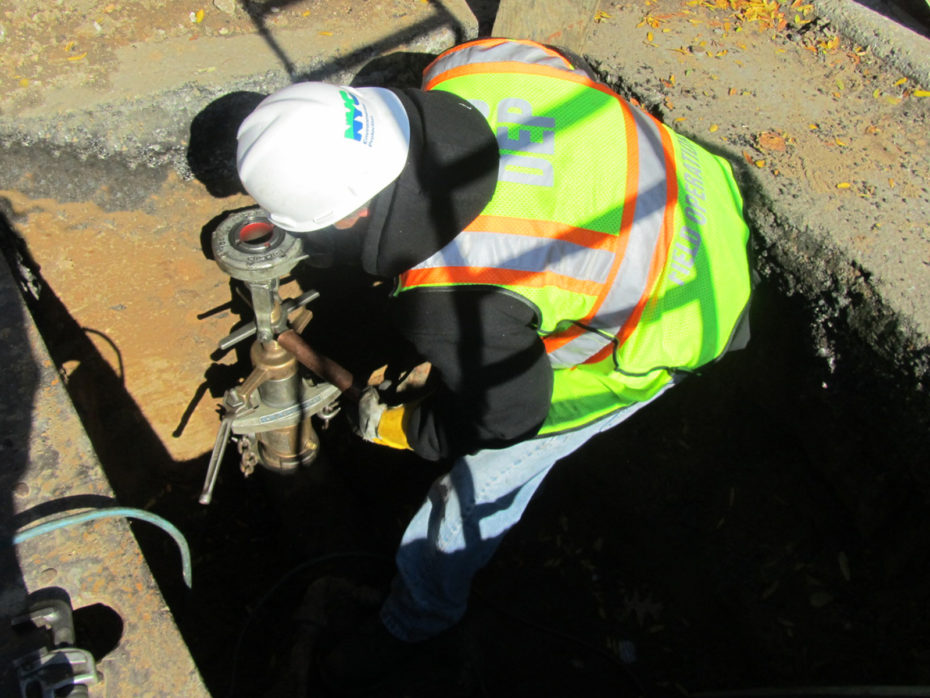 What is a driven tap connection?
Driven tap were installed when cast iron main water lines were installed, and prior to power tools being available. A new tap connection actually had to be driven into the city main by hand. That is why these old water service line connections are referred to as driven taps. Unfortunately these frequently undersized connections can become clogged. They also became inadequate as most modern buildings require a greater volume of water, due to an increased number of plumbing fixtures. More troubling, however, is the fact that because they were 'driven in', they also frequently blow out without warning.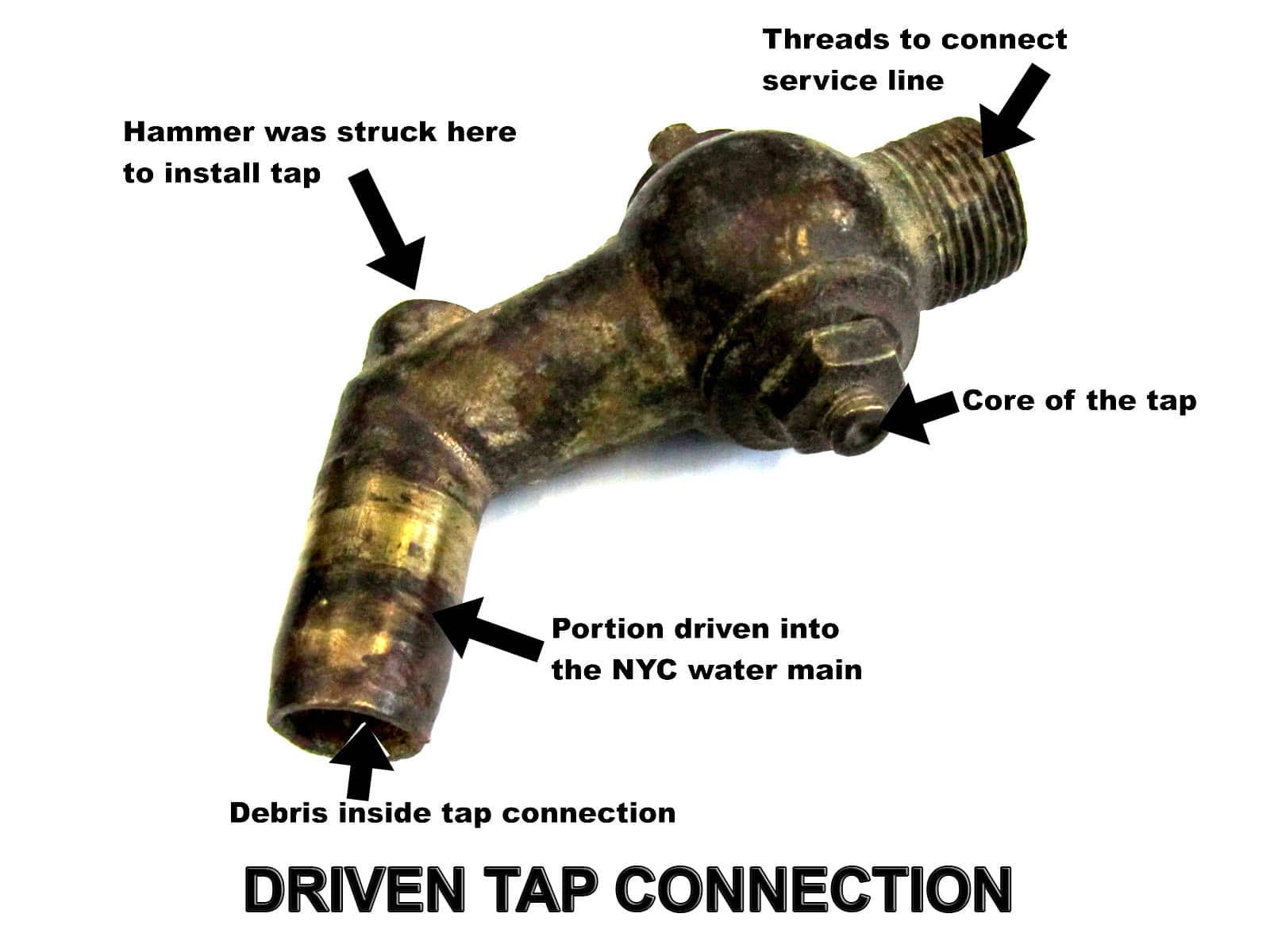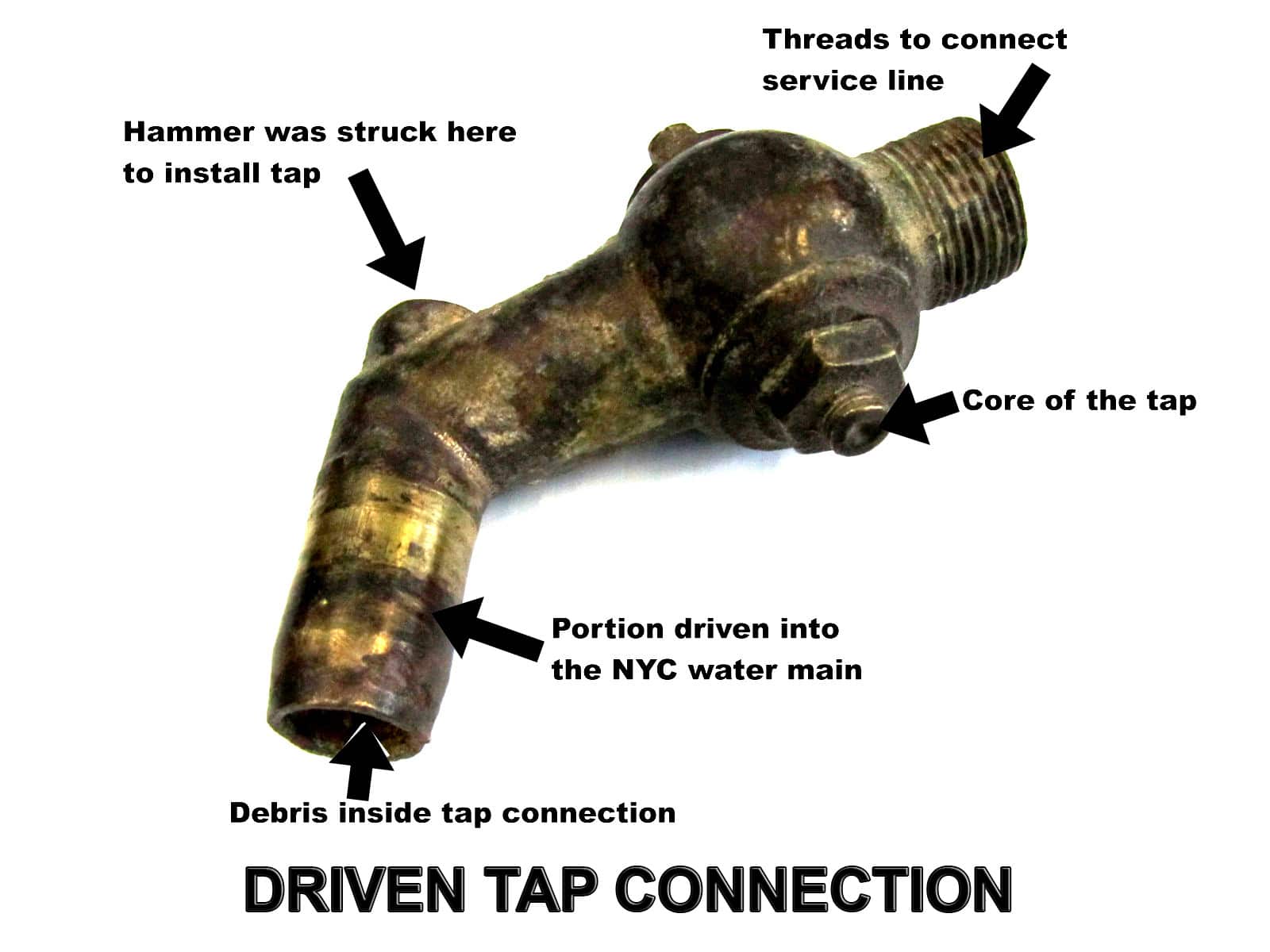 A driven tap must be handled with extreme care. It is never suitable to be re-used when a water line leaks. If a main water line has to be replaced a new tap must be installed using modern tools, and be of an adequate size. Any tap that is found, and is a driven tap, is around 100 years old or more. It is prone to be corroded, weakened by time, and installed inside a very old city water main. Please note, that no 1/2″ tap connections are legal to connect to. That is regardless of if it is a driven tap, or a screw tap.
What is a Wet Connection?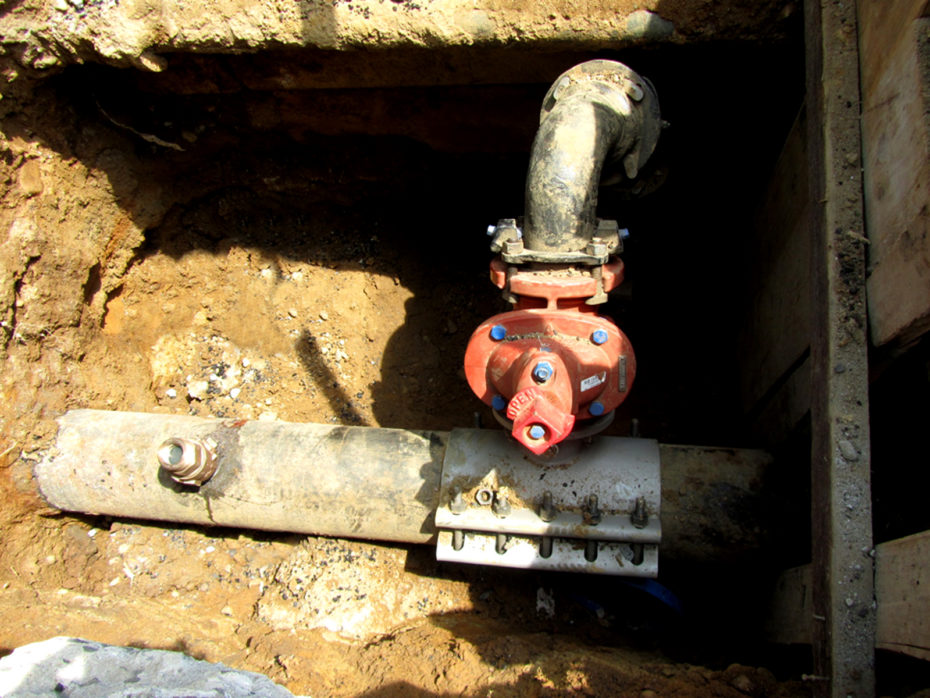 A wet connection is for a larger sized main water lines. It is installed in a completely different manner than a wet tap. A wet connection is for connections whose size exceeds 2″. This is typically for apartment buildings, or when fire sprinkler protection is required. In NYC there is an increasing code requirement that various types of residential and commercial buildings must have a fire sprinkler system installed. Hence, there is an increasing need to install wet connection for the corresponding water service line.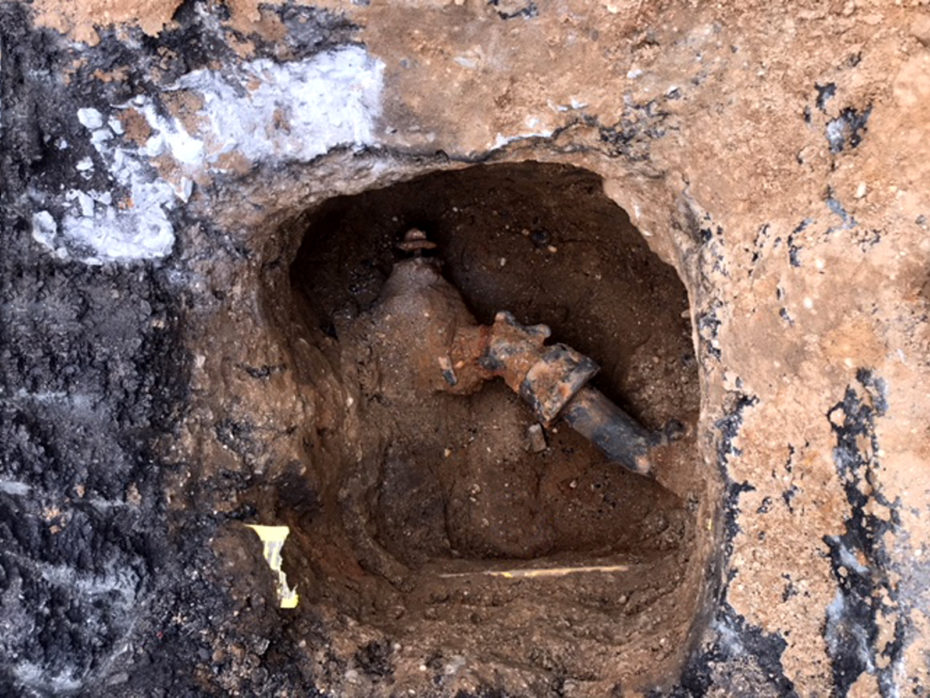 Unlike a tap connection, which is drilled into the NYC water main, a wet connection is actually a 'core drill'. This means that drilling the main water line, like someone would drill a piece of wood for instance, cannot be done. Doing this for a connection larger than 2″ could split the city main. So instead, a section of the main water line piping is actually cored drilled out of the City water main itself. The core drill hole is equivalent in size to the needed wet connection.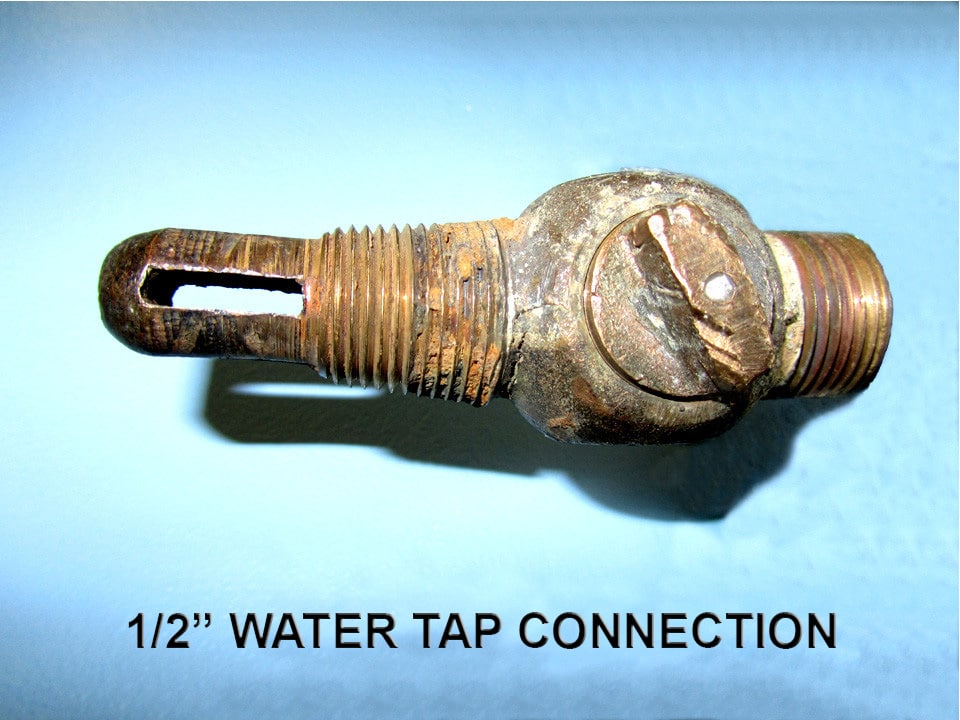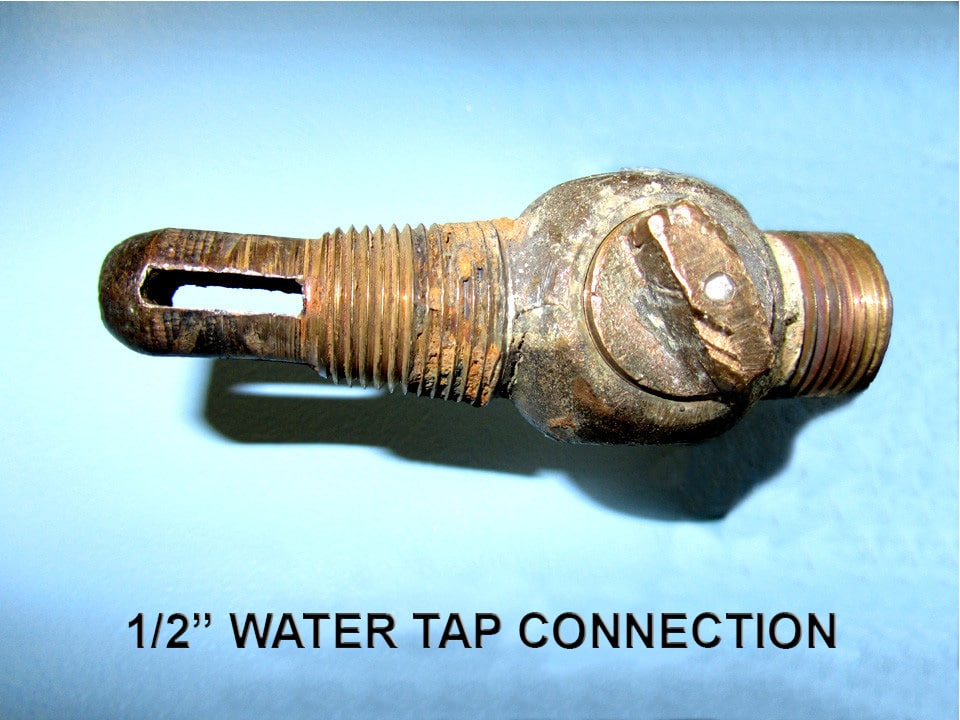 Who installs a wet connection in NYC?
Multiple DEP crews in each borough install wet tap connections, as stated above. However, when wet connections are required a specialized NYC DEP crew is utilized. This crew is sometimes still referred to as 'the caulkers' in the plumbing trade. The term 'caulkers' refers back to the day when lead joint wet connections were installed. These wet connections had their joints sealed with molten lead that were caulked in place. The lead used never came into contact with the water supply as a treated rope called 'oakum' actually made the joints water tight. The molten lead was used as a means to keep the 'oakum' in place.
Nowadays, new wet connections are installed with 'mechanical joints' and contain no lead whatsoever. Have a question, or need expert advice? Feel free to contact Balkan Sewer And Water Main Service, your NYC water service line experts. After over 70 years and over 90,000 satisfied customers, Balkan is The Team You Trust.