As a homeowner or property owner, you may have to deal with doing a water main repair. This is typically due to a leak on your main water service line. Certainly you'll have a lot of questions of how to solve your water line leak. Your first hiring decision probably includes deciding whether to completely replace the line, or just do a water main repair. Making the correct hiring decision will have a lot to do with gathering information. What follows will supply you with valuable information, and probably answer all of answers. This article will lay the groundwork for you to make a wise and knowledgeable hiring decision. If you have further water line repair questions, please send us an email inquiry.
A short list of 4 essential things you'll need to find out
Of course, the very 1st thing to do before getting to the list below is to make sure you do in fact have a leak on your water service line. It is always advisable to verify a water line leak via a licensed plumber, and by contacting your local DEP. In NYC that is done by calling 311. You can also utilize the Balkan Leak testing Guide to do an initial leak test yourself. Water leaks can be difficult and confusing to diagnose, never take anything for granted.
Knowing how to determine what material your existing water line is made out of is a 1st important step.
Understanding local plumbing code (which materials are allowed to be repaired, or must be replaced).
The age of your water line.
Cost differences between a water main repair, or a full replacement.
All of the above information is important to know. Of course you'll have to confer with a Licensed Water Main Contractor, but the following information should also act as a great guide. It should also help you put things into a sensible order to allow for a proper hiring decision. Contrary to what you may think, most water line leaks do not require reactionary and immediate response. On the contrary, most leaks can absorb a 24 hour or longer period for you to make a well informed hiring decision.
The 3 Keys To When a Water Main should be Repaired
You may think a water main repair can be done at any time, and on any line. That is actually far from the truth. In NYC for instance, there are strict guidelines of what type of lines can be repaired. There are also other factors that help in making your hiring decision the most intelligent one. What follows are the 3 key initial questions to get answers to:
1. Which water main materials are legal to repair?
In NYC it is strictly against Plumbing Code to try to repair a lead water line, or a galvanized line. It would also be poor plumbing practice, and in all likelihood a short lived repair. Perhaps more importantly lead water service lines pose a serious health risk to you and your family. To learn more about the dangers posed by lead lines, read Lead Water Service Lines written by the National Conference Of State Legislatures. Essentially if you perform a water line repair, and it fails, you have completely wasted your money. So, how can you tell if your water line is either lead or galvanized pipe?
Testing for a Lead Water Line
Lead water lines are a dull silver color. If you scrape them with a coin, it will appear shiny silver. Lead is also a very soft metal, it is easy to make an impression on it, or bend it. Lastly, at the point where a lead water line connects to brass or copper, there will be an oval shaped wipe joint. The wipe joint is usually just before your main control valve in your basement.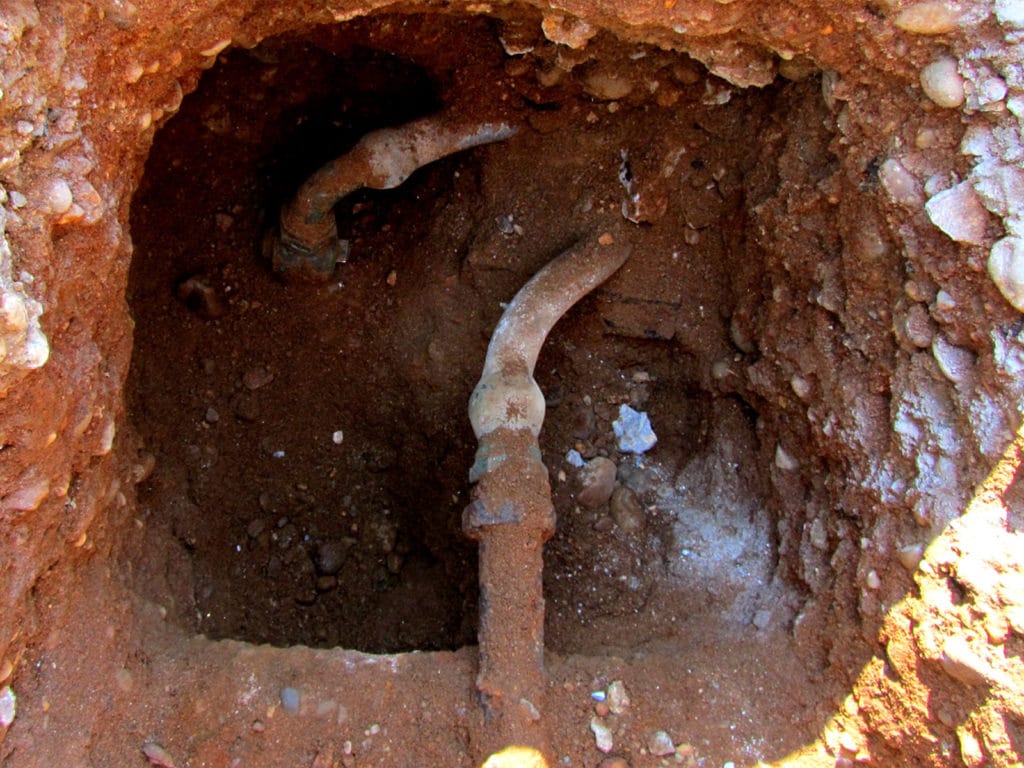 Testing to see if a water line is galvanized pipe
Since galvanized water pipe tends to corrode, many times only a visual inspection is needed to tell if your water line is galvanized. However looks can be deceiving. In many cases the pipe may be painted, or covered with dirt or discolored. A sure fire way to know if your water line is galvanized is to place a magnet on it. If the magnet sticks to the pipe, your line is indeed galvanized.
Of all water line materials, galvanized is the only one that is magnetic. Lead, copper, and even brass water lines are not magnetic. As previously stated, a water main repair on a galvanized line is not allowed in NYC.
2. What is the age of your existing water service line?
It is generally accepted that (regardless of the material) water services lines last about 50 years or so. Therefore a key determining factor on whether to do a water main repair or full replacement is finding out the age of your line. Right off the bat, if your line is lead, it is well over 50 years old. Even if your line is K copper, it can be quite old. Copper water tubing has been used as a material for well over 50 years. So if you have a copper line, some steps have to be taken to figure out how old it is.
One of the ways to know how old your water service line is, is by knowing how old your property is. A 2nd reliable way to find out the age of your line is by requesting DEP tap records. NYC DEP water records will indicate the age, size, and location of your line. The DEP records will also indicate the size of your tap connection to the city water main. Lastly, DEP records frequently indicate if the line was ever repaired or replaced in the past.
3. Always compare Water Main Repair Cost vs. Replacement Cost
Even if you are set in your mind on a course of action, take pause. Always get a written quote for both a replacement and a repair job. The cost differential between a repair vs. a replacement should be a major point to consider. Let common sense rule the day, not the hunt for the lowest cost solution possible.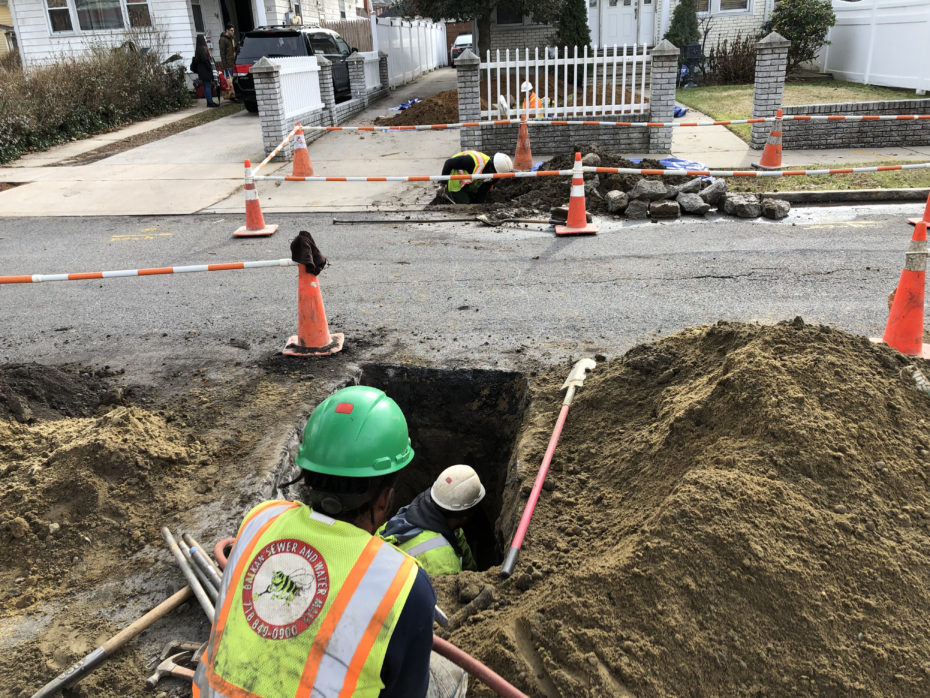 Learn the Steps to How a Water Main Repair done
Of course, depending on the location of the repair, the scope of work will vary, as will also the cost. Regardless, the chronological course of events typically goes as follows:
A DOT Permit is filed for, or an Emergency DOT Permit is secured electronically.
DEP Repair Permit is applied for.
An excavation is made to close your water line's tap connection on the City water main.
Unless the leak is near the tap connection, a 2nd excavation is made to locate the leak.
Water main repair work must be done using approved materials. That usually means K copper water tubing, and lead-free brass fittings. If a valve is needed, it must be rated and a full port opening valve.
A water line for fire protection, or larger than 2″, requires a DEP inspection.
Wet or unsuitable soil excavated in the roadway must be carted away. Clean and dry backfill material must be trucked in for proper compaction.
All excavations must be compacted as they are filled in.
Disturbed finished surfaces are typically permanently restored the next day (weather permitting).
How long does the work take from start to finish?
The vast majority of water main repair work takes only 1 day to start, and to complete as well. The exception is if a DEP inspection is required, or if your water line is larger than 2″. Another exception to the work taking more than 1 day is if the DOT issues a permit with limited work hours. For an experienced water main contractor, repair work is routine and follows a set protocol. This includes the restoration process for disturbed finished surfaces. Your disturbed roadway and cement is usually restored the very next day.
The 5 Variables of How Much a Water Main Repair Costs
First and foremost understand that there are always cost variables when it comes to water main repair work. With that said, the typical price range for a repair on a line of 2″ or smaller is between $2,800.00 and $3,800.00. Manhattan repair work (like everything in Manhattan) will cost more, and is priced on a case-by-case basis.
5 Variables that effect the cost of your water line repair job:
If traffic control is required due to a two-way street or a busy roadway.
If your roadway has been newly paved by DOT within the past 5 years.
A new tap connection adds to the fees and labor costs as a factor.
DEP field inspections, if required, can add to the cost.
If excavation work must take place under a tree, a Parks Permit and an Arborist are required.
Your NYC Water Main & House Sewer Expert
Balkan Sewer And Water Main Service is NYC's largest sewer and water main repair company. It was founded in 1952, and has been in continuous operation for over 68 years, and has served over 70,000 New Yorkers. Couple our dependability and experience with a uniform pricing policy, and it makes Balkan "The Team You Trust" for any house sewer or water main work.
If you do have a water line leak, Contact Balkan for a free and no-obligation site visit. Expert advice and service are available 7 days a week, and after-hours as well. All of our site visits include expert advice, with no obligation to hire, and we will arrive in 4 hours or less. Our commitment to your satisfaction is company-wide and spans two generations.