Sewer check valves are installed ever more increasingly as a remedy for city sewer backups. What many people do not realize is that while sewer check valves are relatively simple devices, it takes a skilled professional to install them properly. It is not a job for a handyman, general contractor, or a home owner.
The following are some of the key points for a proper installation to prevent sewer backwater. As simple as these steps may seem, they are frequently overlooked with sometimes disastrous consequences.
Proper location for sewer check valves
[highlight]The single most important factor for installing sewer check valves correctly is proper location[/highlight]. Installing a sewer backwater valve anywhere that seems convenient will not allow for it to serve it's purpose. Important to note is that sewer check valves are meant to close automatically before any backwater can escape from the house drain.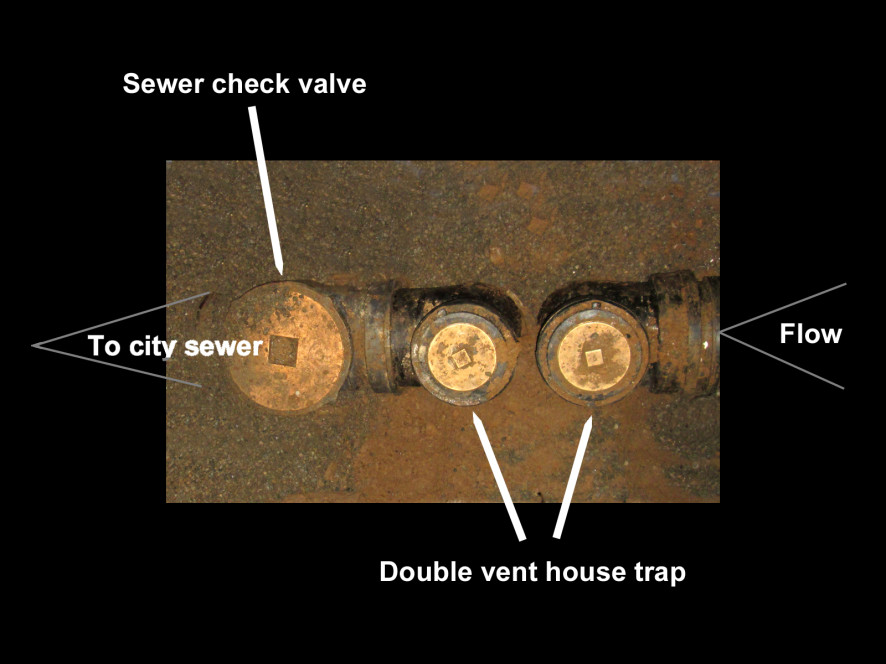 This means that proper installation often requires relocating the house trap, fresh air inlet, and house drain outlets. In most cases they must be farther away from the front foundation wall to make room for the sewer backwater valve. [highlight]Sewer check valves installed properly must be the first fitting just inside the foundation wall[/highlight].
While installing a sewer check valve as described above is more work, to do it any other way will not produce the desired result. if any fittings, such as the house trap, is located on the street side of the check valve, backwater can leak out. This can occur from trap plugs blowing off due to being under backwater pressure. Sewer backwater can also pour out if the trap plugs or existing pipes are not are not water tight. [highlight]Once again that is why it is vitally important to have sewer check valves installed at the correct location[/highlight].
Proper pitch for the pipe must be available
As sewer check valves slow the flow of waste water from the house drain, proper pitch must be available. Pitch of a pipe is also referred to as slope of pipe.
If the pitch of the pipe is very close, clogs and stoppages can form inside the check valve. In the case of automatic knife edged flood gate valves even more care must be taken. [highlight]This is yet another reason that only trusted and licensed plumbers should perform such installations[/highlight]. [Learn more about proper drain pipe installation by reading about slope of a sewer or drain pipe]
Knowing which type of sewer valve to install
Different sewer backwater problems require different solutions. Sewer check valves are specifically designed when a public sewer backs up for a relatively short period of  time. This because sewer check valves do not stop backwater 100% – they only greatly reduce it.
When public sewers remain surcharged over a long period of time an automatic flood gate valve may be a better choice. While considerably more expensive, they stop backwater 100%.
[twocol_one]
[/twocol_one] [twocol_one_last]
[/twocol_one_last]
Another issue to consider is that when any backwater valve is closed, waste and rain water cannot flow out of the house drain. Therefore in many multifamily or large commercial buildings, a sewer backwater device may not be advisable. [highlight]A careful site inspection by a knowledgeable plumber is strongly advised prior to committing to any installation[/highlight].
Sewer check valves must be accessible for maintenance
Another important factor about sewer check valves is that they require regular cleaning about twice a year. But even that varies depending on factors such as the type of building and use inside the building. For instance a restaurant would require more frequent cleaning due to possible accumulation of grease.
[highlight]For this reason sewer check valves must not only be exposed, but also easily accessible[/highlight]. In some cases installers and property owners have been known to cement over or cover sewer check valves. This could be for aesthetic reasons, or simply out of ignorance. The end result is a non-functioning backwater device, and a source of stoppages from a lack of maintenance. [twocol_one]
[/twocol_one] [twocol_one_last]
[/twocol_one_last]
When is a clean out a good idea?
Sewer check valves can be damaged from a sewer cleaning machine. This can occur if a sewer cleaner attempts to pass through the check valve by way of the house trap. If a house sewer must be cleaned it is suggested the snake be inserted through the top of the check valve. This can be done by removing the top plate. This takes only a minute as four bolts hold the top plate on typical sewer check valves.
In the case of automatic flood gate valves a clean out on the street side of the device is actually required by the manufacturer. [highlight]If a clean out is not installed the device can be damaged, and the warranty will be voided[/highlight].
There are so many reasons sewer backwater valves should be installed by licensed plumbing firms, this is yet another. Knowing when to install a clean out may seem like a minor detail. However when a warranty can be legally voided on an expensive plumbing device, properly installing a clean out should be duly noted.
Hire a licensed professional to install sewer check valves
A licensed professional refers to a Licensed Master Plumber who is properly insured and bonded. It does not refer to a home improvement contractor, or a handy man. License status in NYC can be easily verified on the NYC Department of Buildings web site, as can that proper insurance being in place.
When you are trusting someone to protect your home and family from from being exposed to sewer water, take no chances. [highlight]Hiring a licensed and experienced plumber ensures a long lasting and properly functioning plumbing installation[/highlight].