Installing any sewer backflow preventer valve is a big decision. It also has far reaching ramifications, especially if you've experienced sewer flooding from a city sewer surcharge. Hopefully the following video and Q&A points helps you to figure out if a sewer valve is right for you. You may also learn which one may suit you the best. Both of the sewer valve jobs explained below include new precast composite access pits with fitted covers. All Balkan work also includes finished cement work. In some cases where there are ceramic tiles or wooden floors, they would have to be considered and discussed in advance of the job.
What's the difference between a sewer check valve and a sewer flood gate valve?
In our opinion a sewer check valve is meant to prevent sewer backwater damage when the public sewer surcharges for just a few hours. One example would be during a heavy rainstorm. Whereas a knife edged sewer flood gate valve holds back sewer backwater 100% for a prolonged period of time. Therefore, the flood gate valve is designed for more severe weather or climate events. The other big difference is cost. A flood gate valve will cost roughly 250% more to install than a check valve.
Do these sewer backwater preventer valves need to be cleaned, exercised, or checked in any way?
About every three months the gate on a sewer flood valve needs to be raised and lowered. We supply the tool with the install. It takes less than a minute to do this. Sewer backwater check valves, which operate under a different principal, should be cleaned every year or so. The following video explains how to clean a sewer check valve, and also answers a number of questions.
Is a sewer backwater preventer valve installed right behind my existing house trap?
Absolutely not! It is vitally important that any sewer valve be installed before the house trap, and any other connection or drain outlet. Installing a sewer backwater valve after a drain outlet or trap can lead to extreme sewer water damage. Furthermore, installing a sewer flood gate valve improperly will void out the manufacturer's warranty. In order to perform a proper installation (and required in almost all cases) your trap will be replaced and relocated, along with your fresh air inlet, and any drain connections in the work area. The sewer access pit will also have to be rebuilt.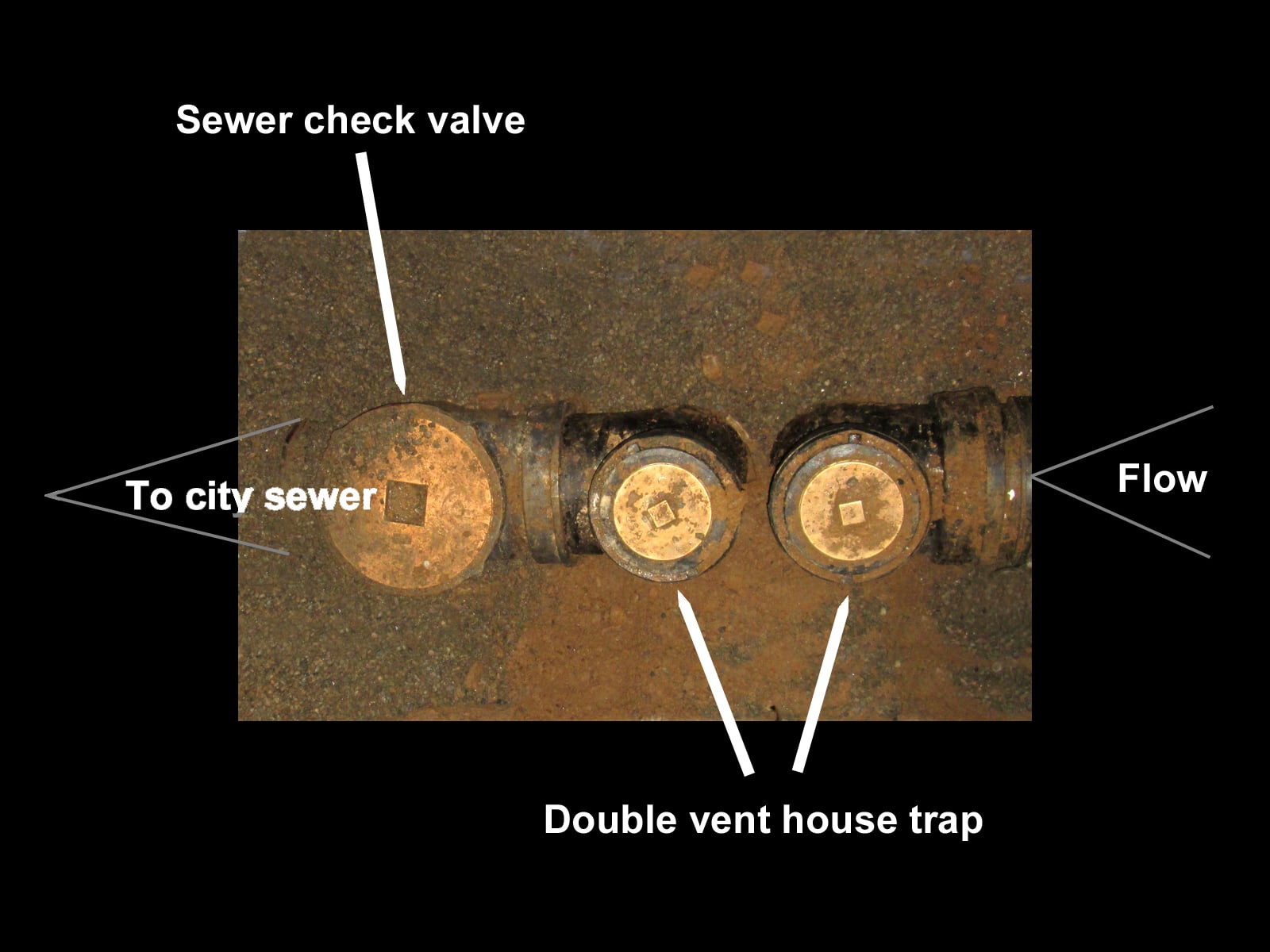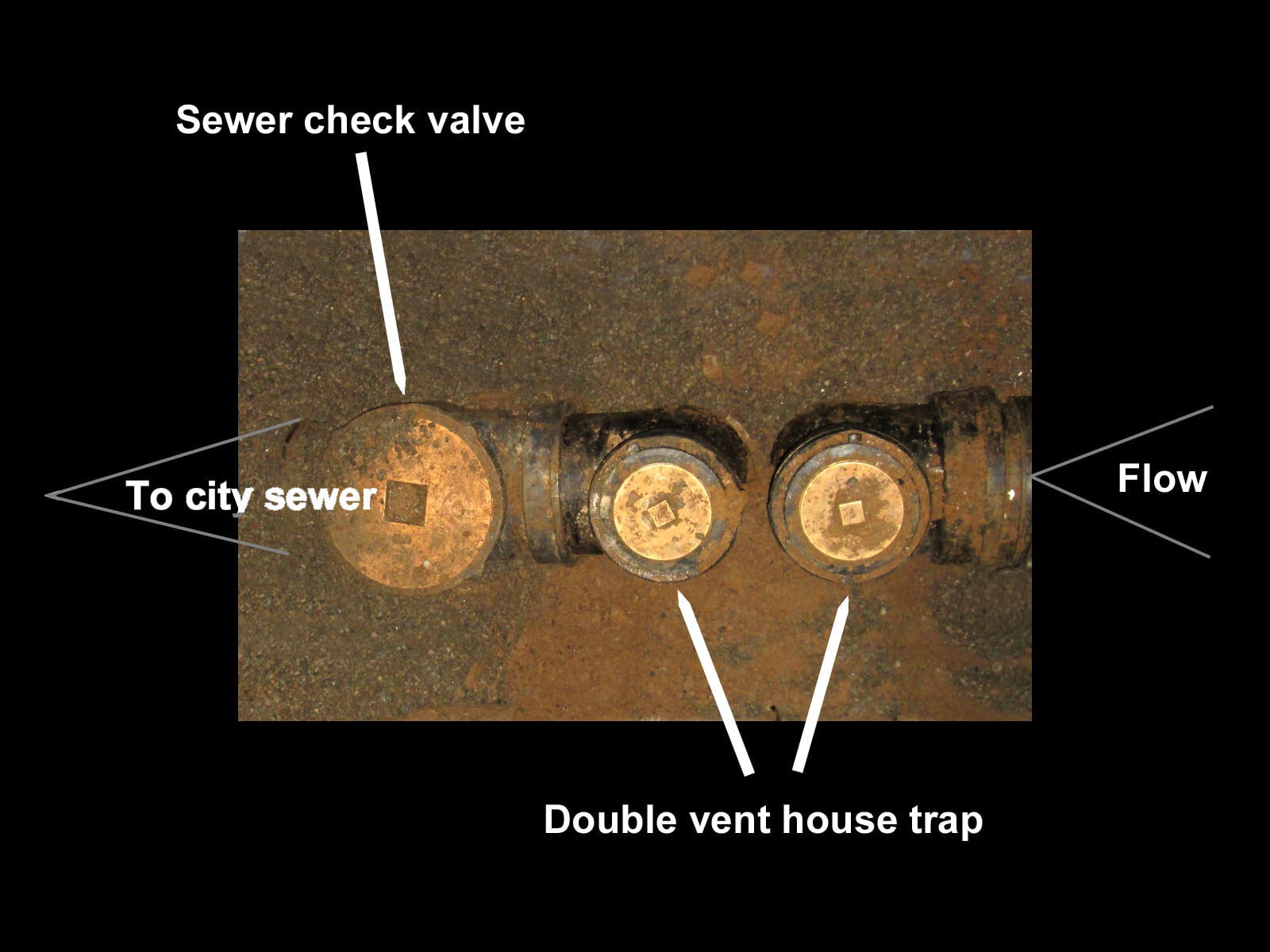 What is the time frame that my house will be without use of the sewer? I will need to let everyone in my house know.
A typical sewer backflow preventer installation would result in the loss of sewer service during a small portion of the 1st day, and most of the 2nd day. Usage will resume at the end of each work day.
Does your crew send a camera up and down the line to inspect in the house, and out to the street once it is open? Do you check for pitch, sags, breaks, or obstructions?
We can of course do a HD sewer camera inspection. It would be at an additional charge of $250.00. This is often a good idea to see if there is any structural defect with the house sewer outside of the house. Interestingly, if you house sewer was able to handle the flow of a public sewer surcharge, chances are that it's in proper working order.
Your agreement states that "During times when the sewer valve closes water usage inside the building should be greatly limited or eliminated". Is there any type of alarm or indication that the valve is closed?
We do offer an alarm for the sewer flood gate valve. it is made by the same a manufacturer as the valve itself. The cost of installation can vary depending on job site conditions, and the availability of an electrical outlet.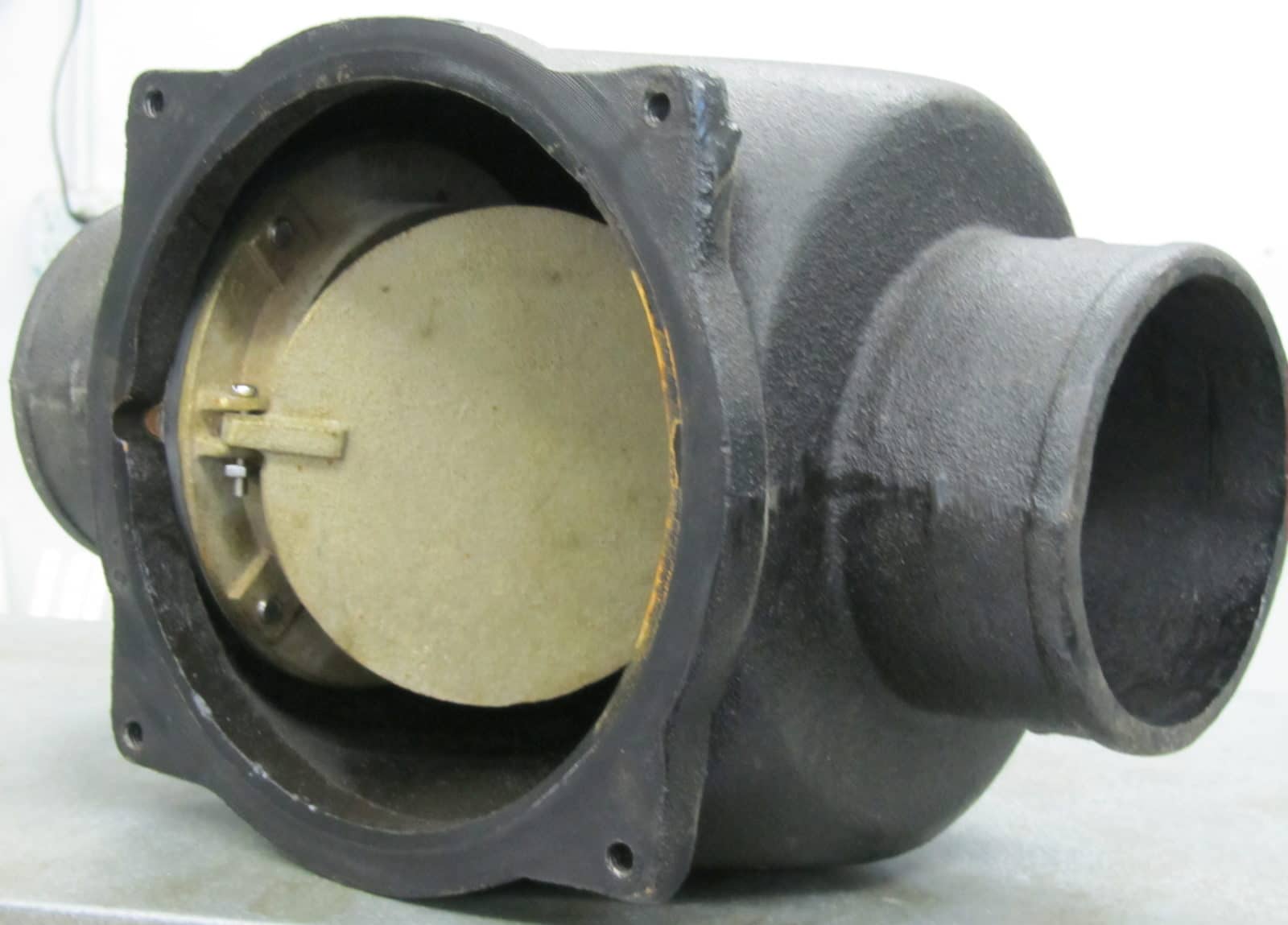 Is there a minimal difference in drain elevations required to install a sewer flood gate valve? What if I have a floor drain or a shower in the basement?
This is a vitally important point. For a 4" sewer flood gate valve there must be a minimal difference in elevation of 11" from the top of the drain pipe where the flood gate valve is installed, and the lowest drain outlet in the basement. If there is not this minimal difference in elevation the flood gate valve will not close. This is due to a lack of the required air pressure building up in the air chamber. This is another reason why a sewer backflow preventer needs to be installed by an expert.
Does the price for installing a sewer backflow preventer valve vary, and is the price negotiable?
Actually, prices will vary by location or job site conditions. Of course doing work in NYC (Balkan's service area) is typically more expensive than other areas of the country. Balkan does use a uniform pricing policy to ensure fair pricing, and almost all installations tend to be fairly uniform. With that said, Balkan quotes are on-point and therefore firm. More importantly, we've spent a lot of time researching these valves and their proper installation. We've become expert at doing these installations.
Will it affect my neighbors if I install a sewer backflow preventer valve?
For the vast majority of cases installing a sewer backflow valve should not affect your neighbors in any way. In some extreme cases, such as if your home is at the base of a hill, sewer backwater may seek the next lowest point to escape. In this particular case that might be the next lowest house up the hill, or slope of the street.
Some closing points to consider about a sewer backflow preventer
A knife edged sewer flood gate valve: A sewer flood gate valve works automatically and stops sewer backwater 100% and for over a prolonged period of time. It requires the most skill to install, is the most costly, and is a sure cure to prevent future sewer floods from a public sewer inside your home. In almost all cases this installation costs in excess of $8,000.00 for a full and proper installation. The install requires repositioning many components of your drain system, and has to meet manufacturer's standards.
A sewer backflow preventer check valve: A sewer check valve is a very simple and relatively inexpensive device.It is meant to hold back most backwater for a period of a few hours, it does not hold back 100% of storm water. It is a much simpler installation, but nonetheless must be done correctly and it usually requires repositioning your house trap and fresh air inlet. A typical sewer check valve installation will cost between $3,000.00 and $3,500.00.
Expert Sewer Repair and Sewer Line Replacement
The Balkan Team provides expert home sewer repair and sewer line replacement. We have expertise in all types of NYC underground plumbing. Balkan Sewer And Water Main Service was founded in 1952. Since its inception, the foundation of the company has been based upon integrity and honesty in all of our dealings. That solid foundation has enabled us to thrive in every economic climate. That is why guiding you through the decision of doing a sewer repair vs sewer replacement exemplifies our company culture of educating consumers. We feel the more you know, the better we'll look.

The year 2021 actually marks our 69th consecutive year in business under the same family guidance. As we have grown, we have become increasingly dependent upon a "Team First" approach. What helps ensure a continuation of our high standards, overall integrity, and high company morale, is that same team approach. Complete client satisfaction has always been the number one goal at Balkan Sewer And Water Main. That is why we are NYC's largest and most trusted sewer and water main service in New York City. Simply put, if it's plumbing, and it's underground, we do it. For almost 70 years, and for over 70,000 New Yorkers to date, Balkan is "The Team You Trust".