In basic terms, this is how a fire sprinkler head functions. Immediately water leaves past the main control valve on the service line, it gets into a "zone line". The zone line itself connects directly to a sprinkler head. The sprinkler head extends upward. This is where it directs a spray of water to the surrounding area when it gets activated by water flow, and after heat has opened the head itself. Fire sprinkler heads have proved their efficiency in protecting property and life for many decades.  
As a property owner, it's your responsibility to ensure that your building has adequate fire protection when required by code. That's why it's crucial to invest in fire protection equipment and learn about fire protection systems. Before you choose a particular sprinkler system for your property, you need to understand the available sprinkler types and their specific functions. You may also want to understand the type of space you want to protect, in order to help you choose a suitable and efficient sprinkler head for fire protection. Read on to learn more about the different types of fire sprinkler heads and how they protect you.
What is a Fire Sprinkler Head?
It's an element of a fire sprinkler main that protects property and saves lives in the event of a fire. It detects a fire outbreak and discharges and spreads water over the affected area to extinguish the fire. The sprinkler heads come in various designs, and each contains a trigger mechanism that opens and releases water into the fire.
Types of Fire Sprinkler Heads Used for Fire Protection
Fire sprinklers do more than saving lives; they can reduce property loss in each home by approximately 70%. That said, fire sprinkler heads are available in a variety of sizes, with different response times, temperatures, and finishes. The right choice of a sprinkler head covers the main areas of the building that are susceptible to fires. Primarily, there are four different types of fire sprinkler heads.
Fire Sprinkler Pendent
The pendent is the most common type of sprinkler head you will come across. It descends from the house's ceiling with a circular and convex deflector plate at its bottom. The sprinkler sends water into other deflectors when activated. The water disperses in a conical pattern throughout the room. The pendent provides the greatest coverage of space because it extends from the ceiling. It's effective in protecting various types of spaces and buildings, from daycare spaces to industrial buildings.
Upright Fire Sprinkler Head
An upright fire sprinkler head points upward towards the ceiling with a concave and circular plate on the top. They're mostly mounted on the pipes beneath the ceiling. The sprinkler head sprays water in a dome-shaped or hemispherical pattern. These sprinkler heads are more effective at spreading water between space obstructions, making them common in inaccessible rooms such as industrial spaces and warehouses. Also, the deflector that covers the fire sprinkler head protects it from ice or even debris collection.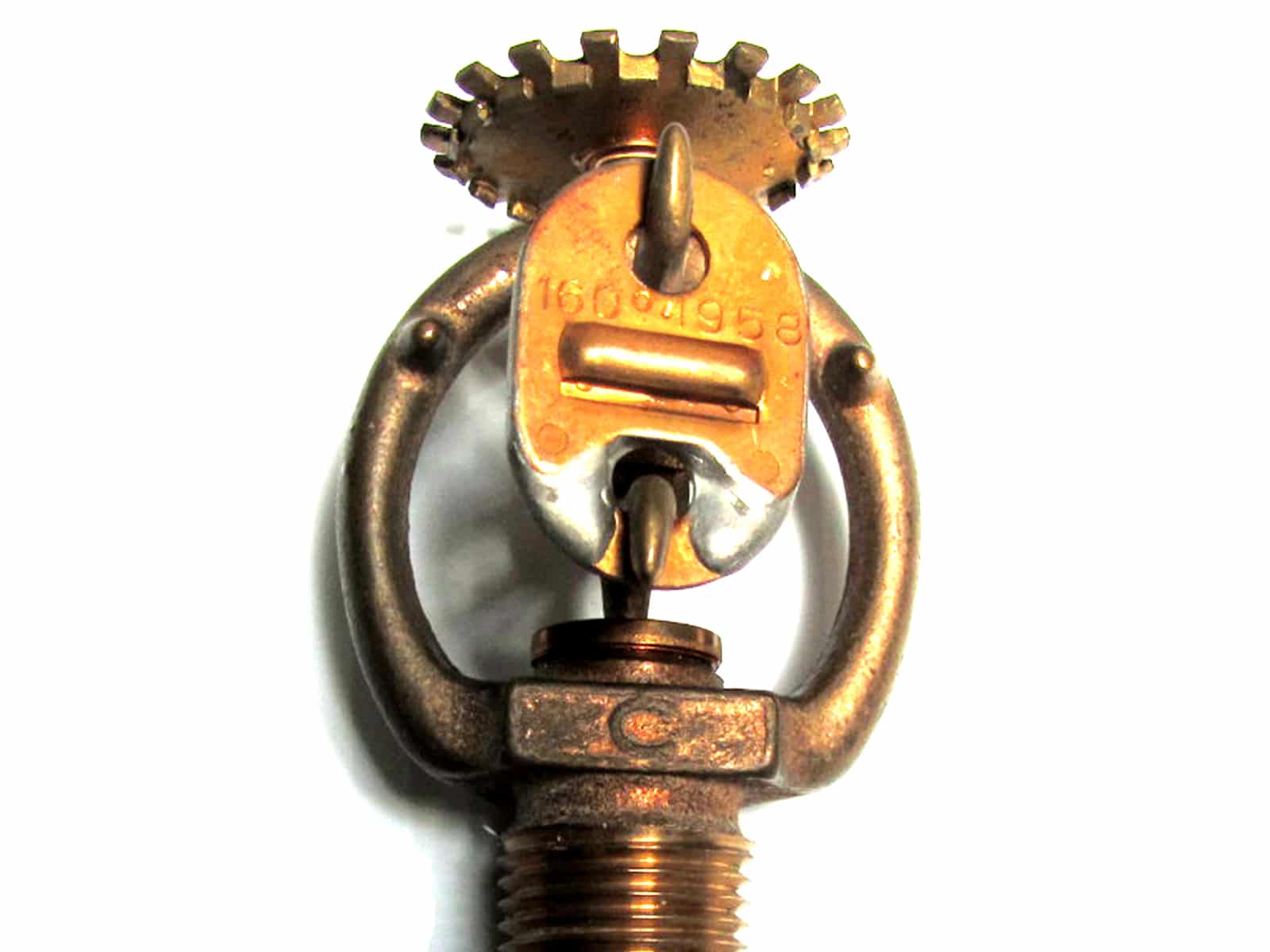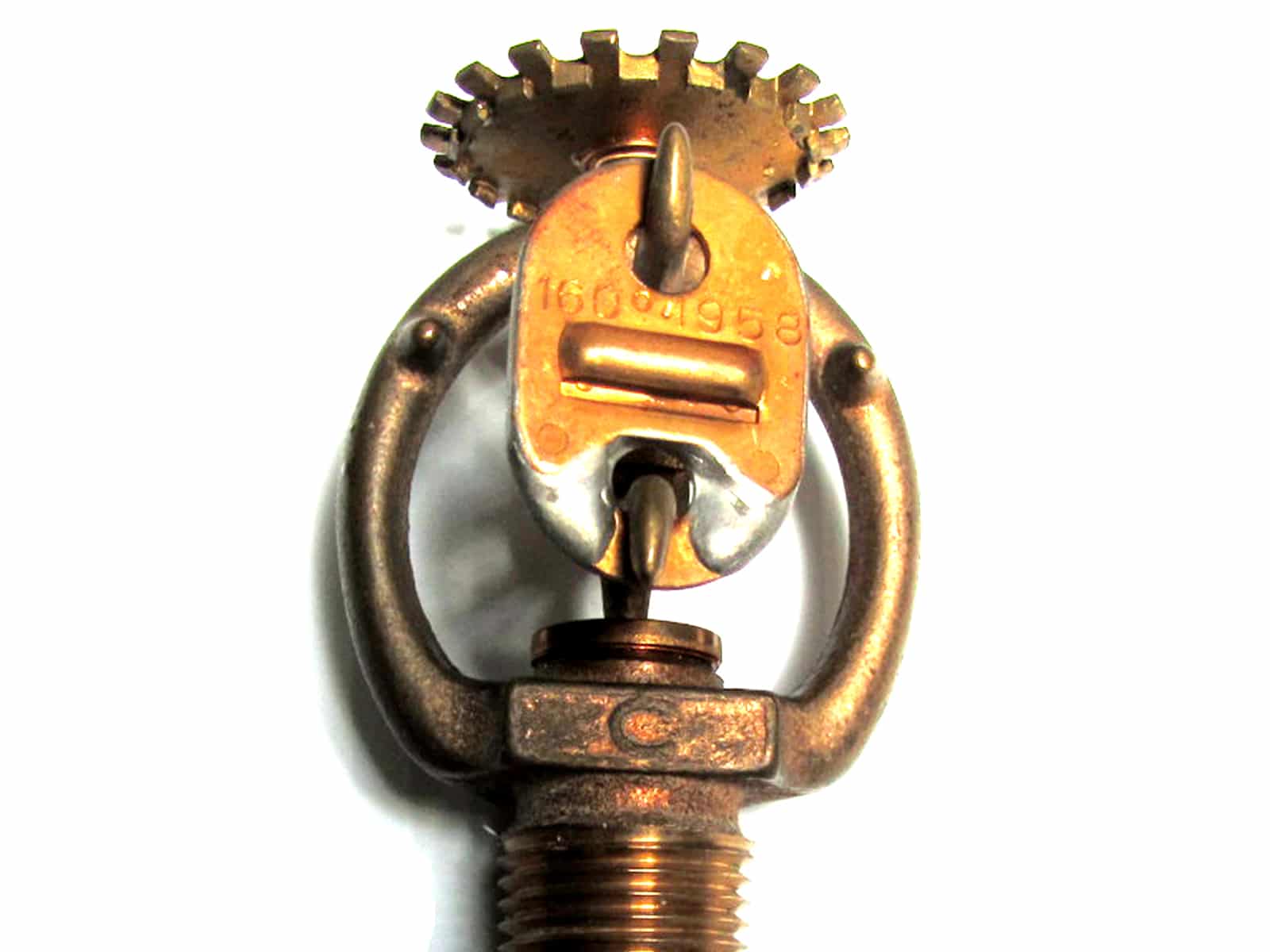 Concealed Pendent Fire Sprinkler Head
Are you into aesthetics? If you're concerned about a fire sprinkler head interfering with your ceiling's aesthetics, then a concealed pendent could be your best option. A cap conceals it to blend in a flash with the ceiling's aesthetics. The decorative cap does not hinder the sprinkler head from working properly. It falls off when temperatures extend up to 20 degrees lower than the activation temperature. Therefore, the plate is removed out of the way when the temperatures become high enough for the activation of the sprinkler system.
Sidewall Fire Sprinkler Head
A sidewall fire sprinkler head protrudes along the wall and is parallel to the floor. They have a solid, semi-circular, or rectangular deflector plate that facilitates water dispersal away from the ceiling in a crescent shape, directing the water towards the open space. They provide a wider water coverage and are ideal for compact spaces, including spaces with obstructions, spaces without ceiling piping, and hallways.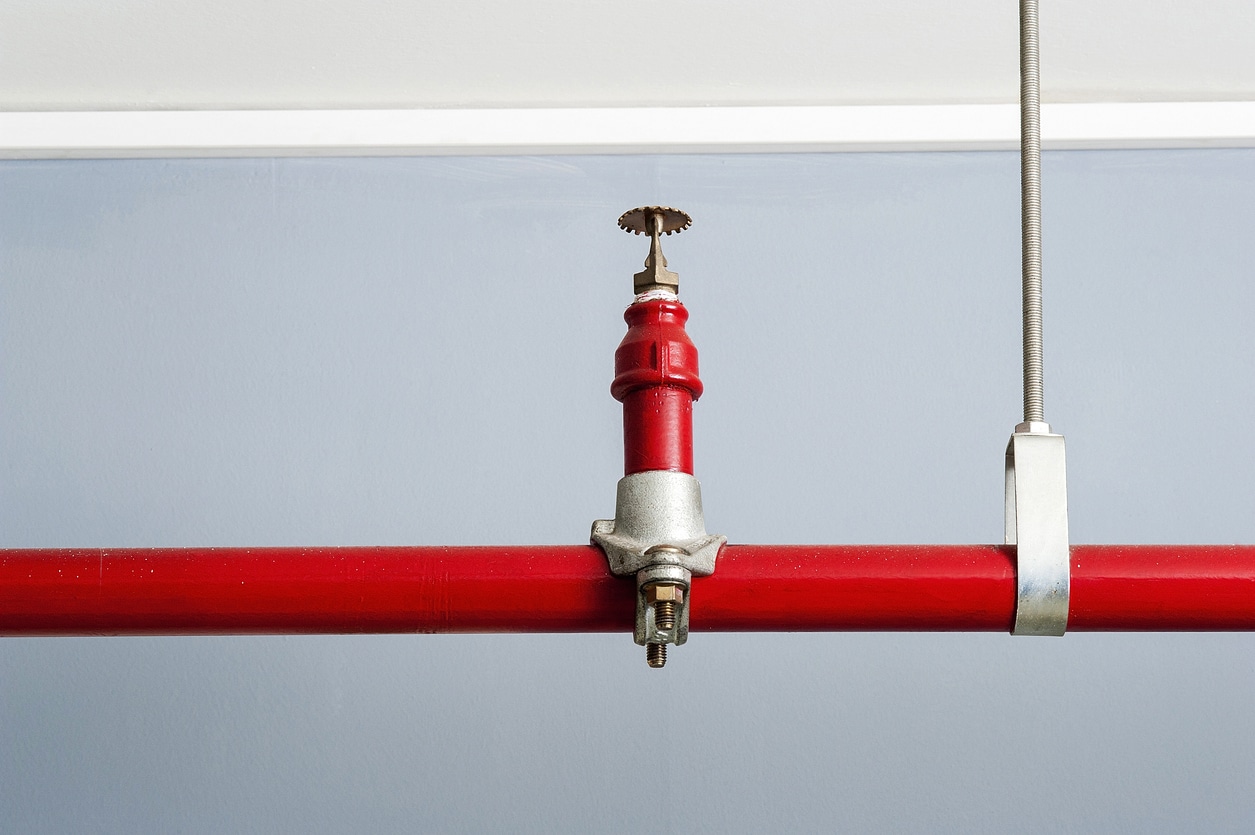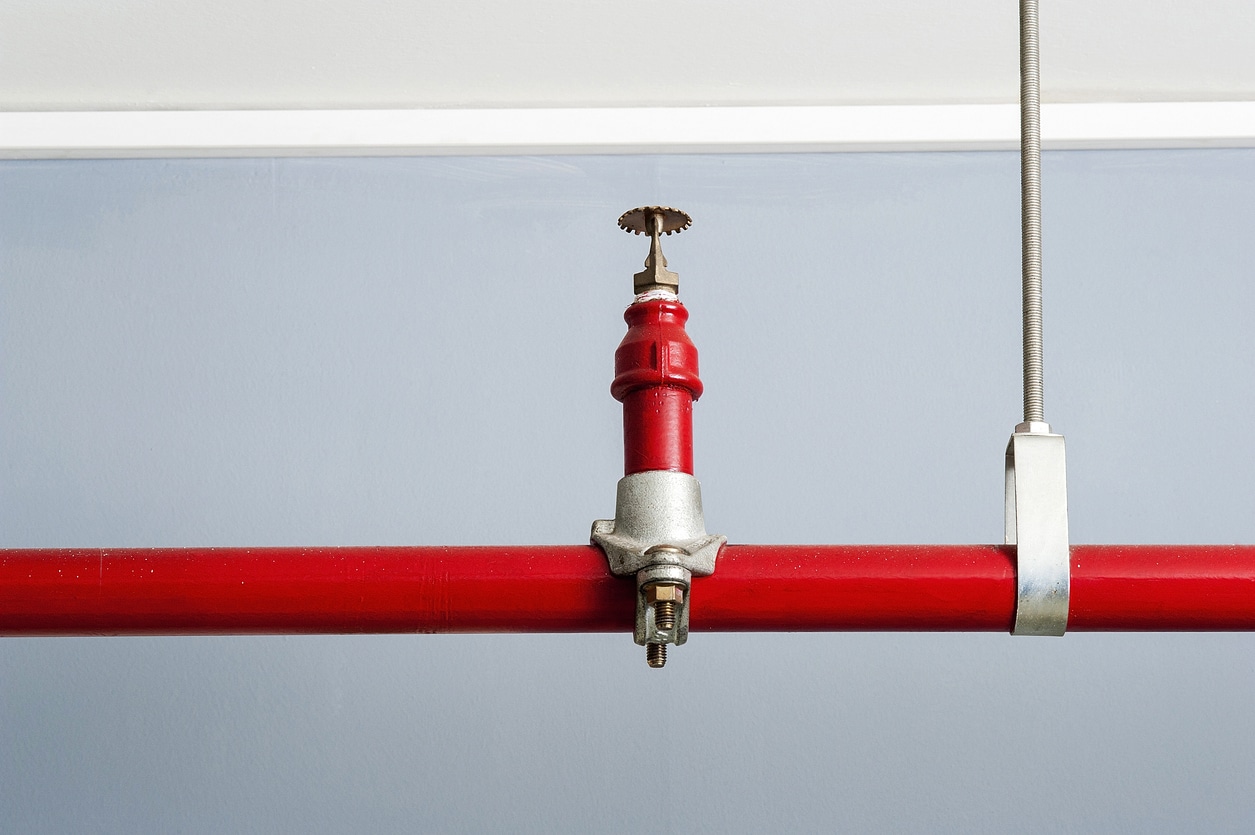 FAQs
How Do They Activate?
When a fire ignites, the air above heats rapidly and then rises and spreads out into the ceiling. Once the hot air reaches the fire sprinkler head, it triggers the reaction of the glass bulb. Most fire sprinkler heads possess a glass bulb with glycerin-based liquid (a heat-sensitive liquid). This expands when heated with hot air ranging between 135 to 165 degrees. The glass confine shatters and the sprinkler head activates once the liquid in the bulb expands enough.
What Are The Ratings and Color Coding for Fire Sprinkler Heads
Fire sprinkler heads are rated and color-coded. Each color represents the temperature at which the glass bulb explodes to activate the water flow. Therefore, the sprinkler heads have different classes of glass bulb color. Each class has its own maximum ceiling temperature setting and activation temperature.
For instance, ordinary sprinkler heads have a red or orange bulb. Intermediate sprinklers have a yellow or green color. High-temperature sprinkler head bulbs are colored in blue, followed by purple and black as the temperature increases.
How Many Does it Typically Take to Extinguish a Fire?
Most rooms have one to two sprinkler heads. When there's a fire outbreak in a room, only the fire sprinklers in the room will activate to extinguish the fire.
Do Fire Sprinkler Systems Need Testing?
Yes. Have your fire sprinkler system inspected or tested once a year. According to NFPA 25, regular inspection, testing, and maintenance of the sprinkler system components are necessary to ensure that the system is functional, meaning it's up to its code and ratings.
When Do They Need Replacing?
Sprinkler heads do not last forever. They need to be replaced to ensure they work properly. But how do you know if your fire sprinkler needs replacing? Fire sprinkler heads need replacement when they are heavily loaded with contaminants such as dust, if they're damaged and leaking, fail a plunge test, are too old and worn out, or if they're painted by someone else other than the manufacturer because the paint can cause blockage.
How Much Water Does A Fire Sprinkler Head Require?
Even though it typically takes 5 sprinkler heads or less to extinguish the vast majority of fires, each system must be carefully designed. An integral part of that design is the water supply for the system itself. In a small percentage some of cases the water supply is provided by a rooftop water tank. But in the cast majority of cases the water supply is form a water service line connected tot he public main in the roadway. It can either be a dedicated for service main, or a combined main. A combined water service line also provides water for your potable water use.
Regardless of the type of water supply, or type of service line, the supply has to be carefully designed by a design professional. What follows is a chart that shows guidelines and capabilities of various sized water service lines.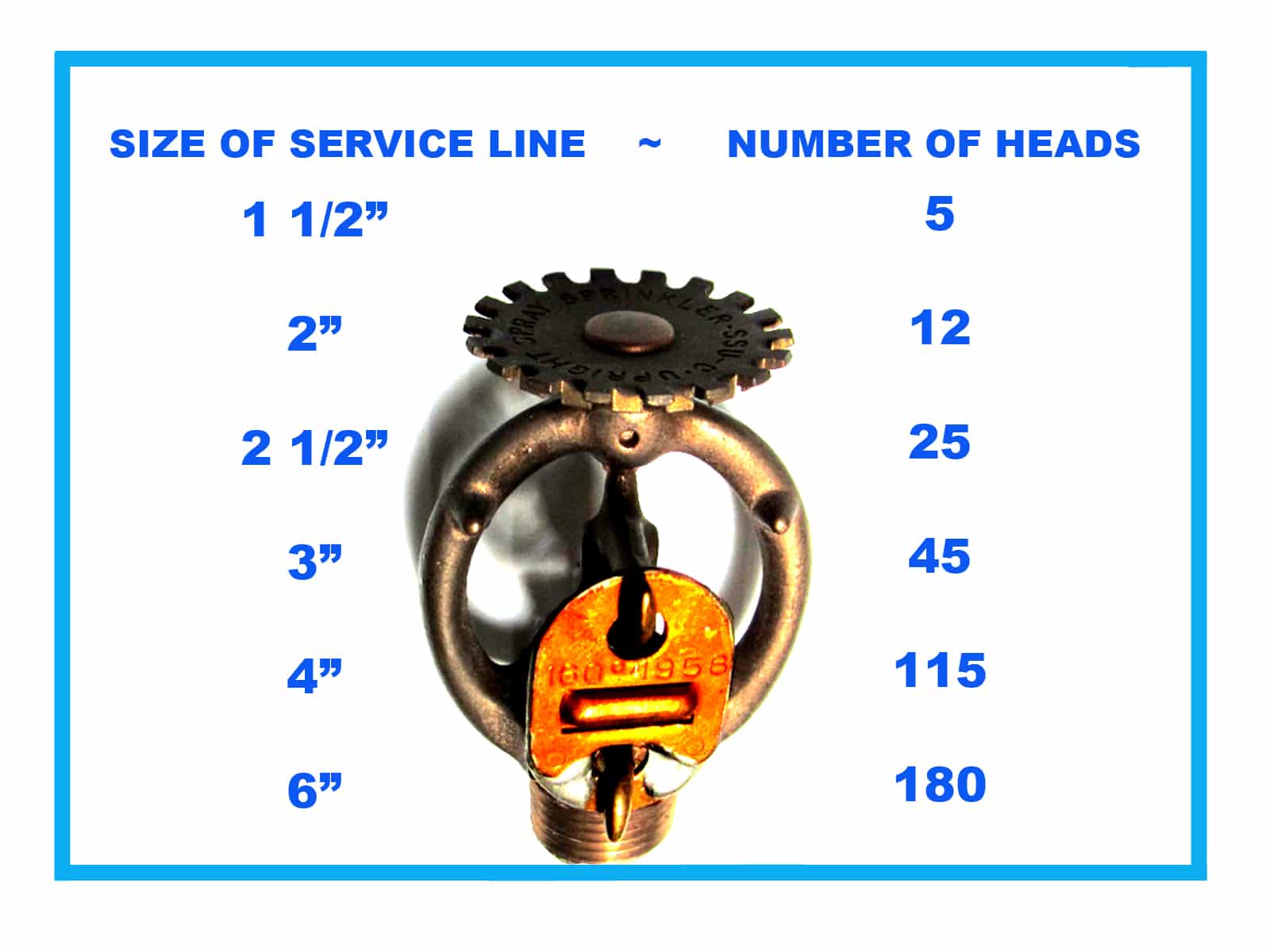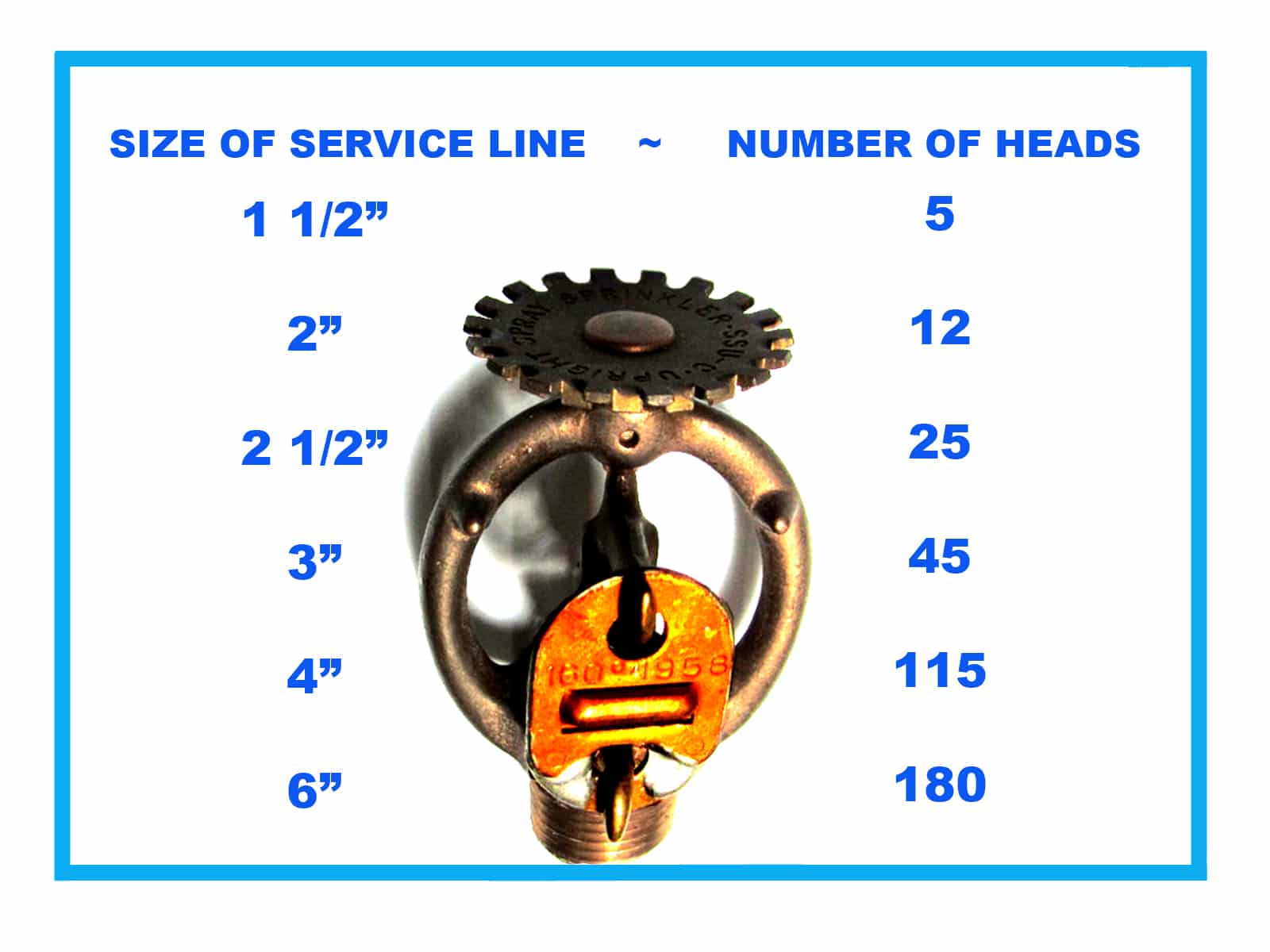 Safeguard Your Property From A Fire!
A fire sprinkler head is a simple and foolproof device that will help you save both lives and property. However, leave the installation and maintenance of fire sprinklers to experts. For any problem related to your fire service main, contact us today. We expertly install, repair, and replace fire service mains.
Expert Water Main Repair and Water Line Replacement
The Balkan Team provides expert home water main repair and water line replacement. We have expertise in all types of NYC underground plumbing. Balkan Sewer And Water Main Service was founded in 1952. Since its inception, the foundation of the company has been based upon integrity and honesty in all of our dealings.

That solid foundation has enabled us to thrive in every economic climate. That is why guiding you through the decision of doing a sewer repair vs sewer replacement exemplifies our company culture of educating consumers. We feel the more you know, the better we'll look. The year 2022 actually marked our 70th consecutive year in business under the same family guidance.

As we have grown, we have become increasingly dependent upon a "Team First" approach. What helps ensure a continuation of our high standards, overall integrity, and high company morale, is that same team approach.

Complete client satisfaction has always been the number one goal at Balkan Sewer And Water Main. That is why we are NYC's largest and most trusted sewer and water main service in New York City. Simply put, if it's plumbing, and it's underground, we do it. For over 70 years, and for over 90,000 New Yorkers to date, Balkan is "The Team You Trust".