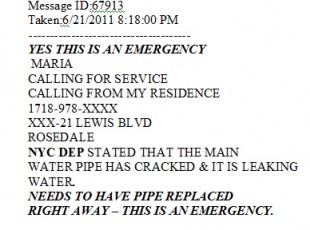 When the NYC DEP issues a violation for a water repair after 8PM a prompt response is needed and the water main repair must be started right away. Queens water main work frequently involves homeowners on tight budgets, they also need to have water main replacement work performed carefully in basements that are frequently finished and carefully furnished. In short they need fast and fairly priced water repair service, professionally performed  installations, and their personal property dealt with respectfully.
Balkan Sewer And Water Main Service recently received a call after 8PM concerning a Queens water main that received a NYC DEP violation. The homeowner received a call back from an experienced Balkan representative within minutes, a budget price, and the assurance of next day water repair service. By 6:30AM the following morning the same Balkan representative was on the site verifying the need for a water main repair and quoting a price right in line with the verbal quote given over the phone. A full crew was on scene within one hour to start work on the water main replacement and complete the entire water repair within the same workday. In addition tarps were carefully paid down to cover all affected landscaping and basement flooring.
Balkan takes care to treat clients property, along with the clients themselves, with the courtesy and respect that they deserve. Using a 'Uniform Pricing Policy' this Queens water main replacement was done on an emergency basis, but at the fairest of prices. As is customary a 10 year written unconditional guarantee was received by the homeowner, an assurance of a long-lasting water main replacement.
Because of water main repair and water main replacement service such as this Balkan is The trusted name in the NYC subsurface plumbing industry for over 50 years.
About Joseph L. Balkan, Inc.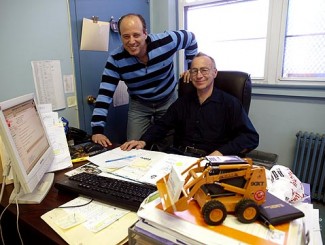 Balkan Sewer And Water Main is the largest sewer & water main replacement company in NYC. We are licensed, bonded, and insured. As a family run business in continuous operation for over 50 years. Our 10 year unconditional guarantee* on replacements means that we continue to stand by our work, long after the job is done. We are expertly equipped, from our 48,000 square foot facility to dozens of trucks, heavy moving equipment, backhoes and pneumatics. Choose Balkan Sewer And Water Main for your next sewer repair, water line installation, water repair, water line leaks, NYC DEP violations, sewer replacement, water line replacement, sewer trap, backwater valve, hydrants, manholes, specialty water service line work, area drain, and trench drains. Contact Balkan Sewer And Water Main today.