Trenchless house sewers and Sewer liners in NYC are not legal – Joseph L. Balkan Inc receives a constant stream of calls regarding Sewer liners that have failed, and about Trenchless installations. Both of these installation processes are illegal in NYC for house sewer repairs. Refer to these irrefutable documents: NYC DEP letter, NYC DOB letter. Many installers using these processes in NYC refuse to abide by code and ethical business practices and continue to prey upon property owners.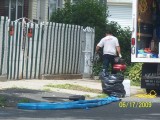 Putting aside that these processes are illegal. Consider why a licensed plumber would get calls about someone else's work. It is because the installation company does not stand behind its work, is not licensed, and answers to no-one. Calls from disgruntled customers who have paid thousands of dollars, for an installation that does not work, go unanswered.
If you are considering a house sewer repair in NYC consider this:
Trenchless installations are the most costly installation process available, and usually requires excavation. It is not legal as a repair method in NYC on house sewers. The above photo of a plastic resin tube used to line a house sewer cost an unsuspecting homeowner thousands of dollars to install.
Liners usually cost more than traditional pipe replacement. Liners are not legal in NYC. Sewer liners do not correct any pipe defect, they coat defects.
What a sewer liner will not correct:
Crushed pipe.
Disjointed pipe.
Back-pitched pipe.
Improper connections to a public sewer.
Any defect that prevents a sewer from functioning properly.
Defects that a liner will correct: None
Liners are meant as a rehabilitation process, not a sewer repair process. On average once a month a homeowner calls Joseph L. Balkan Inc. to ask for advice of how to recoup thousands of dollars for a faulty and illegal liner installation performed by others.
The last call Balkan received around June 23rd concerned a homeowner that spent over $11,000.00 (eleven thousand dollars) on a sewer liner that does not work. This is serious money and a serious problem. In this case the work was not performed by a licensed NYC master plumber, which is usually the case. To check on license status and a company's history with the Better Business Bureau us the Balkan Sewer And Water Main resource page.