Tree roots in sewer lines are a property owners nightmare. If untreated they can result in very costly sewer repair or  replacement work. Many property owners wait until the house drain is completely blocked with roots to take action. That may be too late to avoid costly excavation for a sewer line repair or replacement.
Even attempting to cut roots out of a blocked drain pipe by using a drain cleaning machine can be extremely costly and quite frequently does not work, or only provides temporary relief. A key to avoiding a distressful situation and expensive sewer replacement or repair work is to take action before the pipe is completely blocked and not flowing. The house drain line must still be flowing to allow for a chemical treatment that may avoid costly excavation work. If tree roots have completely blocked the line the treatment will not work.
Controlling tree roots in sewer lines
Copper sulfate is an inexpensive compound available from most drug stores and garden centers. If used properly it can have spectacular results in controlling root growth in house sewer systems. The most advisable way to use copper sulfate is by placing it in a toilet bowl in regular small doses of about 1/2 a cup and flush the toilet a couple of times to ensure it flows through the house drain.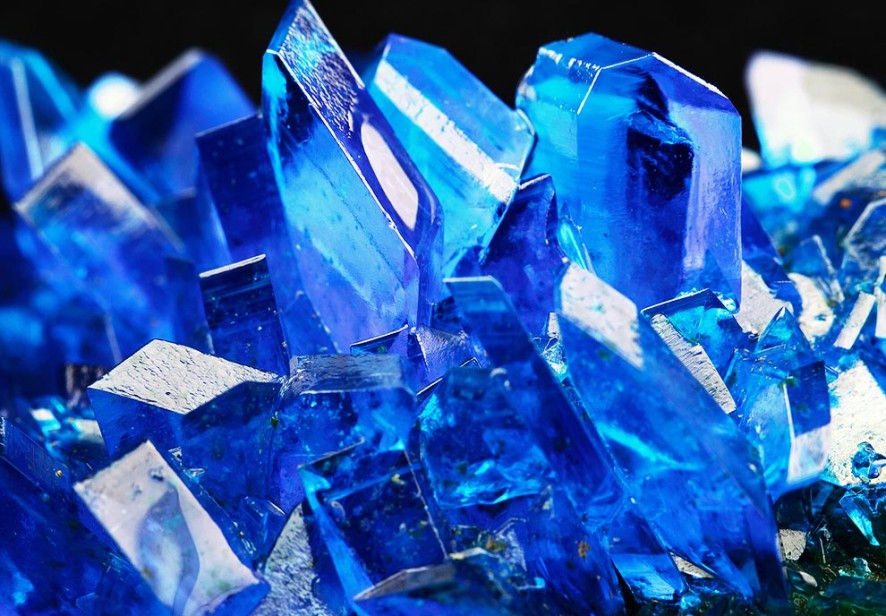 Never place the copper sulfate into a sink or shower – it may harm the plumbing. It is advisable to leave the house for the day after the treatment (always read and follow the label carefully).
Regular small doses of copper sulfate over a period of two weeks is a great and inexpensive way to easily control tree root growth in a sewer pipe. In addition copper sulfate does not harm the tree or plant creating the problem. Another positive result of using copper sulfate is that the organisms growing around the tree root blockage in the pipe are also destroyed lessening the intrusion – Yet the copper sulfate does not travel very to harm the plant or tree itself. Reports suggest that copper sulfate has never killed or harmed a plant or tree.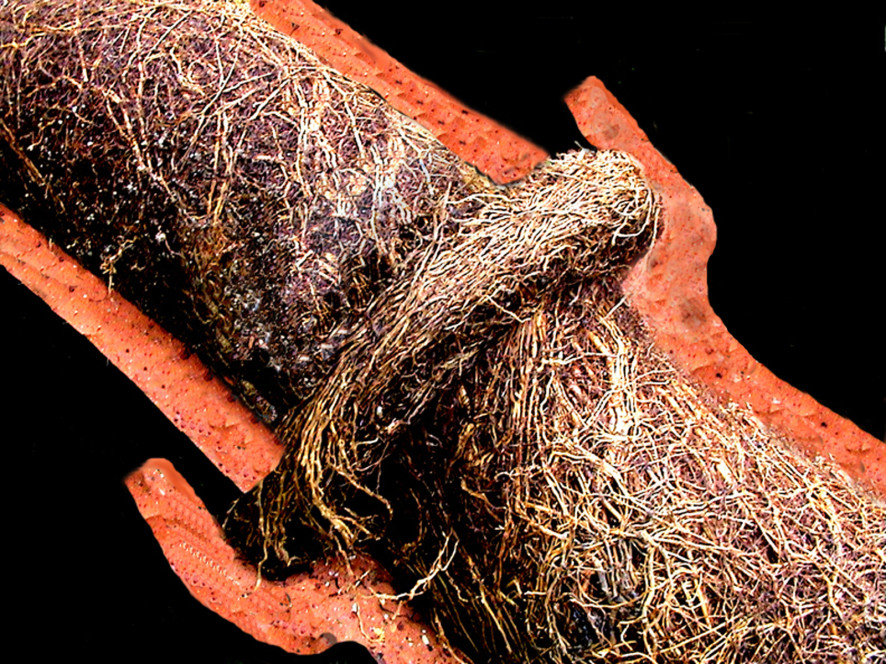 Read the  Oklahoma State University Report on tree roots in drain lines.Copper Sulfate costs less than $4.00 a pound and kills roots that are inside house sewer lines without harming plants or trees.
What you save in sewer repairs by a chemical treatment
In many cases a sewer video camera inspection can pinpoint where roots have infiltrated a house sewer line. If roots have grown into a portion of the sewer line, a spot repair can be provide relief from the problem. In other cases where tree roots have invaded the entire house sewer line, a sewer line repair cannot be done in just one section of the line. Usually when roots infiltrate a drain line in multiple locations anything less than a full replacement will be futile and not a long-lasting solution.
Using modern day equipment that is now available makes a sewer repair increasingly more of an option than in the past. Full sewer line replacement work in NYC  costs thousands of dollars. On the contrary 15 pounds of copper sulfate costs around $50.00. The decision between the two should not be hard to make!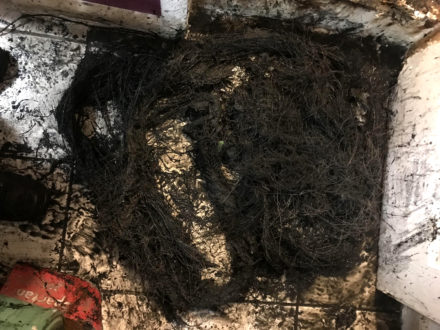 When roots get into a sewer line repairing only one section can be a waste of thousands of dollars. Typically the entire house sewer system must be replaced. A sewer line camera inspection can help in deciding what degree sewer repair job is needed. Likewise a sewer camera inspection can pinpoint where the roots have entered the line, and how effective a sewer cleaning or root treatment have been.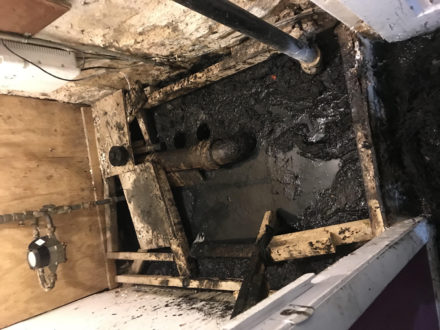 How do tree roots get into sewer and drain pipes?
Many materials used for a house sewer line are not prone to tree root growth. However clay pipe, particularly when not encased in concrete, is prone to root growth. As roots are attracted to moisture and clay joints tend to leak over time, sewer problems frequently arise. Root infiltration typically starts with very small roots called hair roots entering into the joints of a clay pipe. However as roots remain inside the pipe untreated or cut out promptly they continue to grow and get larger. Over time roots can crush the sewer pipe, crack the clay pipe, or become so intrusive that they cannot be cut out using a sewer cleaning machine.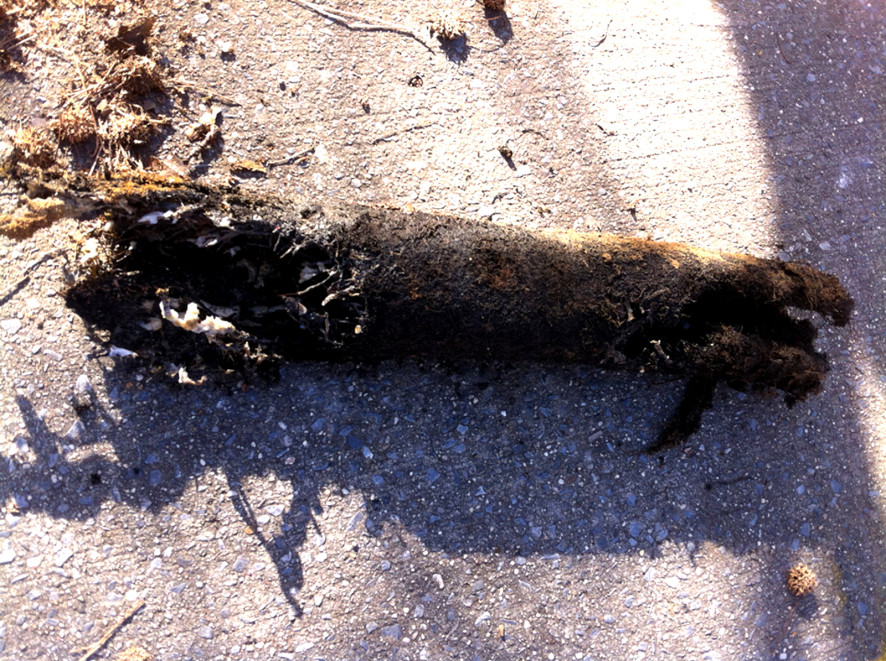 Sewer line materials such as cast iron and ductile iron pipe have a much higher quality joint and are not prone to root growth. Unless improperly installed the gaskets used to join these materials are not liable to fail and typically last for many decades. A properly functioning sewer does not need routine cleaning – doing so would be an unnecessary expense.
Tips to prevent tree roots in sewer lines
The following two tips are simple, yet are routinely overlooked and result in future sewer problems. The first tip is not to plant tree directly over a house sewer line. While tree roots naturally seek out moisture, it is less likely to result in roots in a sewer line when a tree is planted some distance away.
The second and more important tip is to choose which trees you plant carefully. Some trees have deep root structures. Those types of trees are much more prone to result in tree roots in a sewer line. You may want to consult with your landscaper prior to planting, but a tree or trees with shallow roots may be advisable.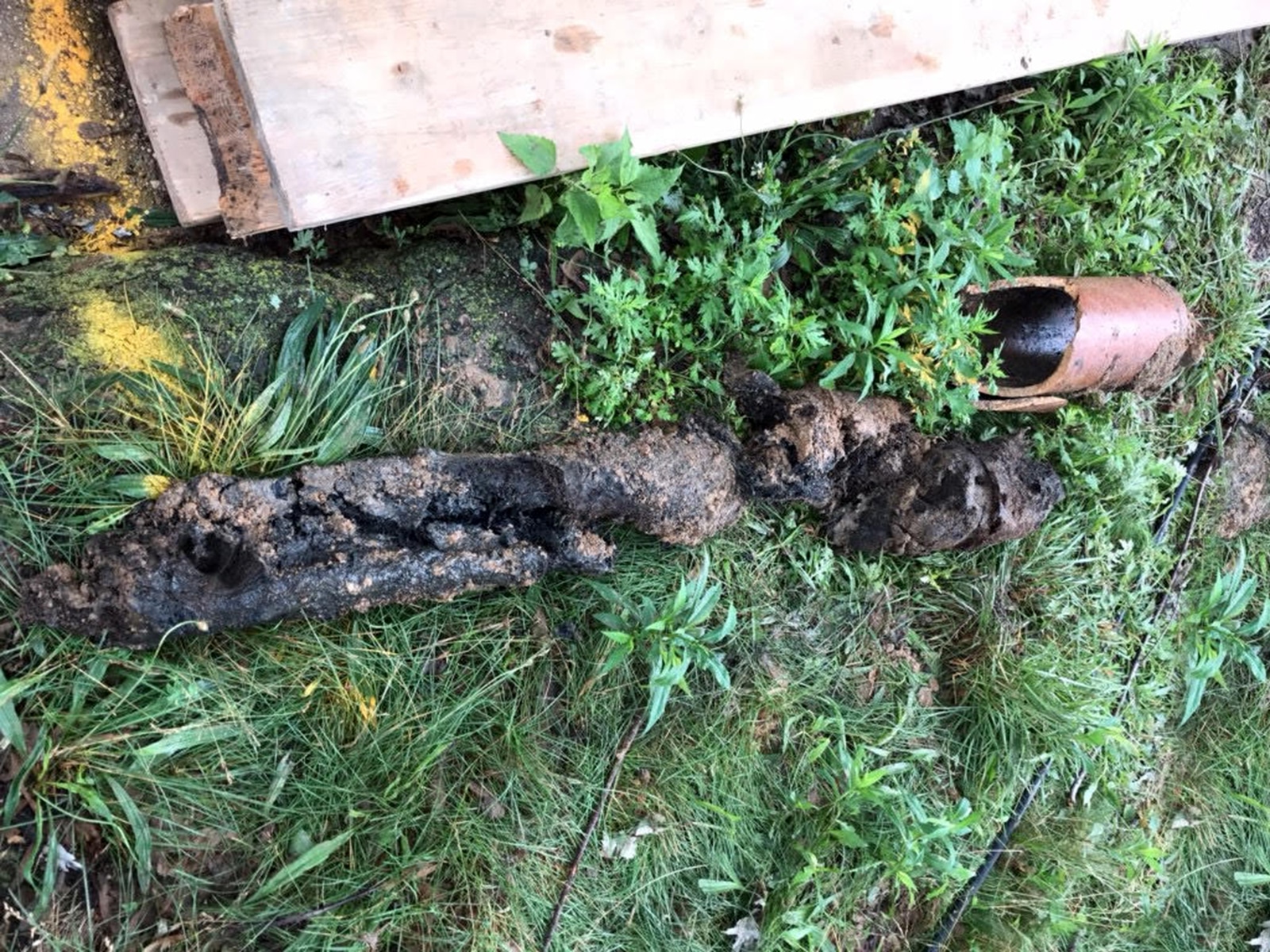 Some trees with shallow root structures are:
Maple trees
Poplars
American elm trees
Birch trees
Another advantage of planting a tree with shallow roots is that they tend to grow more quickly. Yet another consideration is that in areas where bed rock exists a tree with deep roots may not flourish. These two steps of where to plant a tree, and which variety of tree to plant, really cost nothing. However, they may save on an expensive sewer repair at a later date. Note that roots grow deeper in areas with sandy soil conditions or a low ground water level. This is because roots will seek moisture and continue to grow until they find it; even if that means your sewer line!
Expert Sewer Repair and Sewer Line Replacement
The Balkan Team provides expert home sewer repair and sewer line replacement. We have expertise in all types of NYC underground plumbing. Balkan Sewer And Water Main Service was founded in 1952. Since its inception, the foundation of the company has been based upon integrity and honesty in all of our dealings. That solid foundation has enabled us to thrive in every economic climate. That is why guiding you through the decision of doing a sewer repair vs sewer replacement exemplifies our company culture of educating consumers. We feel the more you know, the better we'll look.

The year 2021 actually marks our 69th consecutive year in business under the same family guidance. As we have grown, we have become increasingly dependent upon a "Team First" approach. What helps ensure a continuation of our high standards, overall integrity, and high company morale, is that same team approach. Complete client satisfaction has always been the number one goal at Balkan Sewer And Water Main. That is why we are NYC's largest and most trusted sewer and water main service in New York City. Simply put, if it's plumbing, and it's underground, we do it. For almost 70 years, and for over 70,000 New Yorkers to date, Balkan is "The Team You Trust".