Sewer pipe repair prices frequently depend on conditions unique to your particular neighborhood. Conditions can vary from the sandy soil conditions of Southeast Queens, to solid bedrock in parts of the Bronx. Or from heavy underground utility obstructions in Manhattan, to ground water conditions in Mill Basin. On the surface most neighborhoods seem similar. But an experienced pro knows that surprises lurk underground.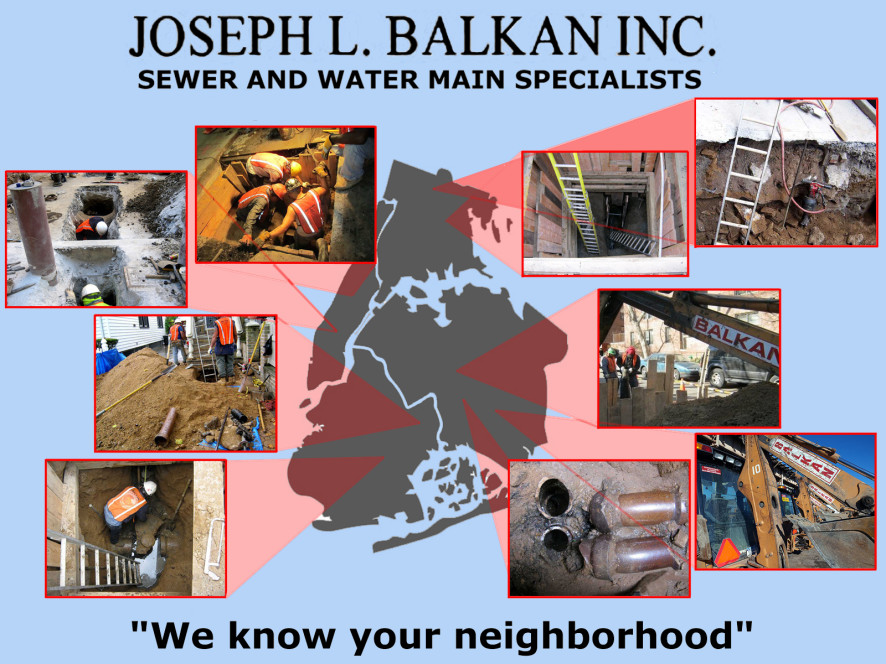 There is a sewer repair company that has a solution for every potential condition or job-site obstacle. Being an experienced sewer pipe repair company has its benefits. Being a knowledgeable and prepared sewer contractor means avoiding unexpected conditions and unwarranted cost overruns. Clients avoid unexpected charges, job site delays, and needless aggravation.
Read actual neighborhood reports about sewer pipe repair
When it comes to sewer pipe repair work, reading is believing. Read about our expertise and familiarity with each Borough of NYC. Feel free to further read about actual sewer repair job site reports. Our reputation has been built one job at a time for over 60 years.
What is the biggest mistake sewer pipe repair customers make?
There is one common mistake that customer make when considering a 'spot' sewer pipe repair. Only certain sewer problems lend themselves for a partial repair, also known as a spot repair. For instance a back-pitched sewer or a house drain completely infiltrated with tree roots are not good candidates for spot sewer repairs.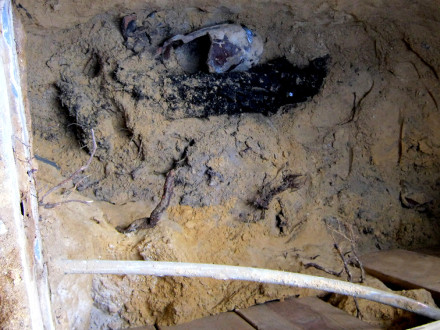 There are a number of defects that are very good candidates for spot sewer pipe repairs. House sewer lines that are broken at the point of connection to the public sewer or broken near the outside of the foundation wall are both good candidates for a spot repair. But it must be added that the point of connection to the public sewer must be carefully determined first. Incorrect excavations can lead to cost overruns or job-site disputes.
Another good case for a spot sewer pipe repair is if it can be determined that tree roots have only infiltrated a certain section of pipe. If so, then this is also a case where a partial sewer repair can be made.
In far too many cases a property owner hires a sewer contractor to perform a spot repair in cases where it is not possible or highly unlikely to be successful. This situation can be compounded if the client does not have an iron-clad price ahead of time for possible additional work. This is the major mistake that owners make – always get a quote for all contingencies ahead of time.
Once an excavation is open in front of your property it is the most stressful and disadvantageous time to negotiate a price with a sewer contractor. Just like the old saying "If it is not in writing then it's not."
As a customer, what do you get from Balkan?
 It's nice to know that a sewer pipe repair company is experienced – but as a customer what do you get? 
Free on-site visits 7 days week, even after hours.
Free expert advice via phone or email without any obligation to hire.
The lowest prices in the NYC subsurface plumbing industry.
10 Year unconditional guarantees on full sewer line replacements.
Only use of highest quality domestically produced extra heavy cast iron pipe.
Careful oversight of each and every full installation, or partial sewer pipe repair.
Next day restoration of disturbed asphalt or concrete surfaces.
Personal attention before, during, and after work is performed.
Peace of mind by using a neighborhood company in continuous business for over 60 years.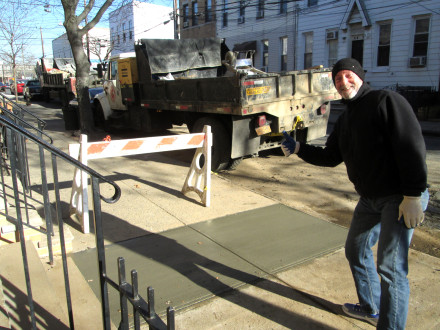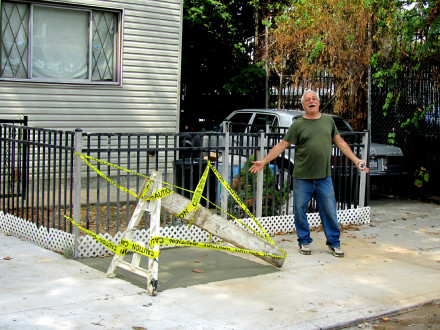 High quality, experience, and fast service each and every time. All backed by a highly trained team of professionals. The typical end result is a very happy customer.
A long history of performing sewer pipe repair work in NYC
Since its founding in 1952 on Blake Avenue in East New York the Balkan family has specialized in performing water service line and sewer pipe repair work. The residents and property owners of NYC have a long-standing trust and familiarity with the family name. In an over 60 year history Balkan has performed water line and sewer pipe repair work in virtually every neighborhood, and in every Borough.
Being NYC Licensed Master Plumbers, bonded, and insured are the basic requirements to perform house sewer repair and replacement work in NYC. But having an intimate familiarity with the unique conditions that each neighborhood presents has its advantages. Balkan provides the experience and expertise that is vitally important for a consumer looking to make a well informed hiring decision.