Queens sewer and Queens water main repairs present some special situations and challenges for water main and sewer contractors that have to be met to ensure customer satisfaction and a professional installation. A Queens sewer and water main contractor should be familiar with and prepared to address any and all of these situations, some of which are unique to the borough of Queens. Queens is comprised mostly of one and two family homes that have some unique features and are known for their carefully landscaped and sometimes expansive front yards. Some of common concerns of the homeowner and conditions that are to be considered by water main and sewer contractors are:
Front porches or stoops with no access.
Underground lawn sprinkler systems.
Old septic systems that were never properly filled in.
Carefully landscaped properties.
Wrought iron, brick, or block fencing and retaining walls.
Attached and semi-attached properties.
Multiple underground utilities.
Additional plumbing fixtures added to original house.


Amongst water main and sewer contractors Balkan stands out for its ability to deal with all the above Queens sewer and Queens water main line repair issues and others as well. For every sewer and water line issue that presents itself, there is a sensible solution:
Front Porches And Stoops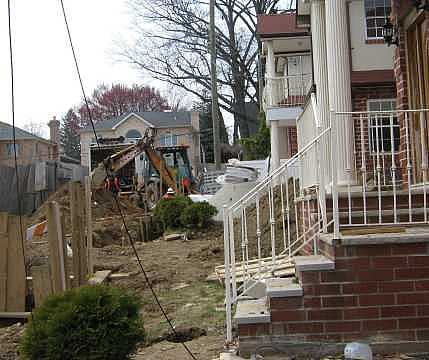 Balkan can typically devise a cost effective way to replace old and defective sewer pipes even when underneath a front porch or stoop that other sewer contractors may not consider accessible. By adding this to the scope of work a future sewer repair is avoided that if done separately would cost a multiple of performing this work simultaneously with the sewer line replacement from the outside of the porch of stoop.
Underground Lawn Sprinkler Systems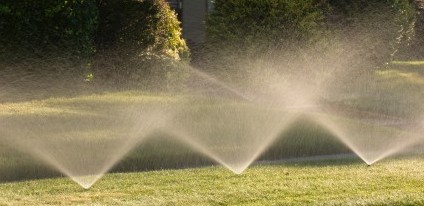 Balkan takes careful measures not to disturb underground lawn sprinkler systems, but Queens sewer work frequently makes this unavoidable. That is why Balkan stocks a full range of lawn sprinkler tubing and fittings to quickly and permanently restore lawn sprinkler systems to original condition if they are disrupted in any way and at no additional charge.
Old Cesspools And Septic Systems
On occasion old cesspools or septic tanks will be uncovered that were never properly filled in or where settlement has occurred. This is more prevalent when performing Queens sewer or water line repairs because many houses were originally built with cesspools due to no public sewer fronting the property at that time. In a case like this Balkan will make use of its fleet trucks, which contains numerous dump trucks, to deliver clean and uncontaminated soil and properly fill in the old tank. Balkan doesn't cover problems, they correct them.
Landscaping And Shrubs
Queens is known for its carefully landscaped front lawns and shrubbery. Balkan will give ample notice to its clients to remove articles of extreme value by a professional. In lieu of this, all excavated areas will be covered with either plywood boards or tarps to minimize the disturbance, and all surrounding areas will be protected. Any lawn or shrubs will be carefully removed by experienced Balkan field personnel and typically replanted the very same day. Many times Balkan will excavate by hand for Queens sewer or water line repairs to minimize the disturbance. By doing this Balkan saves the client costly landscaping fees.
Wrought Iron Fences And Brick Walls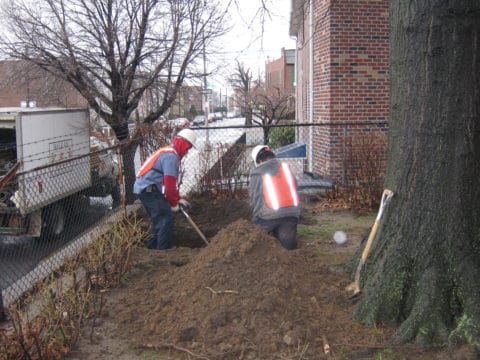 Many houses have wrought iron fences, brick walls, or block walls around the perimeter of their property. In the case of a wrought iron fence Balkan will carefully cut and weld back in place only the sections of a wrought iron fence that need to be temporarily removed. All such work is included in the quote and performed by Balkan in-house personnel. Brick or block walls will remain untouched, even if that mandates performing all excavation work by hand. Doing a little extra hand work is no big deal when it comes to saving thousands of dollars in masonry work for a valued client.
Attached And Semi-Attached Houses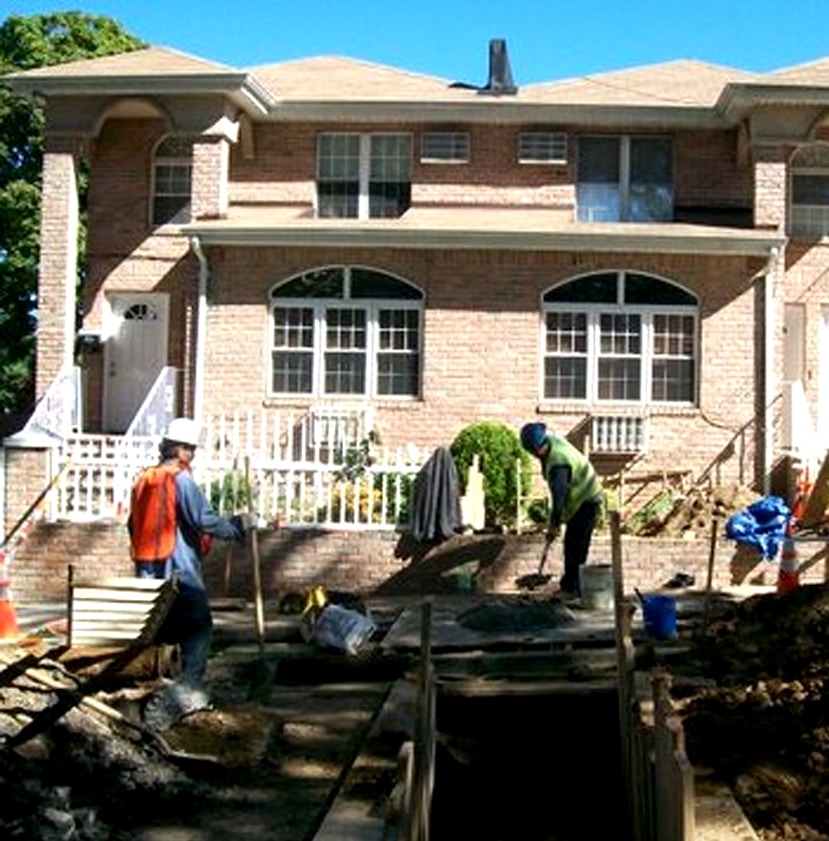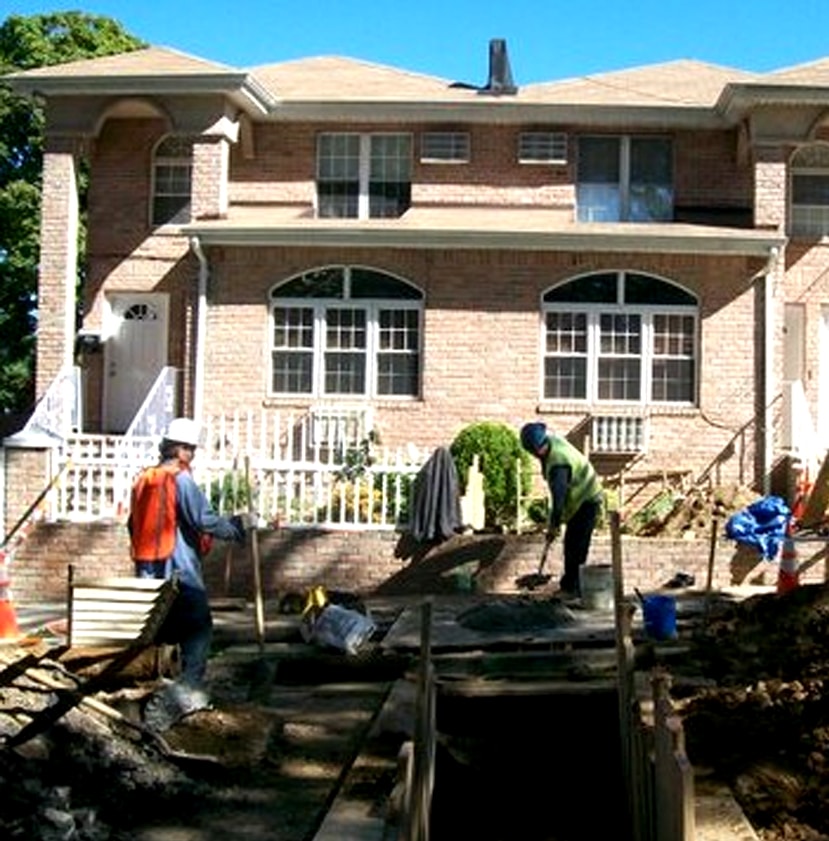 When it comes to attached and semi-attached properties Balkan will take the utmost precautions not upset neighbors or their adjoining properties while performing sewer or water line repairs. Balkan will never place excavated material or tools on a neighbors property unless express permission is granted. Furthermore, if any damage should arise Balkan will do repairs free of charge. Having a sewer line or water line repairs performed should not mean irrevocably damaging relationships between two neighbors. Balkan understands this because they have been based out of Queens for over 50 years.
Underground Utility Lines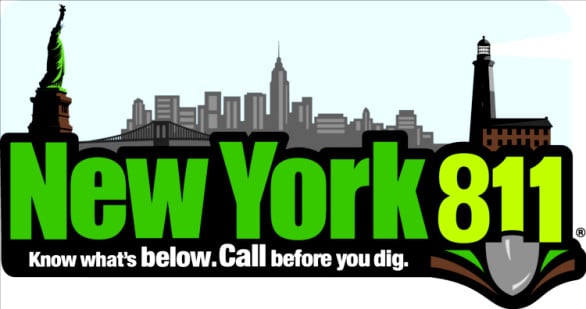 Fully utilizing the NYC One Call Center, and as a standard and documented procedure Balkan will notify all public utility companies prior to excavating for any Queens sewer or water line repairs. All underground utility lines will be clearly marked out prior to a shovel or backhoe bucket ever touching the ground. Repairing a sewer line or performing water line repairs only to break a gas line or disrupt some other vital service is not to any-one's benefit.
Proper Water Pressure
When it comes to water line repairs or a full water line replacement Balkan will carefully 'size out' for the correct and NYC DEP approved water service size. Because so many houses in Queens have added plumbing fixtures of all sorts over the years, frequently the new water line will be one or two sizes larger than what is existing to ensure increased water pressure. In this case increasing water pressure and performing an installation to NYC DEP code compliance adds very little to the cost of an illegal and undersized water line.
Balkan Sewer And Water Main Service strives to provide 'Results Not Excuses' for any and all sewer and water line repairs or sewer and water main replacement work. Our attention to detail and devotion to our trade is unsurpassed. When water main or sewer contractors are the need our family name has been 'The' trusted name for over 50 years whether in our 'home borough' of Queens, or throughout the entire NYC metropolitan area.