Perhaps the best way to handle a flooded basement is to prevent it from ever happening. Knowing how to clean up a basement after water flooding from a leak, sewer backup, pump failure, etc. is helpful. But how about preventing or learning about these calamities before any damage or basement flooding ever takes place?
After such an incident occurs the loss of property, mold or bacterial remediation, potential loss of a living space, or rental income, will most definitely outweigh curing the cause of the flood itself. Frequently a site visit or advise about preventing such damage from a basement flooding expert such as Balkan is advisable.
Why is preventing a flooded basement and water flooding important?
Did you know that water damage is the number 1 cause of property damage? It creates more damage than fire and theft combined.
The average commercial flood costs upwards of $75,000.00.
Mold can multiply the cost of a claim by 10x.
Leaks and flooding can occur 24/7, and often go undetected for long periods of time.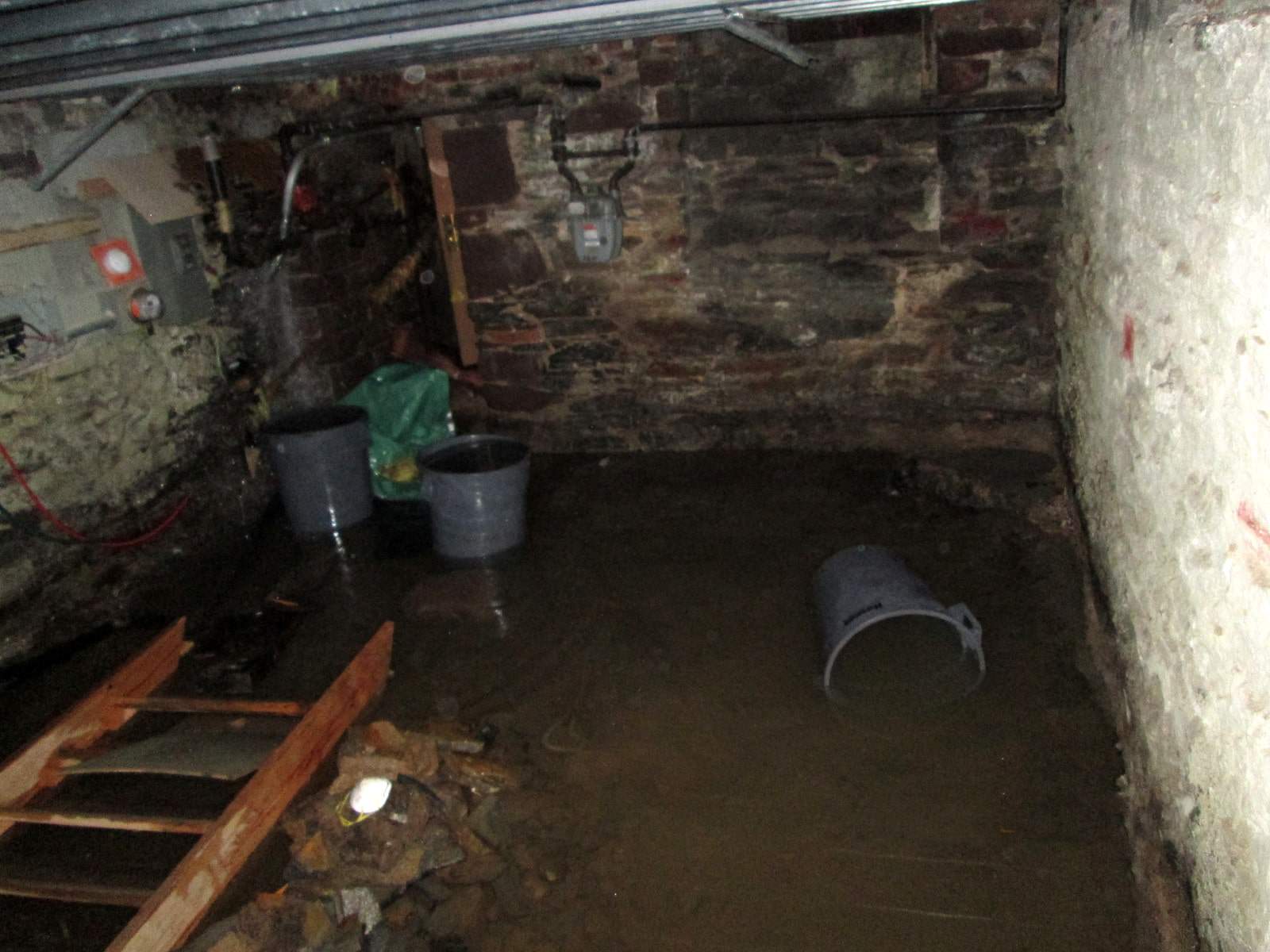 With the above having been said, and considering the above pictured condition, let's explore 5 great products to prevent basement water flooding from ever happening. Certainly if you've suffered water flooding, one of the five following products should be of great help to you.
1. Water Sensor Alarm to Prevent Flooded Basement
A wall mounted water sensor alarm is the mist affordable and cost effective way to know you have a water issue in your basement. This sensor alarm prevents water flooding or a flooded basement by producing a loud 85 decibel alarm as soon as a sensor comes in contact with water. Each alarm is wall mountable and has two sensors. These sensors can be placed in a sewer or water access pit, or inside a floor drain. If issues such as a sewer backs up, water leak, leaking hot water tank occur, you'll be notified before the water level rises to create any damage.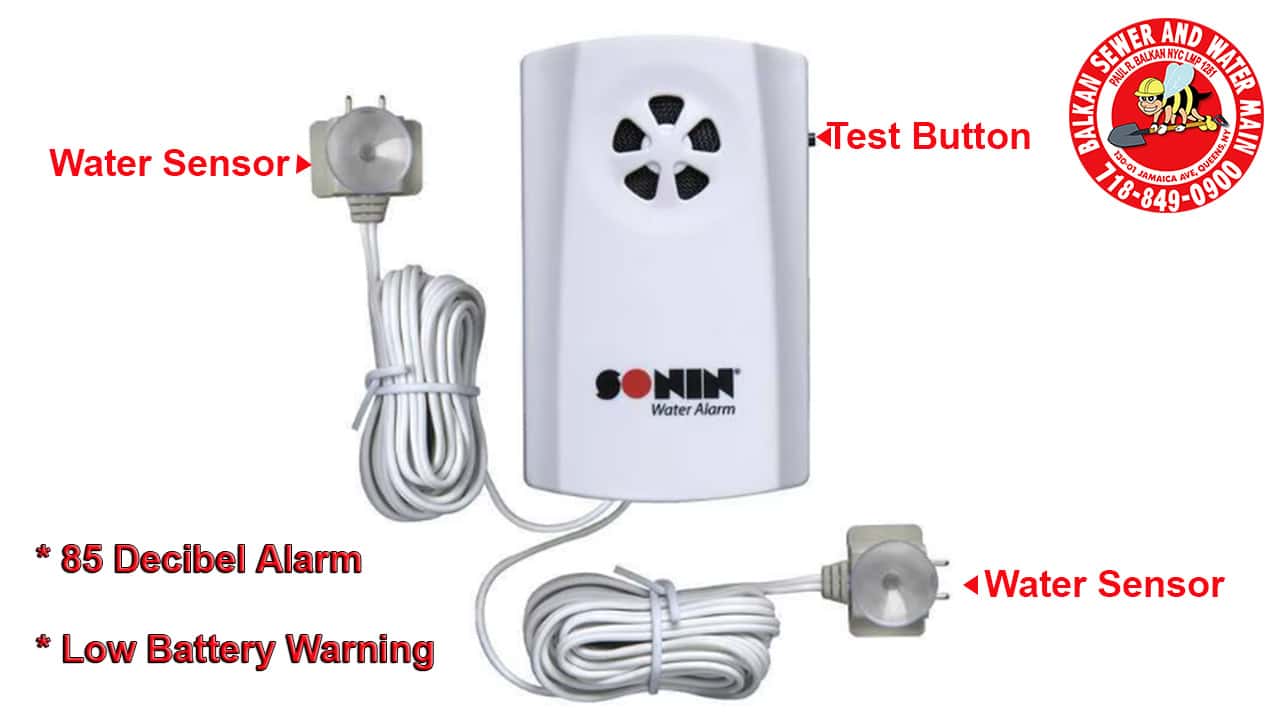 These alarms even have a low battery warning. Quickly and efficiently installed by Team Balkan at a nominal cost, this is a "low cost best bet" solution.
2. WiFi Sewer Alarm for Sewer Backups
There are various sewer alarms on the market, however Team Balkan endorses and uses Cyclone WiFI Sewer Alarms exclusively. Cyclone sewer alarms can be plugged into an outlet or run by battery. Because they are easily connected to your WiFI, they provide full peace of mind to alert you of a sewer clog issue issue well before is rises out of your drain pipes, or worse, above your floor. A WiFi sewer alarm by Team Balkan costs a fraction of the cost of cleaning up after sewer backup, and the associated damage to your home and property. In most cases when you have a drain clog a professional drain cleaner can clear the clog in a fairly short period of time.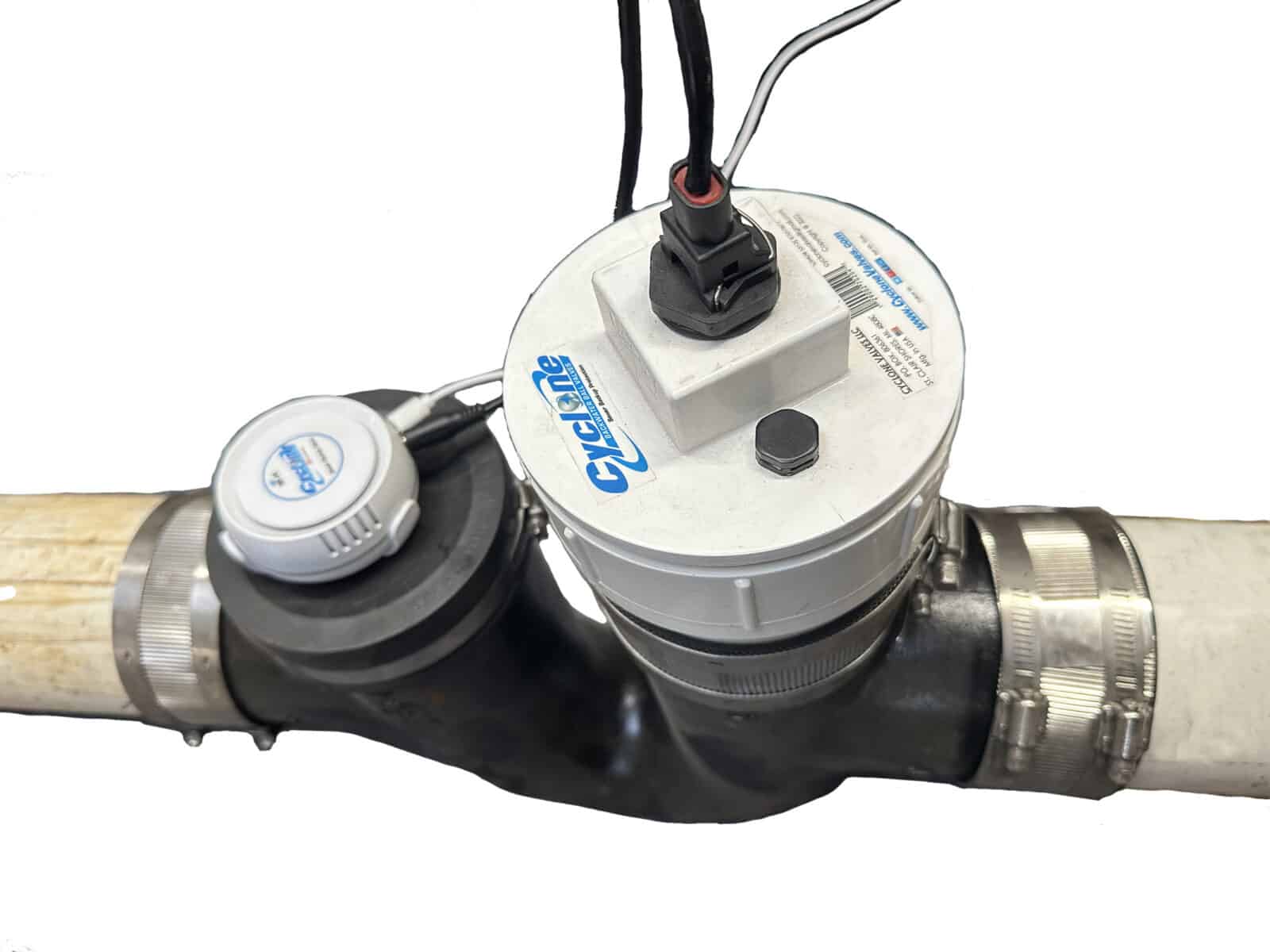 3. Sewer Trap Repairs and Replacements
Many folks do not realize how vitally important a main house sewer trap is. A sewer trap's primary purpose is to prevent sewer gases from escaping into your home. Of course a trap can also prevent unwanted objects form entering into your drain pipe system. In some cases a cracked or worn sewer trap is the cause of sewer smells inside your home. If you happen to live in the NYC metropolitan area, Team Balkan provides free on site visits and evaluations, with no obligation to hire us. Our Team frequently diagnoses and cures problems that baffles others.
Balkan is your house sewer trap expert. Whether you require new trap plugs, or a trap repair or replacement, count on an on-point and speedy solution.
4. Sewer Backwater Check Valve Prevents Water Flooding
A sewer backwater check valve is a relatively simple and inexpensive device. Basically it is a one-way valve with a flapper that only allows sewer water to exit from your drain line. If there is a city sewer backup or city sewer surcharge the flapper closes to prevent sewer water form entering your home. Even though the device itself is relatively inexpensive, it should be installed by a skilled plumber.
If a sewer check valve is installed incorrectly it will actually create more problems than you had before. For instance, the check valve must be installed on the street side of your house trap. Installing sewer backwater valves is yet another product that Team Balkan is expert at determining if it advisable, ex[pert at installing as well. In many cases a sewer check valve will prevent a flooded basement from occurring.
5. Sewer Flood Gate Valve Stops Sewer Water 100%
A sewer flood gate valve is both the most sophisticated and expensive device to install. It is likewise the most dependable and long-term solution to prevent sewer water flooding, or a flooded basement. The knife edged gate on this flood gate valve holds back water 100%, and over long periods of time. This sewer valve must be installed to strict manufacturers specifications to function properly. Balkan is at the forefront of technically understating this device, and performing expert installations.
Why Team Balkan Is Your Flooded Basement Prevention Specialist
Team Balkan has many years of being devoted to preventing and curing our customer's flooded basement issues, and water flooding in general. Our team of experts will arrive on your site to evaluate your unique situation to both diagnose and suggest solutions. Not only are our expert site visits free of charge, they are likewise provided without any obligation on your part to hire us. In many cases quick and easy fixes can be applied. In other more complicated cases, you can depend upon Balkan to provide an expert cure with products installed to exact manufacturers specifications. Count on Balkan to be on-time, on-point, and The Team You Trust. Feel free to contact Team Balkan to find out for yourself.