Paul R. Balkan is the President of Joseph L. Balkan Inc. Paul is a NYC Licensed Master Plumber and is licensed by the Department of Buildings. With a background in engineering coupled with well over 35 years of hands-on experience in the NYC sewer and water industry, Paul is uniquely qualified to oversee the largest sewer and water company in the City of New York. Paul's word is his bond, and hiss integrity and honesty are beyond reproach. That is the foundation that Team Balkan is built upon.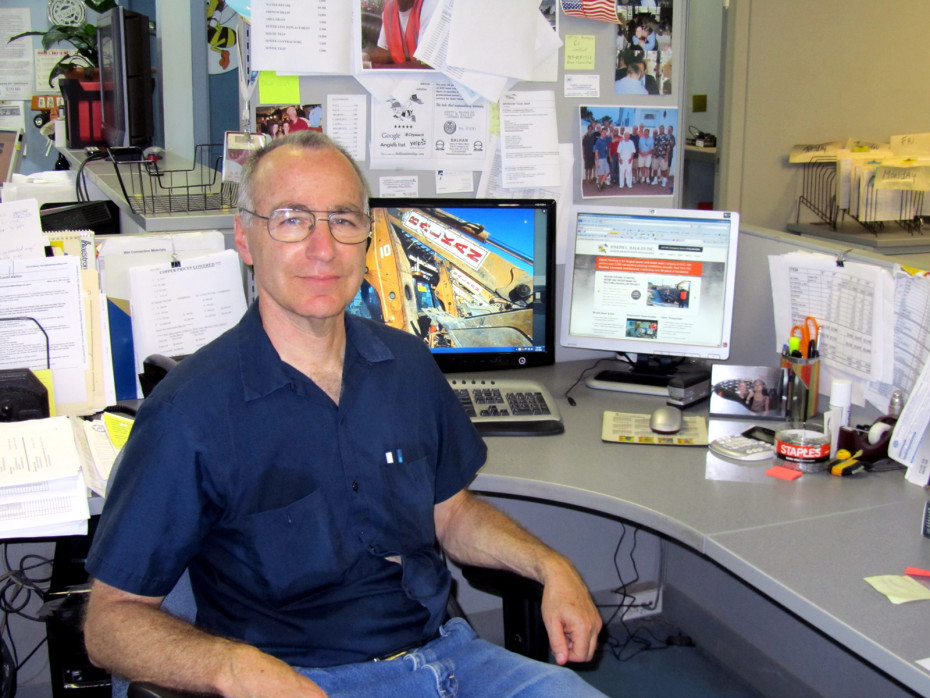 Paul started working with his father Joe part-time as a young teen, and throughout college, to learn the business literally from the underground up. He has a vast knowledge of sewer repairs and main water line work, which also encompasses other aspects of being a NYC plumber. This dedication to the trade and knowledge has enabled Paul to grow this one-time small family sewer and water main business, into a firm that typically sends out over a dozen crews each day. Paul has a caring and respectful attitude towards clients and his staff alike. His dedication to detail, and providing correct information, has added immeasurably to Team Balkan's reputation.
Along his road of experience Paul became a NYC Licensed Master Plumber in the early 1990's, and is highly respected in his chosen trade as a NYC plumber. Paul has been instrumental in rectifying many difficult and complicated situations over the years. This is thanks to Paul Balkan's calm, knowledge, and being on-point, no matter how stressful the situation. He is consistently thoughtful and intelligent thinking, when the situation calls for it the most.
Message From The President of Joseph L. Balkan Inc.
My brother David and myself provide highly personal attention to all aspects of Balkan Sewer & Water Main Service. From choosing the highest quality materials for sewer and water main installations. We routinely use materials that meet or exceed NYC Department of Environmental protection (NYC DEP), and Department of Buildings (DOB), code requirements . We take pride in personally training and overseeing our office staff, and directly overseeing the field personnel.

My brother David and myself treat our clients as we would like to be treated when we are customers ourselves. That entails being respectful,  and dealing with honesty, courtesy, and integrity. All while performing work at the fairest of prices. As a NYC Licensed Master Plumber my personal attention to the client relationship ensures a consistent level of quality and professionalism. Our uniform pricing policy assures you of the fairest of prices, no matter the urgency of the situation. The message clearly is that we provide a consistency of NYC water main and sewer services. That is one of the many reasons our licensed plumbing company has become the largest sewer and water service company in the NYC metro area. We are also the oldest sewer company still operating under their original family name. Balkan performs between fifteen hundred to over two-thousand sewer line and water service installations each year city-wide.
Personal Attention & NYC Licensed Master Plumber Code
We use the principal of personal attention when it comes to our employees. By treating our employees fairly, respectfully, and providing extensive in-house training and a full benefit package, we maintain a motivated, reliable, experienced staff, and a drug and alcohol free workplace. Being part of a team allows our employees to take pride in their work and satisfaction in maintaining our company's unparalleled reputation in the industry.
We are proud that our employees get the message of personal attention as well. This personal attention shows itself in the quality and professionalism of every sewer and water job and in all the work we do, which is in strict accordance to the Licensed Master Plumber code and to the standards expected of a NYC plumber. Frequently the work we do and the materials we use exceed applicable NYC code requirements.
As a sign of our commitment to the NYC plumbing and subsurface industry our company maintains dual membership in two trade associations and attends regular cabinet meetings with the NYC Department of Buildings, Department of Transportation, and Environmental Protection Agency.
We are your one-stop-shop for subsurface plumbing services throughout Brooklyn, Queens, Manhattan, and the Bronx. If you require a service that is not listed above contact Balkan Sewer And Water Main today for a free site visit or no-obligation price quote. Superior service is one call away 718 849-0900.