NYC water main replacement work – When a multi unit building needs their water main service replaced and upgraded in NYC many factors can come into play. Bed rock often is present which requires great skill and know-how to be dealt with properly and involves specialty tools. Working safely and keeping to a tight schedule is a careful balance that must be kept.
With a 48,000 facility Balkan Sewer and Water Main Service is able to address any and all sub-surface water main replacement issues throughout NYC in a timely manner.
If an unforeseen water main job-site condition arises a sensible and timely solution is always at hand. When bedrock was encountered on the above job location it was addressed the very same day. The rock was broken, removed, and carted away. Additional steel roadway plates were brought out to the site in order to maintain a safe work site. Safe work procedures do not end when the crew leaves the site.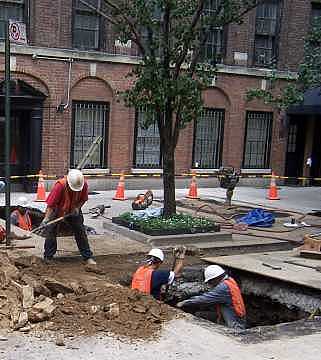 At all times this Manhattan water main replacement proceeded with all excavations being carefully barricaded and all Balkan field personnel adhering to proper safety procedures. Working quickly to install a water main does not mean working unsafely. All Balkan field personnel are OSHA 10 hour certified and carefully supervised by highly trained water main Crew Foreman and Field Supervisors. Sewer installations have the same high level of supervision. Balkan Sewer and Water Main Service is a trusted family name in New York for over 60 years of plumbing service.