New York, USA (August 27th 2016) FOR IMMEDIATE RELEASE:
In a world where top internet marketing experts strive to achieve first-page positioning by spending millions of dollars and using countless SEO tactics; one hometown business has achieved quite a result in the midst of some stiff competition. The New York plumber that has reached this milestone is nonother than Balkan Sewer and Water Main Service. By reaching 5,000 views in such a short time, it confirms to us just how important sewer and water main related content is to residential and commercial property owners and managers.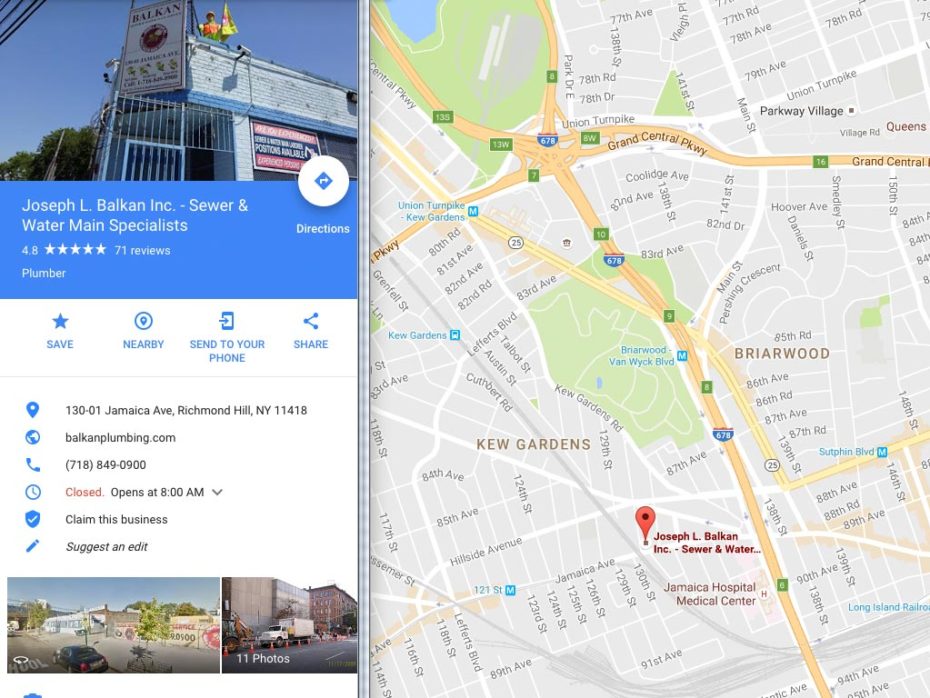 New York Plumber Reaches Record
Joseph L. Balkan Inc. Sewer and Water Main Specialists located at 130-01 Jamaica Avenue in Richmond Hill, NY has a Google Places page that has just reached a landmark record; its first 5,000 organic views.
While Google Places does generate a page and map for any business that chooses to register, Balkan's page is incredibly useful to any potential customer making a decision on what plumber to hire. The map and location pictures are standard and very clear. However, it is the pictures the company has posted that help to:
Inspire trust,
Demonstrate experience, and
Establish a professional reputation
… in the minds of potential clients.
Millions of people rely on photos like Balkans when they search for places.
Companies can boast about their skills with words, yet pictures are extremely powerful when it comes to bringing a point home and helping new customers understand what a business is all about.
Seeing pictures of:
The people who work for the company,
The scope/size of the jobs the company typically handles,
The types of jobs the company typically handles, and
The machinery and vehicles the company has at its disposal to complete work;
… can truly help potential business owners, government contractors, apartment/condo owners and residential clients feel comfortable knowing they are dealing with expert plumbers that are competent enough to handle any job.
Also, the facts on the Balkan page are not sparse like many other 'Places' pages you come across. Often, business hours are not listed. Sometimes there aren't any photos at all. Some businesses do not even have a website aside from their 'Places,' page. Many businesses also don't have any customer reviews.
Proof Professional Service and Customer Satisfaction Can Lead to Coveted Organic Views
All the proper business information, coupled with a professional website and authentic customer reviews help potential clients find out if a business is right for their needs. The average potential client can look at the Balkan 'Places,' page and see a company that is racially diverse, that handles all types of plumbing jobs, (large and small), throughout a large New York community, and that satisfies almost 100% of their customer base.
Customer satisfaction is not easy to achieve in an industry like plumbing, where every client needs a perfect job done right every time. Plumbing issues handled incorrectly are a nightmare for the customer that experiences poor workmanship.
However, it is evident that Balkan satisfies its customers and often over-delivers. Many clients state that the work goes beyond what they expected. In fact, the current customer review rating is 4.8 stars out of 5. So go ahead and check out the Balkan 'Places' Page, then contact Balkan Sewer and Water Main Specialists with any plumbing needs you might have.
About Joseph L. Balkan, Inc.
Joseph L. Balkan founded our family company in 1952. Since its inception the foundation has been based upon integrity and honesty in all of our dealings. That solid foundation has enabled us to thrive in every economic climate for well of 60 years. As we have grown, we have become increasingly dependent upon a Team First approach. Meaning that Team members have advanced to various positions of authority and responsibility in order to carry on and ensure our high standards. Complete client satisfaction has always been the number one goal, thus we are the most trusted and largest sewer and water main contractor in all of NYC; a position we have held for decades.