When an underground water line break occurs it's important not to panic. You should take a common sense approach. For a typical homeowner that's easy to say, but sometimes it's hard to do. This article will attempt to break the situation down into easy to understand terms and a common-sense approach. Some important points that will determine your course of action. The main 4 points we will cover are as follows:
The point of the leak on the water main
The time of day the water line break occurs
The severity of the water main break
The age and type of the existing water line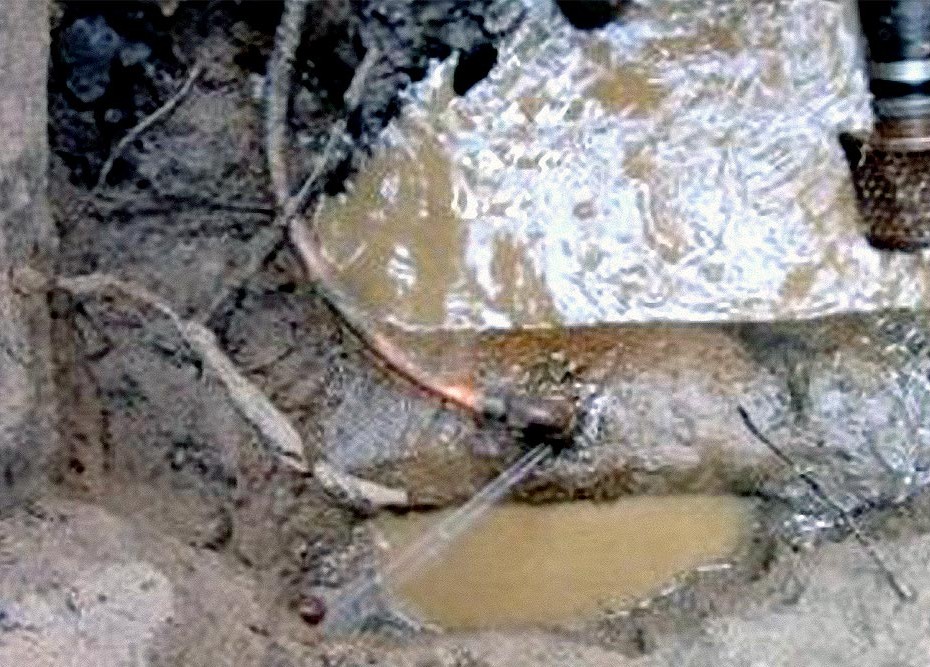 1. Where did the water main break?
Where the water line break occurred greatly determines proper course of action. Frequently if the main water line break occurs inside the basement a sewer trap can be opened to give immediate relief. If a sewer trap is not available a sump pump with a float switch can be installed. These are temporary measures until a water line repair crew arrives. Balkan installs sump pumps for free or a small nominal fee depending on the time involved in the installation. In some cases a clamp can even be installed to alleviate the emergency.
As a note, Balkan will always provide a free site visit and open a house trap as a no-charge courtesy to a homeowner in distress. By taking these measures we can help you escape having to pay for off-hours emergency service.
Typically if the water line break is in the front of the house or the roadway, waiting for service during normal work hours poses no danger or threat to your property. If water service is interrupted to your property Balkan will provide a temporary connection to a neighbors house free of charge. This connection will restore full water service to your house.
2. When did the water main break occur?
In the rare cases when a water main break truly requires 'same day service' there are options. Balkan provides 'same day service' in almost all cases. We also maintain using our uniform pricing policy. Same day service is interpreted as meaning calls received before 5PM will have a representative arrive at the site free of charge. This visit will enable us to assess the situation, and give a written quote. If service is needed that day, arrangements can typically be made for 'same day service'.
Calls received after 5PM will typically be responded to up until 9PM. Unless the condition is extreme, a water main service crew would then arrive and perform the installation by 8AM in the morning. Balkan does provide off-hours and night service, but tries to avoid homeowners incurring these costs.
When a emergency water line break occurs that demands off-hours service, there is an option. The NYC DEP should be notified by calling 311. The NYC DEP is capable of shutting off the leaking water main service line for a current fee of $1,000.00. The DEP fee is far below the rate of a private contractor to perform the same work, whether it be regular hours or off-hours. Many times property owners can avoid premium prices for off-hours service by notifying the DEP. The NYC DEP has field forces on on call no matter the time of day, or the day of the week.
3. The severity of the water line break
As a homeowner, when a water main break occurs it can be very stressful and a unique experience. That is true, since a water main only breaks after 50 years or so. But a professional that deals with a water line break every day has a different perspective. A professional knows that only a very small percent of breaks are truly emergencies, which warrant immediate replacement on an emergency basis.
A water line break that is flooding a basement, with no chance of opening a house trap inside a sewer pit, or installing a sump pump, does qualify as a true emergency. This would comprise a very small percentage of water main work. In all other cases a licensed and professional water and sewer contractor, such as Balkan, can readily and easily provide temporary relief. As discussed, temporary relief avoids having to pay a premium for off-hour emergency service.
4. The age and type of the existing water main line
Typically if a water main breaks inside a basement only a copper service line can be repaired at that point. Lead and galvanized water service lines cannot be repaired with any degree of professionalism. Besides also being illegal to repair in NYC, lead or galvanized repairs will not be long-lasting. Lead or galvanized water services can usually only be either smashed closed or plugged. That will close off the leak until a water main replacement can be performed.
As an additional note, galvanized pipe is too brittle to repair. Lead once moved in any manner gets hairline cracks that will become a new water main break in the future. In addition lead and galvanized pipe, as already stated,  are not legal to be repaired in NYC. Click this link to learn more about whether to do a water main repair or water main replacement service line. Most importantly, any service line regardless of material should be replaced when it is over 50 years old.
There is usually no need to panic to when a water main break occurs. Always call 311 first to notify the NYC DEP. Call a licensed plumber such as Balkan for fast emergency and professional service and in many cases timely and free temporary relief from a water main break.