Need help locating a sewer break? A common myth is that sewer lines can never break. A sewer break can be both stressful and confusing as there are many factors to consider when determining if there is a break, where the break occurred, and how to locate and repair the break. Sewer line breaks can occur because of pressure from growing tree roots, corrosion, and shifting of the ground due to natural disasters or construction. Whatever the cause behind a sewer break, locating a sewer break will require professional attention to ensure the damaged lines are replaced as swiftly as possible.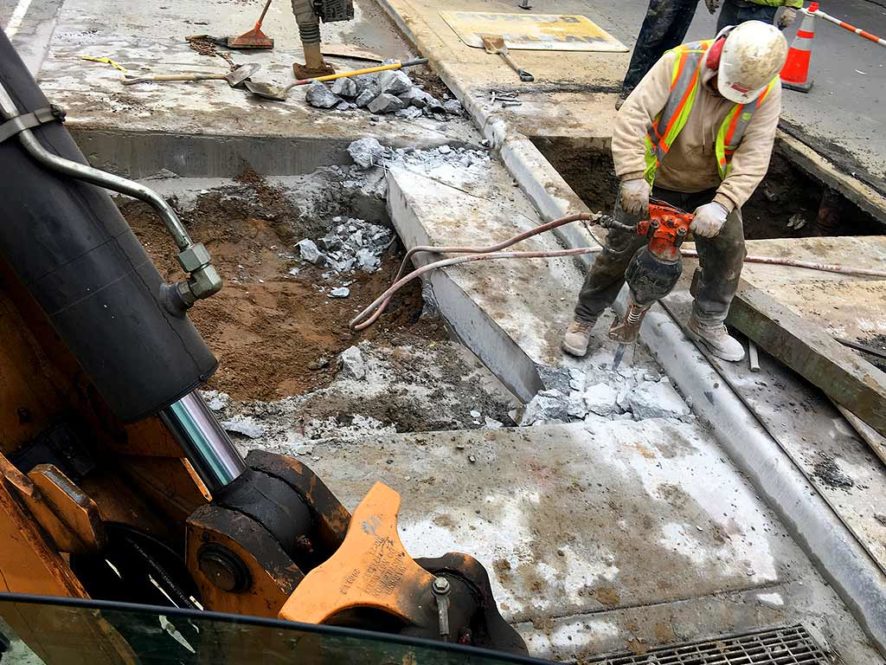 Locating A Sewer Break Can Be Difficult And Deceiving
Water always seeks its lowest level and seeks the point of the least resistance. What does this mean? This means it runs downhill; direction will mean nothing. Down is the only thing that matters, unless there is a blockage. When there is a blockage then the water seeks the path of least resistance, which is the lowest point of exit (such as a floor drain). Therefore, where waste water surfaces is not necessarily indicative of where the sewer break is located. Yet, while water's level-seeking may seem obvious, it can trick you. If the level of wastewater, floodwater, or sewage is higher than the drains in your home, such as the drains in your basement or lower floors, a backup can easily occur.
Common causes of water and sewer line failure include the following:
Root intrusion: The roots can invade sewer lines and cause clogs
Ground shifting: Sewer lines can become disjointed as a result of ground shifting, creating an entryway for debris
Weather: Fluctuations in temperature can cause significant stress on sewer lines
Here are a few ways to test for this for a clog or blockage:
Turn on your bathroom sink and watch closely for rising toilet water, or in the base of your shower or bathtub.
Use your washing machine and look for an overflow in your toilet, shower drain, or floor drain.
Flush your toilet and check for water gurgles in your shower drain or bathtub.
If you noticed any overflow of water after one or more of these tests, you likely have a clog in your sewer line. The most common sign of a break is when you can clearly see water coming up in your sewer pit, floor drain, through your walls, or on your sidewalk. Sewer breaks further out than your front yard will typically not surface due to the depth of the pipe. However, leaking sewer water can cause washouts, and undermines.
If you notice water pooling in front of your home, this does not always mean the break or leak is coming from your water line. Surface water can be from a sewer break many feet away. It is not uncommon for a leak to travel up to 20 feet from the source of the leak. The bottom line – sewer lines can indeed break. However, it is important to locate the break before it can threaten your home with major damage.
Proper Equipment Can Locate The Point of a Sewer Break
Proper cleaning is needed to fully attempt to clean out a blockage. If a sewer break does occur, techniques like snaking, jetting, pressurized blow bags, and CO2 can all work efficiently. However locating the point and depth of the break required specialized equipment. This helps homeowners, businesses, and municipalities can get their sewer systems repaired and running smoothly again and at the lowest cost possible. Excavating in the wrong location wastes both time and money.
Using A Modern Sewer Sonde
A modern sewer sonde emits an electronic signal from the exact point where the snake gets stuck. A trained technician uses a locator above the ground to exactly pinpoint the location of the beak underground. Not only does the receiver portion of the sonde locate the break, it also positively determines the depth of the pipe. These two vital pieces of information allows the sewer contractor to determine the labor required, and give you an accurate price.
HD Sewer Camera Inspections
The other vital diagnostic tool used before a sewer dig occurs is a high definition sewer camera. Not only can a modern sewer camera let you see the condition of your entire drain system, it can also pinpoint the cause of the sewer break. This is vitally important, as the camera not only determines the type of problem, but the extent of the sewer problem as well. You can then determine if a spot sewer repair or a full sewer replacement is your best option.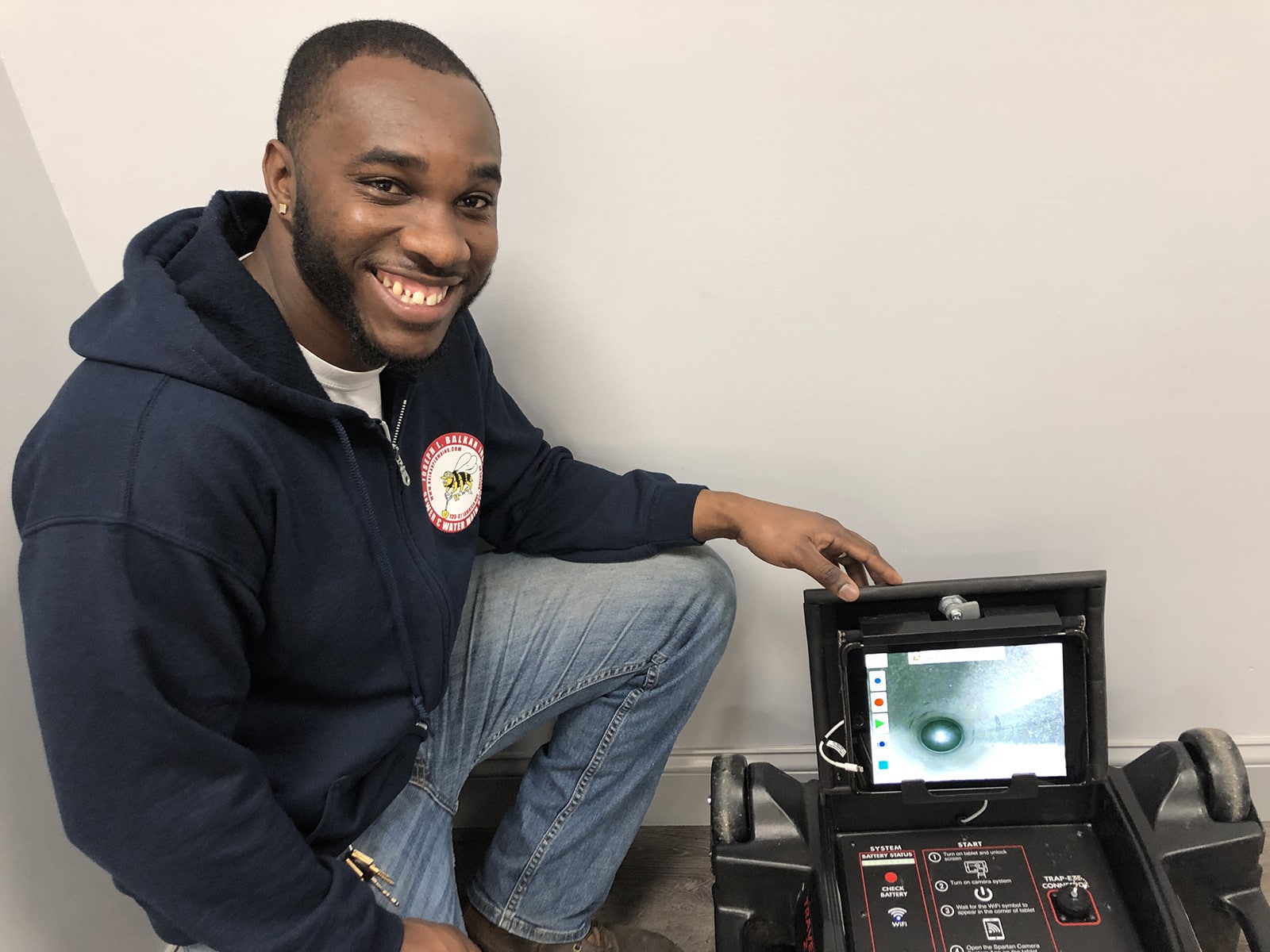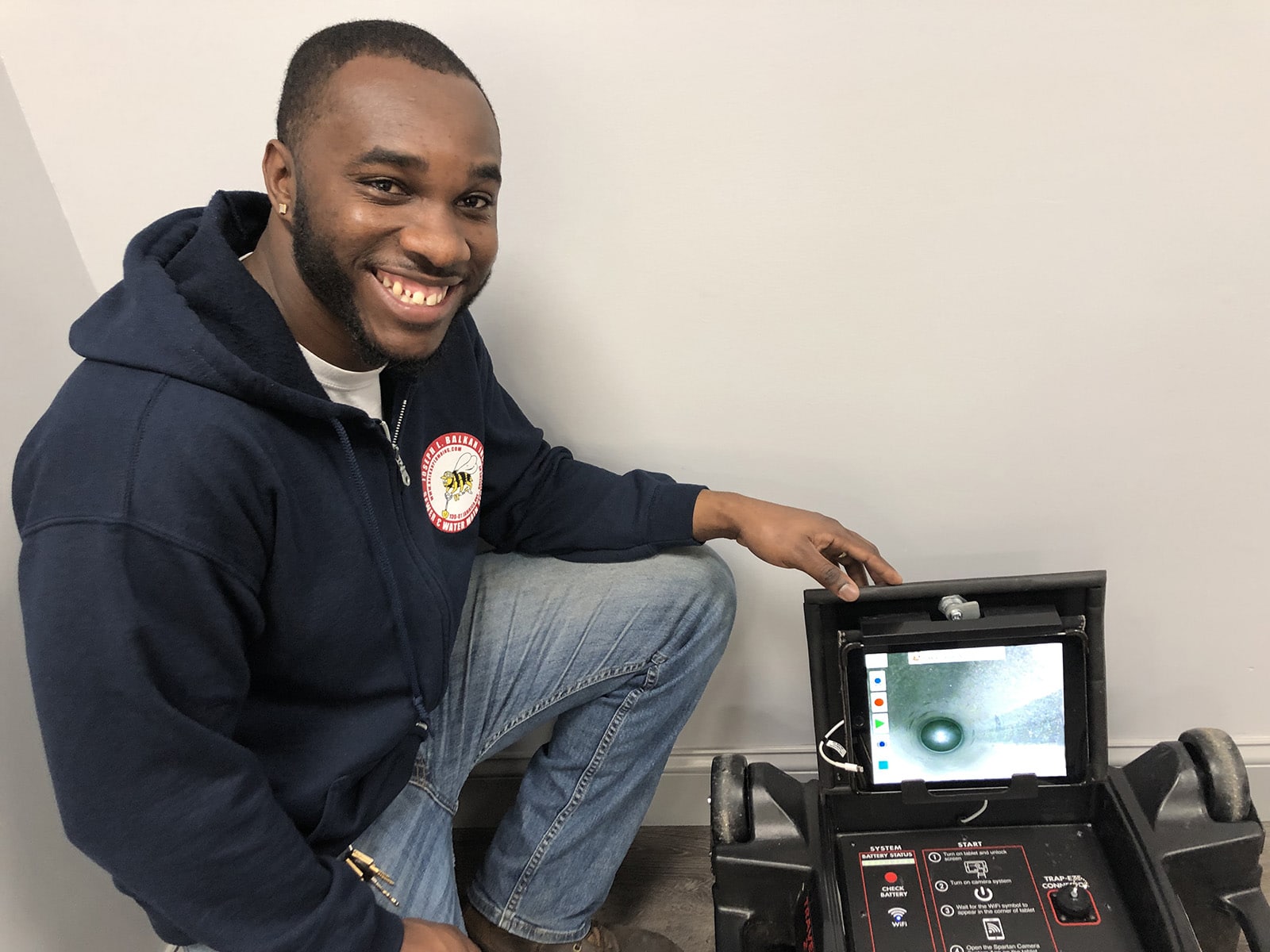 Professionals Using The Proper Drain Cleaning Tools
Removing a break in your sewer is far more involved than clearing a clog in a fixture. If there is significant damage to the line, attempting to clean it out on your own without professional assistance will not fix the underlying problem. Therefore, we recommend the use of professional tools, including one of the most standard tools, a snake (also known as an auger).
Sewer Snaking
Snaking can help break up pipe positions that are clogged, even if the parts are clogged by roots. However, the real test is determining where the clog or break is. Sewer jetting (aka hydro jetting) uses highly pressurized water to break up clogs. Jetting a sewer line is a fast and unique way to clear out years worth of roots, grease and dirt. High pressure water jetting is extremely effective in cleaning out lines where sound and firm pipes have endured years of buildup.
Pressurized Blow Bags and Sewer Jetting
On the other hand, pressurized blow bags can be effective in situations where snakes are not. Blow bags will come in a variety of sizes, and the blow bag will be inserted into the drain pipe. When the flow of water expands the blow bag past a certain point, pressure will build up and push the valve open. A powerful stream of water will be released, and it is the stream that provides the level of force needed to clean the point of the break. A CO2 drain gun can also unclog stubborn sewer blockages.
Your home's plumbing system is comprised of a very complex infrastructure. While the water that travels through the supply line has a minimal amount of substances and minerals, the same cannot be stated for the flow that travels in the other direction. Several aspects will help determine the best techniques and equipment that need to be used on your home's infrastructure. A professional technician will determine what solution is ideal for your situation. Professional technicians can also use cameras in pipes to track the drains back to the sewer and locate the issue. Of course if you do need a "sewer dig" locating a sewer break is vitally important.
HD Sewer Camera Inspection
A modern HD and full-color sewer camera can 100 percent verify that a physical defect exists. It will also clearly show what type of sewer break or defect exists. With high-tech cameras mounted to the end of a fiber-optic cable, the cable will be pushed into the sewer pipe. The camera will be controlled by a certified team member.
A digital recording will be made, and it will show the types of impediments that are interfering with the line. During the HD sewer camera inspection, we will be able to detect roots, buildup, etc. After locating the source of the break, work will be done to remove the obstruction, or the sewer line will be repaired without having to dig up your entire yard.
Sewer Pipe Locating Equipment
Modern sewer pipe locating equipment can pinpoint where the break is. Furthermore, it can pinpoint the depth of the pipe. When a sewer issue occurs, locating a sewer break exact location is of course vital. In order to find the exact location, it is important to use the right sewer pipe locating equipment. With modern equipment, you will be able to find targets within most pipe materials and trace existing lines from other services.
Today's equipment simplifies locating while ensuring high accuracy. Digging without knowing where you are going can be compared to running your own business without having a plan. You can overcome this by using proper and solid equipment. When you have the best equipment, you will get the best results. The equipment, along with experience and professionalism, will eliminate guesswork and wasted effort.
The Advantages of Locating a Sewer Break
Correctly verifying and locating your sewer break will eliminate digs that were not needed. When excavation is required, it will eliminate digging at an incorrect location. This will avoid unnecessary expenses and unnecessary damage to your property. Locating a sewer break can require extensive digging, and it is something that should not be delegated to anyone who is not a professional. The potential for even greater damage to the sewer is high unless a professional team steps up to handle the task.
Balkan Sewer and Water Main have nearly 70 years worth of experience with sewers in NYC. Our team is available 24 hours a day, seven days a week, to help with your sewer emergencies. We stand out from the competition with our level of customer service, high-tech equipment, and experience. We are ready to help meet your unique needs with our services. Balkan is The Team You Trust.
Contact us today at (718) 849-0900 or (718) 943-5720. You can also contact Balkan Sewer And Water Main to request a free estimate.