No matter where you own a property, a house sewer repair can be fairly costly and confusing. If you happen to reside in New York, a NYC sewer repair can be even more challenging. The following tutorial contains a bunch of information and guidance that should ease the stress level on any property owner needing sewer line repair work, regardless of where you're located.
If you're considering a house sewer repair, you may probably have more questions than answers. If you are a typical homeowner or property owner, that is perfectly normal. The following tutorial will help you put a logical order to your decision making process. This article will also provide on-point and useful information that should all be a great help you. It will also help ensure a successful conclusion to your sewer dilemma, and a long-lasting sewer repair job as well.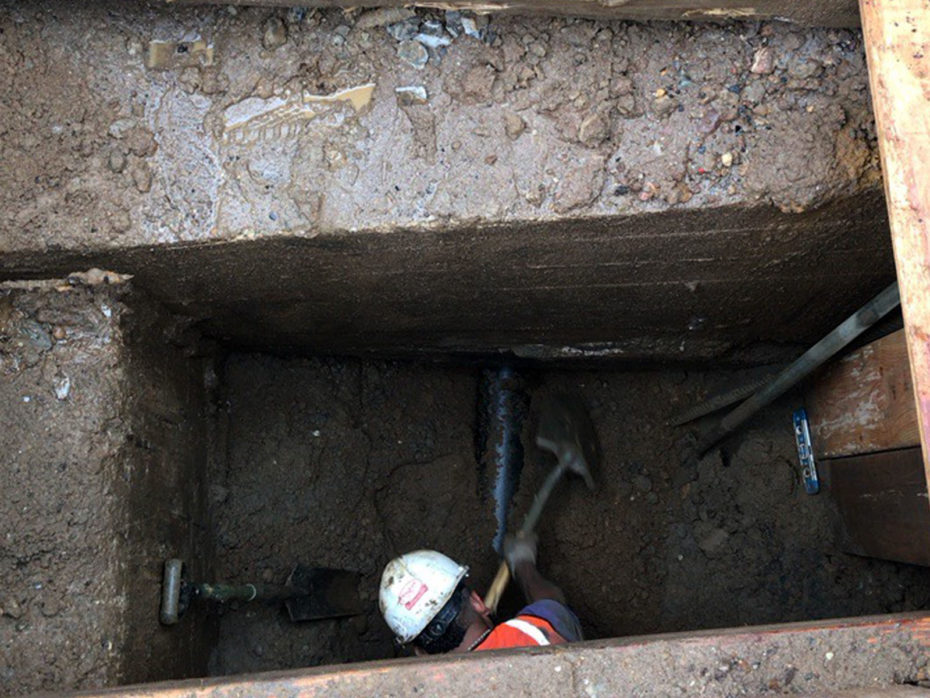 5 Conditions That Require You To Do A Sewer Repair
Technically sewer work is considered a repair when anything less than your entire house sewer line is replaced. Even if you replace 1/2 of your the run of pipe, it is still technically considered a sewer repair. With that said, there are a number of reasons you may be considering digging up your underground house sewer line.
The 1st bit of good advice is to have a HD Sewer Camera Inspection performed. A camera inspection will make 100% sure there is a structural defect in your pipe system. The 2nd great benefit of a camera inspection is you'll know what and where the defect is. For a NYC sewer repair, where the coats are typically higher, the benefits of a camera inspection are magnified. Here are 5 of the more common reasons you may be considering a sewer repair:
Root infiltration that cannot be cleared, or re-emerges routinely.
Dislodged or cracked sections of your sewer run.
A grease stoppage that cannot be cleared, or reoccurs.
Constant backups and flooding after heavy rains or snow melts.
Your house sewer is back-pitched.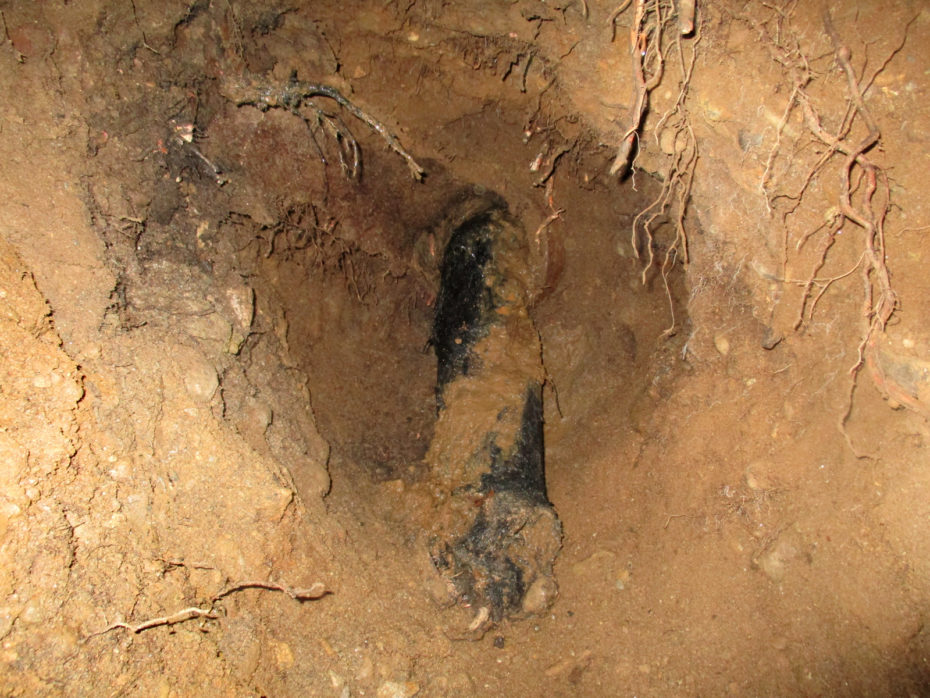 4 Main Defects that a Spot Sewer Repair Can Correct
Not all defects are correctable by a sewer repair. For instance if a city sewer surcharges after a heavy rain or snow melt. A city sewer surcharge cannot be stopped by a sewer repair. Another instance where a spot sewer repair will not provide a permanent solution is when your entire house sewer is full of roots, or is back-pitched.
After a HD sewer video is done, and reviewed, there are indeed sewer issues that are ideal for a sewer repair. Here are the 4 main issues that a house sewer line repair will address:
Root infiltration in only a section of your run of pipe.
A mild dip, or back-pitch in a small length of the run of pipe.
A break or crack in one particular area after it has verified using specialty sewer tools.
Third party damage at a defined spot (such as underground utility work, or a downed tree).
What are Approved Materials for NYC Sewer Repair Work
There are two primary materials found for most existing house sewers in NYC. Those two materials are vitrified clay pipe, and extra heavy cast iron pipe. To a much lesser extent, Orangeburg Pipe and Ductile Iron pipe can be found in sewer work. While extra heavy cast iron, clay, and ductile iron are accepted and to code, Orangeburg is not. Under no circumstances can Orangeburg Pipe be used as a NYC sewer repair or replacement material. When vitrified clay pipe is used as a repair material it must be encased in concrete, or laid on a bed of concrete.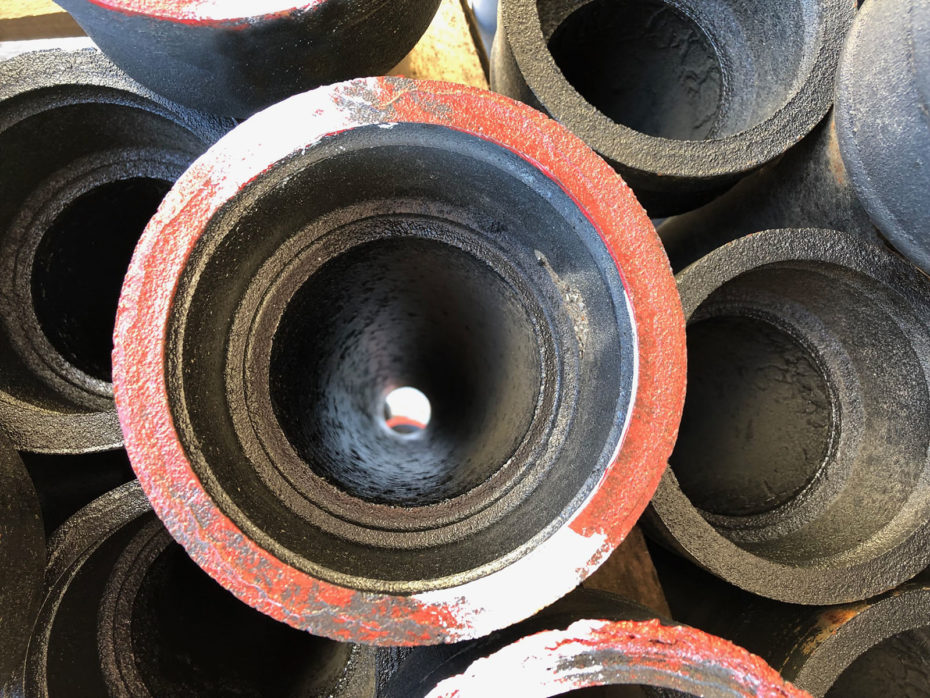 In almost  all cases extra heavy cast iron pipe is the material of choice when it comes to NYC house sewer work. The only exception may be when there is an extremely unstable ground condition, or extreme vibration. Filled in ground can create a situation where an unstable ground condition exists. Above ground or underground train systems create conditions where extreme vibration exists.
If either unstable ground of extreme vibration exists, ductile iron pipe may be preferable. But even in these two cases, extra heavy cast iron pipe encased in concrete should be just fine. Once sewer pipe is encased in concrete, it is not prone to damage from vibration or ground shifting.
Repairing different types of pipe materials and sizes of pipe
When doing a sewer repair frequently different types of materials, and sizes of pipe, must be connected together. Unlike inside plumbing, underground plumbing has a limited list of approved fittings in NYC. By and large clamps and reducing gaskets are not permitted by NYC plumbing code. Typically extra heavy cast iron reducers and increasers are used to transition to different sized and types of sewer pipe.
Choosing Your Sewer Contractor
In NYC, like in most municipalities, being a sewer contractor requires special qualifications. Regardless of where your property is located most, if not all, of the following will be required:
Licensed as a Master Plumber
Proper insurance to perform underground excavation work
Bonded with the local Department of Transportation
Licensed by the local Department of Consumer Affairs (not required in NYC)
Besides the above qualifications, there are other requirements. Sewer excavation work is specialty work within the plumbing industry. With that said, specialty equipment and skills are required. Making relatively deep underground excavations in NYC is not for beginners. Most reputable sewer contractors have decades of experience, some have been at it for generations.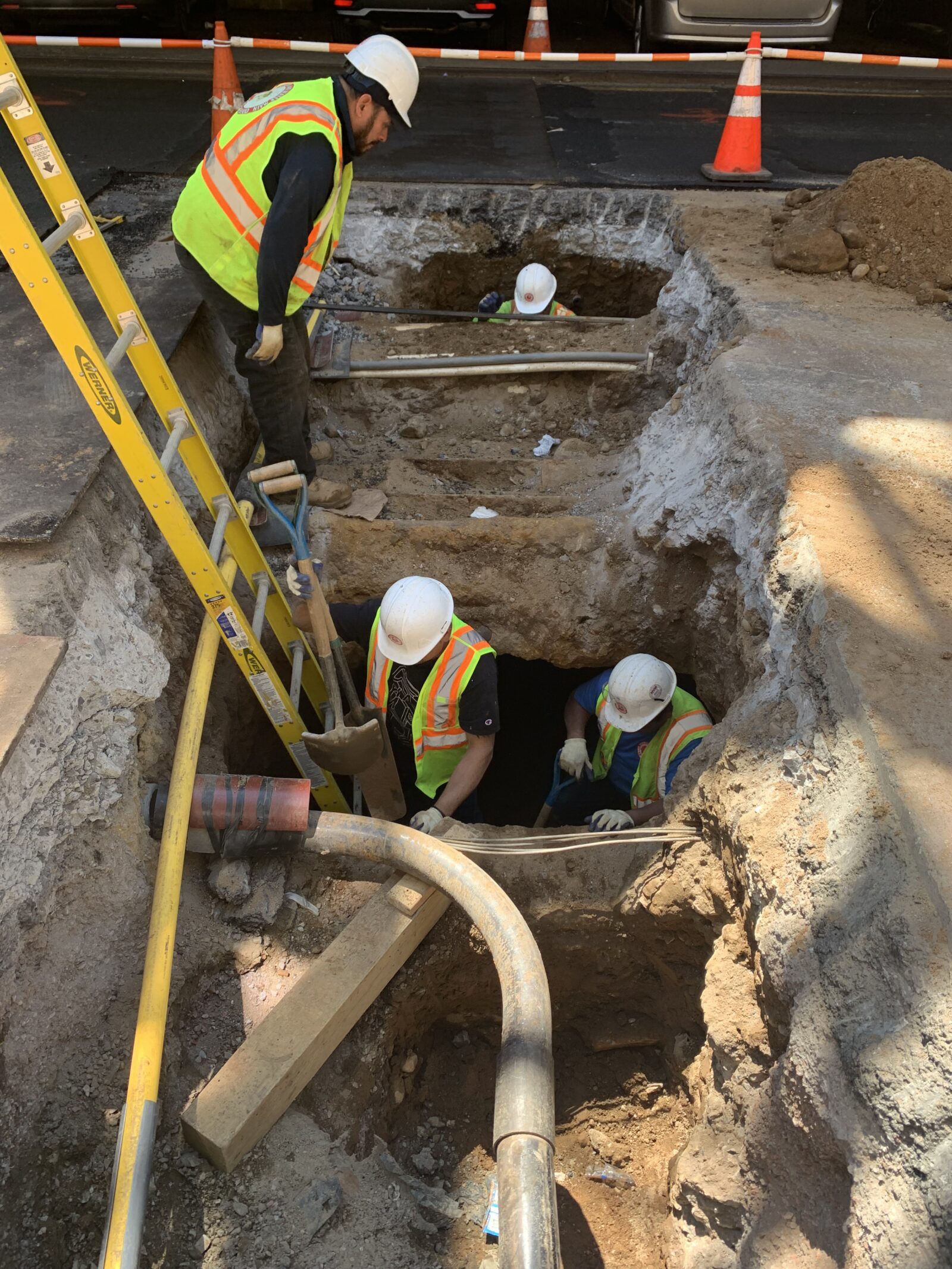 Reputation counts when you need a sewer repair
Before you hire someone to do your sewer repair, check their reputation. It has never been easier to check someone's reputation. Here are common and easy to use resources:
BBB (Better Business Bureau)
Google
Angies List
Local Trade Associations (In NYC check with the NYC Master Plumbers Council, and the NYC Subsurface Association)
Of course, always meet a company representative in person, and request an on-site visit. Sewer repair work cannot be diagnosed or quoted with certainty over the phone, there are simply too many variables. In NYC most companies offer free and no-obligation site visits.
What is the expected cost of a NYC Sewer Repair?
There are many variables that comprise the cost of a sewer repair. On the whole a repair will cost about 40% to 60% of the price of a full replacement. Unless there are extreme or unusual circumstances, that translates into a typical price range of $6,000.00 to $14,000.00. There is a good reason for such a large range in cost, the primary variables follow:
The location of the repair: Inside the house, inside the property boundary, or under Public property. Repairs inside the property boundary boundary will frequently fall below the above referenced price range.
Depth of the run of pipe: After a depth of about 7′ a backhoe will be needed. After a depth of about 9′ the work will most likely take 2 workdays.
Roadway work: Once work is needed under a roadway things get complicated. Utility obstructions, city inspections, and extreme depth all add to the cost.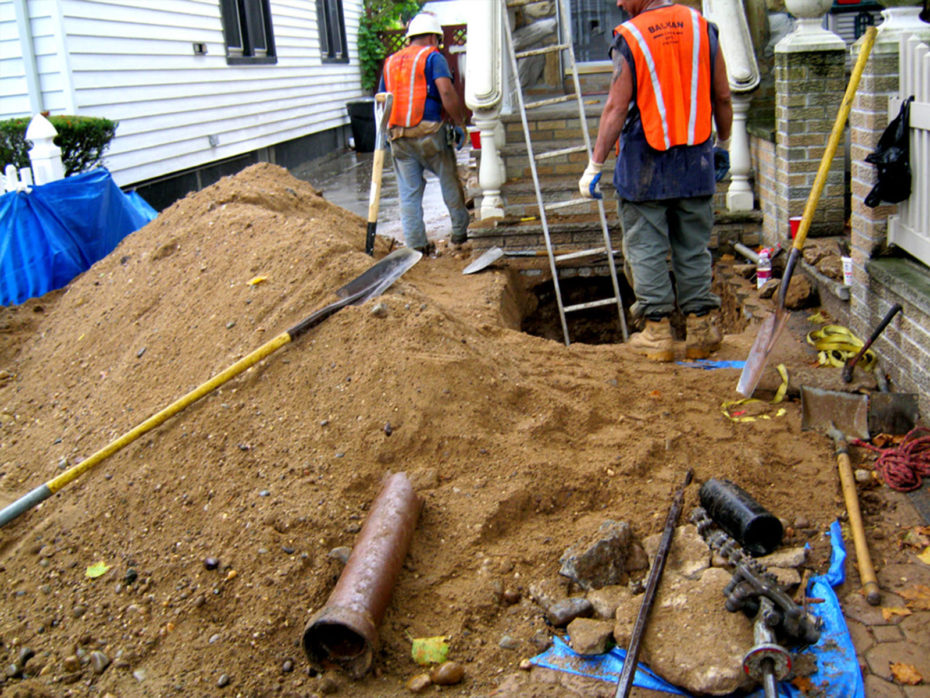 Always invest in proper diagnostics before sewer excavation work commences
A "wild card" in pricing always exists if the line was not properly traced out 1st. Always make sure the point of the defect is pin-pointed. Making a sewer excavation in the wrong place is a costly mistake. Additionally, this more than any other issue develops into contractor/client points of dispute. Always try to hire a sewer contractor that has state-of-the-art sewer repair tools. These consist of a HD sewer camera, and a high-tech underground sewer line locator.
The cost of proper diagnosis and pipe locating is always far less then digging in the wrong spot. An excavation made in the incorrect location can cost $5,000.00 to $15,000.00; don't find out the hard way!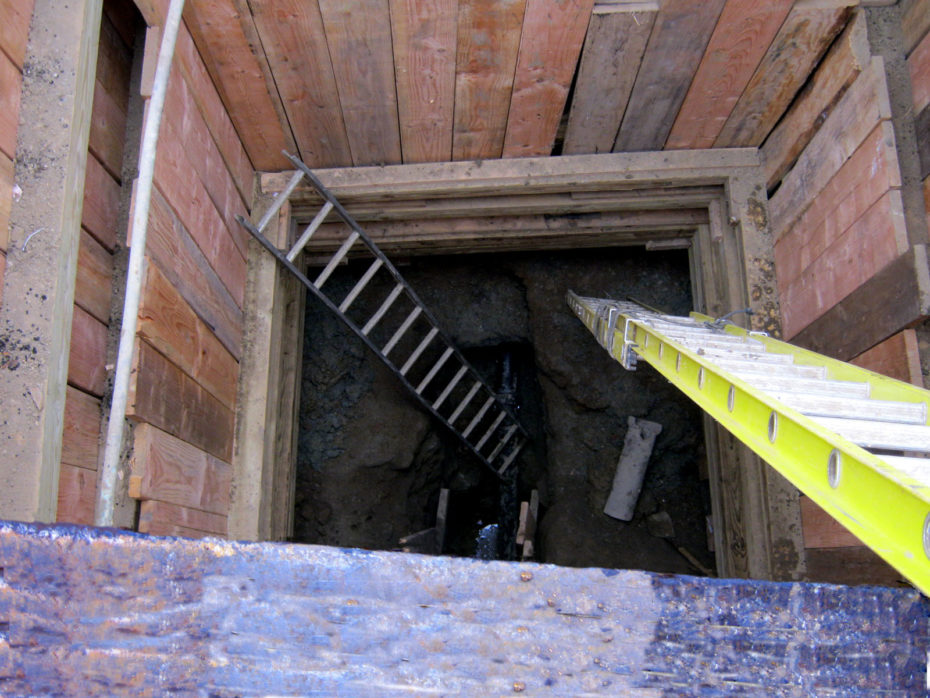 A little bit about the Balkan Team
The Balkan Team truly is a team. Established in 1952 by our founder Joseph L. Balkan, we are recognized as the leader in NYC's house sewer and water service line industry. Furthermore we are the largest such company, and have been for decades. But size and longevity doesn't really tell our full story.


Our Team-wide dedication to servicing our customers is the true story. We like to say "Balkan provides and answers and solutions, not excuses". But we do more than just say it, we are devoted to it. Feel free to contact Team Balkan for any sewer repair issue, or any other subsurface plumbing issue you may have. As always, site visits are free, and with absolutely no obligation to hire. The Balkan Team is available 7 days a week, and after-hours as well.