When a business has a plumbing issue and it is not an easy fix, most plumbers will suggest they shut down while the work is getting done. What other choice is there? The other choice is finding a better plumber. Luckily, Balkan is not like "most plumbers", and our most recent customer is just not "any business". If you are in need of a commercial sewer repair you often do not have to shut your doors to get such repairs done. You just need a NYC sewer repair contractor who understands the importance of keeping your business running, and has the expertise to do so.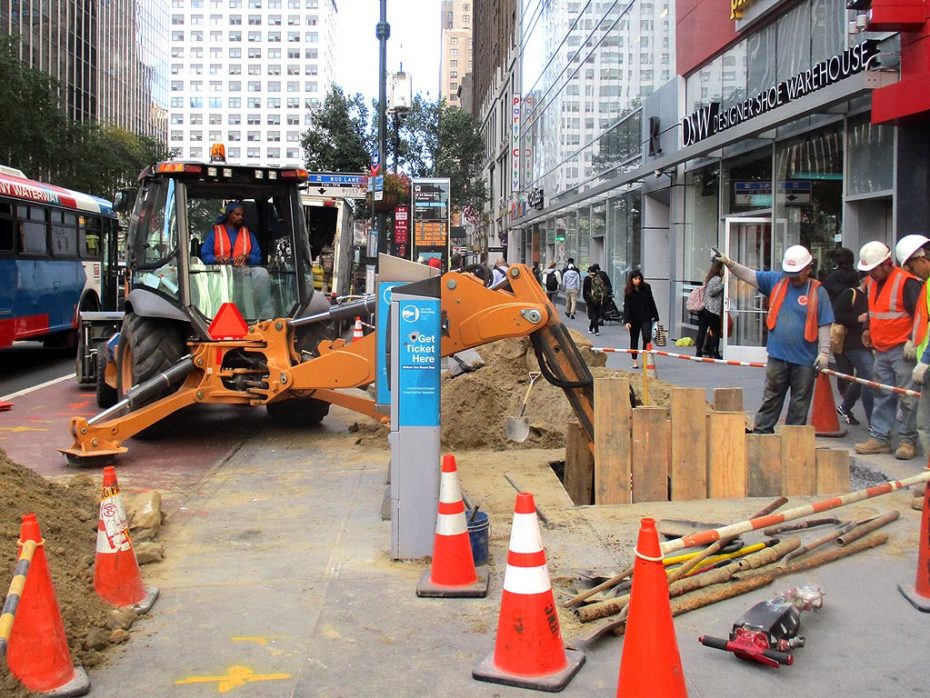 That is the attitude Balkan took when contacted by the TGI Friday's on West 34th Street. This location, just two blocks from Madison Square Garden, is their flagship store. Shutting it down just isn't an option from our point of view. This was particularly true due to expected sewer work taking over a week to complete. However, that is exactly what other contractors suggested when the management of the restaurant were interviewing commercial sewer repair companies to address their issue.Specialty tools like a full depth roadway saw expedite the completion of a commercial sewer repair. This saw allows for faster access to the ground underneath. It also prevents unneeded damage to finished surfaces. Such as in this case, a specialty dyed red concrete bus pad.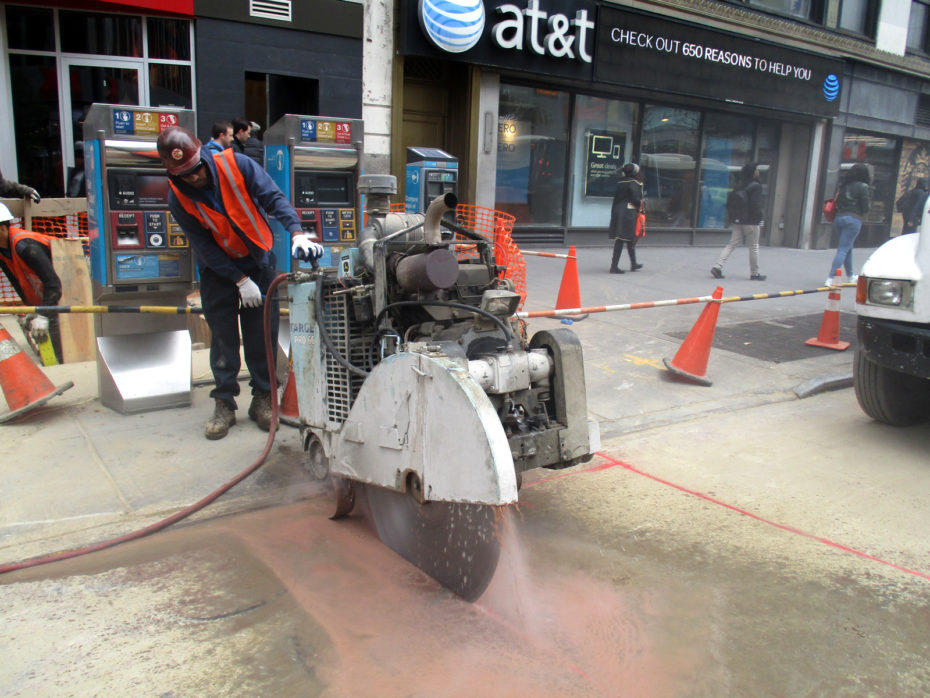 Balkan takes a unique approach to a commercial sewer repair
We at Balkan looked at the bigger picture and realized there was a way to make this happen without disrupting the business. For a temporary resumption of service, we used a snake and water jet to get things flowing again, so they can keep the doors open their usual hours. This in itself was beyond what previous companies were capable of doing. Then, we made the decision that we would do what others were not willing to do. That involved working off-hours, and altering our normal work shift.
That meant we would be working around-the-clock, and 24 hours a day. But for an internationally known restaurant brand, we felt it was important to have their NYC flagship store running without disruption. In addition, we would be supporting one of our local businesses. Another benefit of working uninterrupted is that pedestrians and vehicular traffic would be disrupted as little as possible, and as short a period of time as possible. In the end Balkan worked uninterrupted from early on a Monday morning, continuously until the following Saturday afternoon – the equivalent of 15 straight shifts of work. But by Saturday afternoon, the site was broom clean, and all disturbed surfaces were restored to NYC DOT code. Restoration even included a specialty dyed red roadway bus pad surface. When it comes to a commercial sewer repair, Balkan leaves no detail unattended to.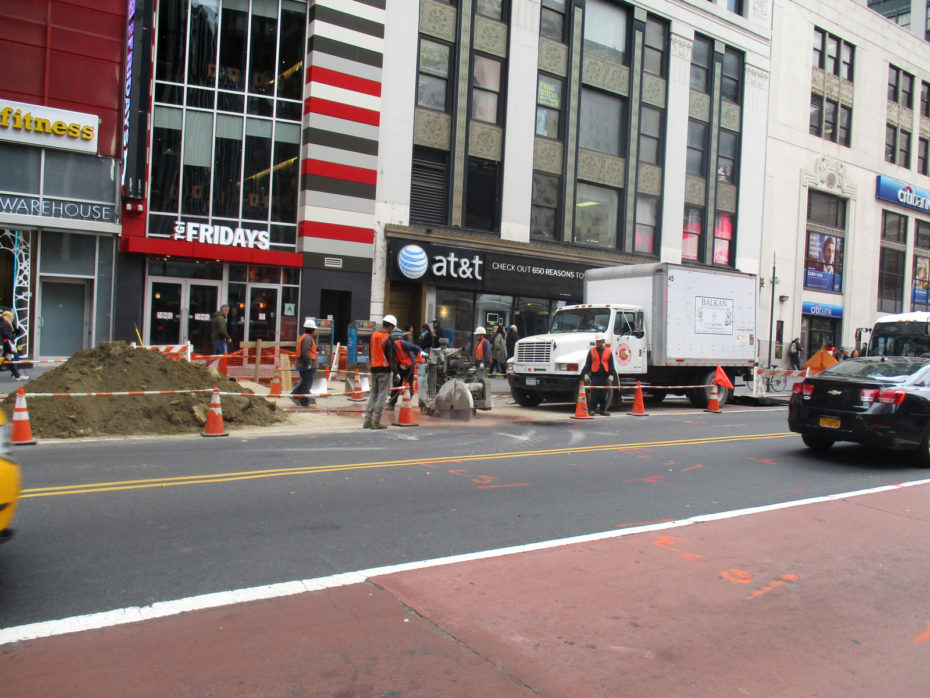 Safety control for traffic and pedestrians alike
As a family owned business, Balkan "gets it"
Owning and managing a business can be stressful, especially when something like a sewer repair issue pops up and people are telling you to shut down to have it repaired. In the New York City area, you do not have to worry, because we will always have your back. The Balkan Team will always do whatever we can to support our local businesses, even if it means we have to work outside a typical 9 to 5 schedule. If you have sewer or water main issues at your commercial property and need a reputable plumber to make upgrades without shutting you down, contact Balkan Sewer And Water Main today.