The NYC Department Of Buildings has an easy to use license verification tool to verify licensing and insurance for a NYC plumber, sewer contractor, or any trade requiring a license. By clicking this link: http://a810-bisweb.nyc.gov/bisweb/LicenseTypeServlet?vlfirst=Y , or placing it in your web browser, you can start the process of checking on the license status for any NYC DOB licensed plumber or tradesman. In addition you can verify that proper insurance is in place. Hiring an uninsured contractor can be just as devastating as hiring an unlicensed one.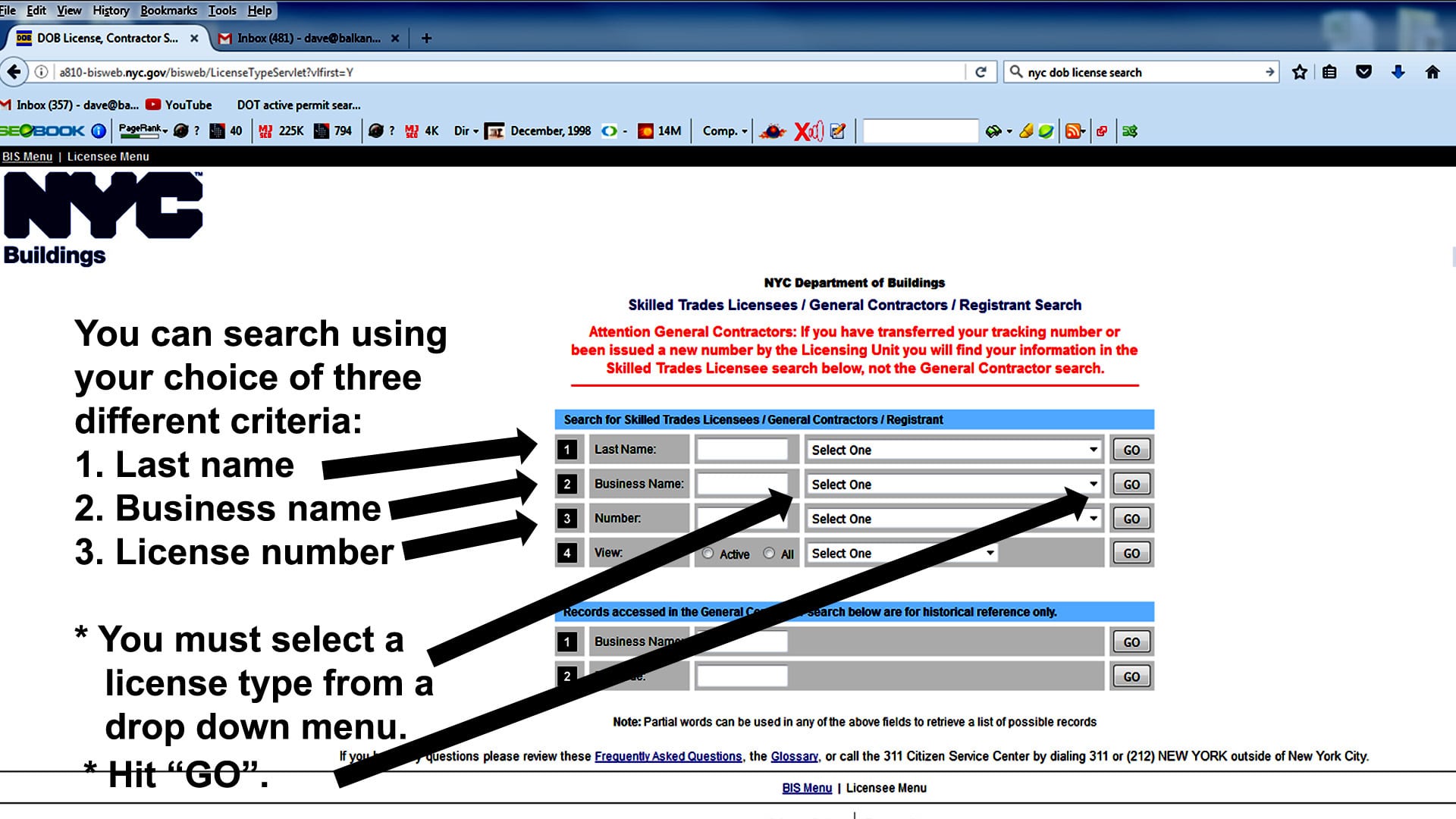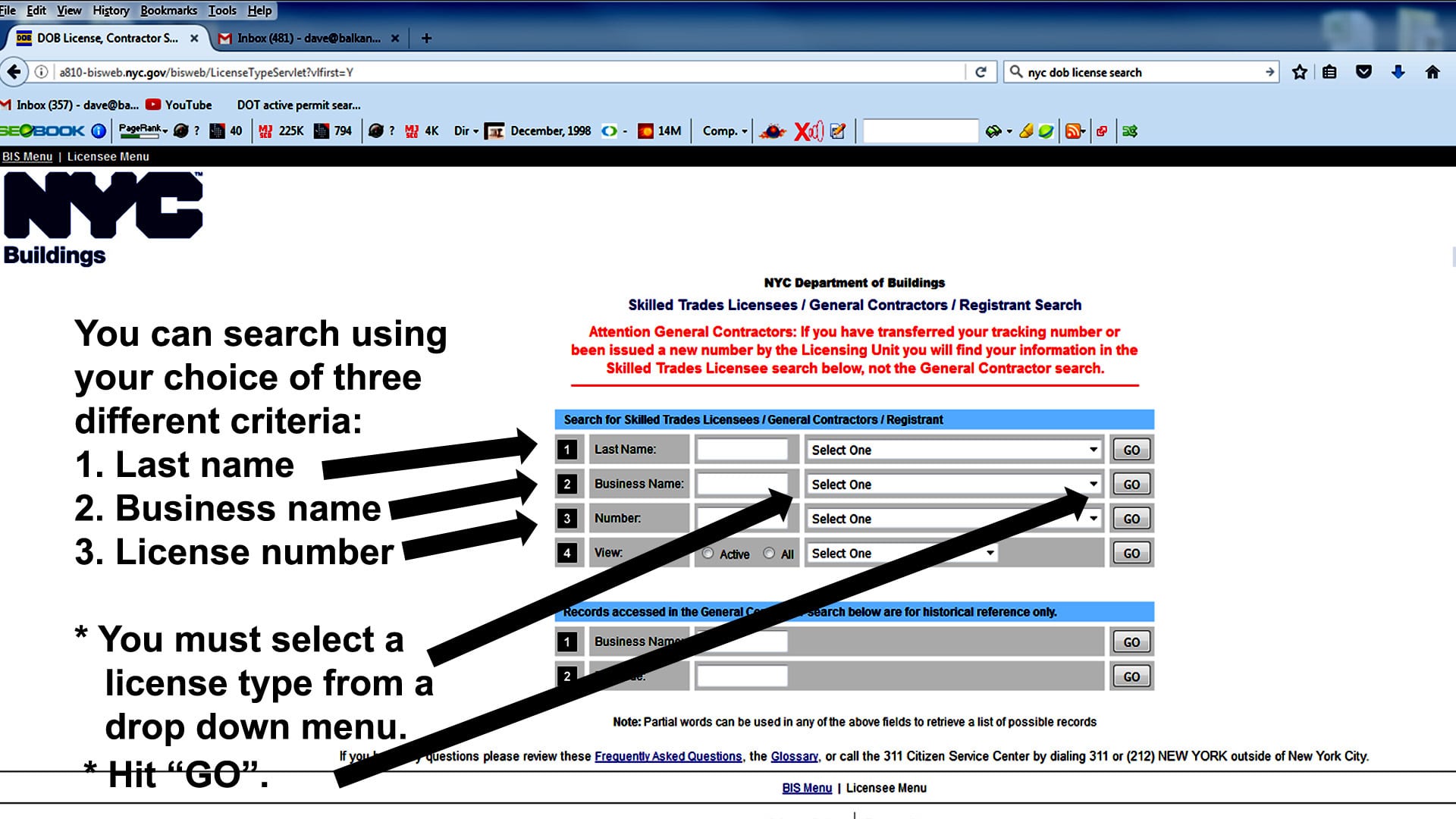 Verifying a NYC Plumber is licensed and insured
The next step is to fill in either the licensee's last name, business name, or license number. Then fill in the license type. The right hand search box contains a drop down menu for every type of license the DOB issues. Click "GO" on the far right hand side, and results will quickly appear. Up to date license information will be displayed indicating whether the search verified proper licensing. If you then click on the licensee name a display will come up showing if insurance is up to date, the actual company name, phone number, and address.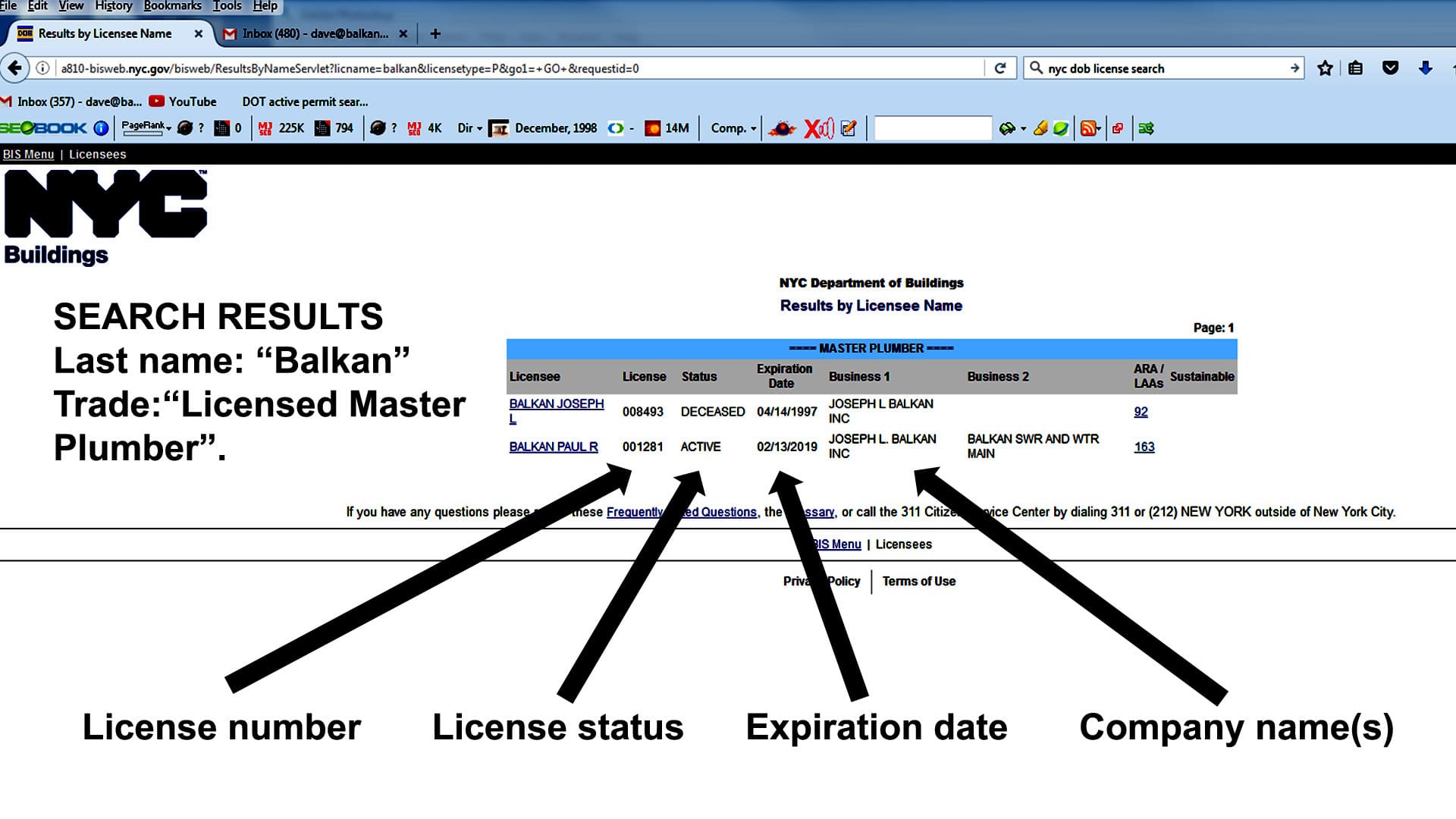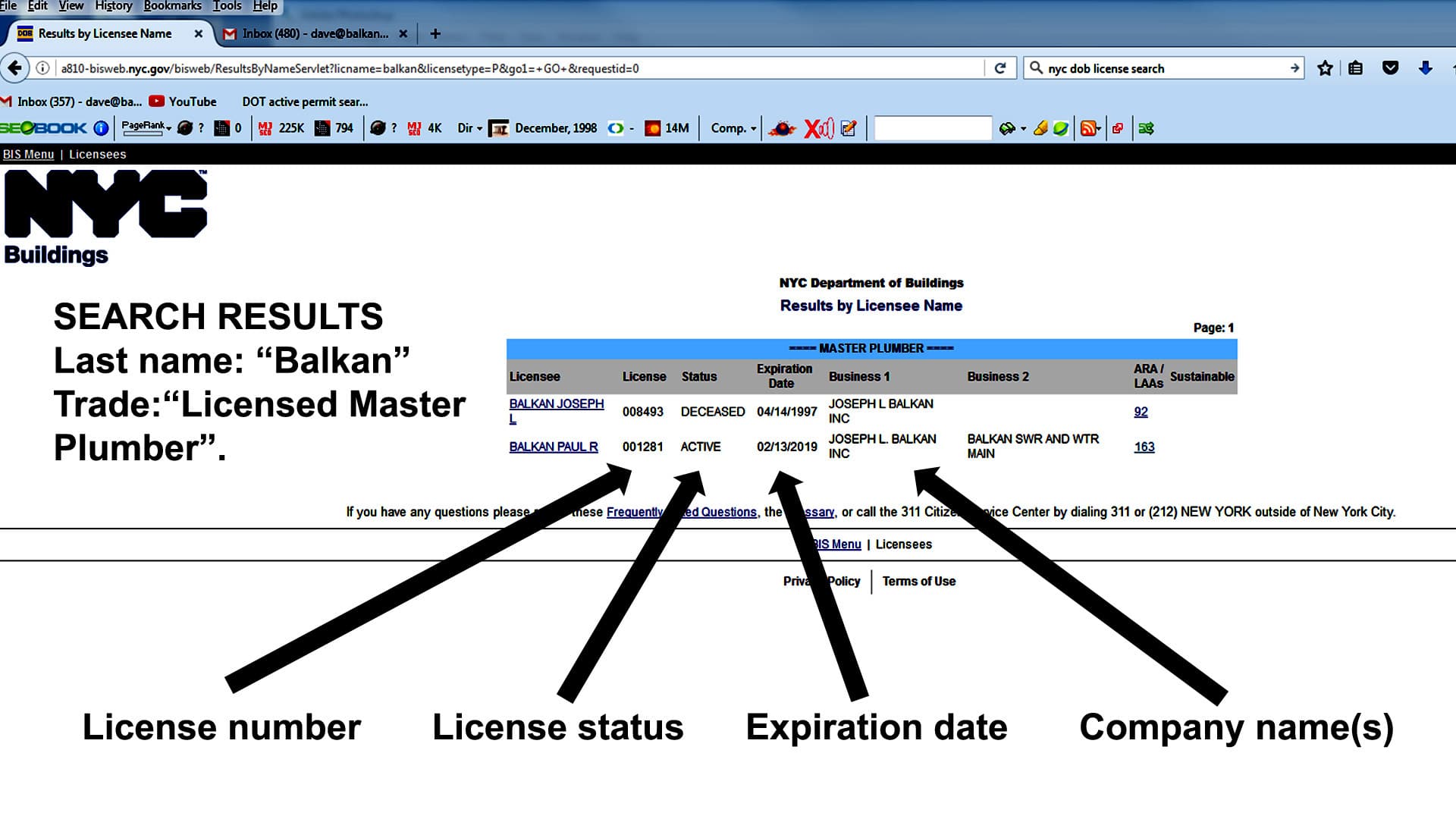 The 2nd search result shown below gives you an example of what information appears when you click on the licensee's name. On the very first search result, you will know whether a person or entity is licensed, or not. It will also indiacgte whether a license expired, not a good sign either. If this should occur be very wary. You can call the sewer contractor or whatever trade you are hiring for and ask them to explain. But the NYC DOB web site is extremely accurate and up to date. If the firm is not properly listed you would be well advised to hire a different NYC plumber, sewer contractor, or tradesmen.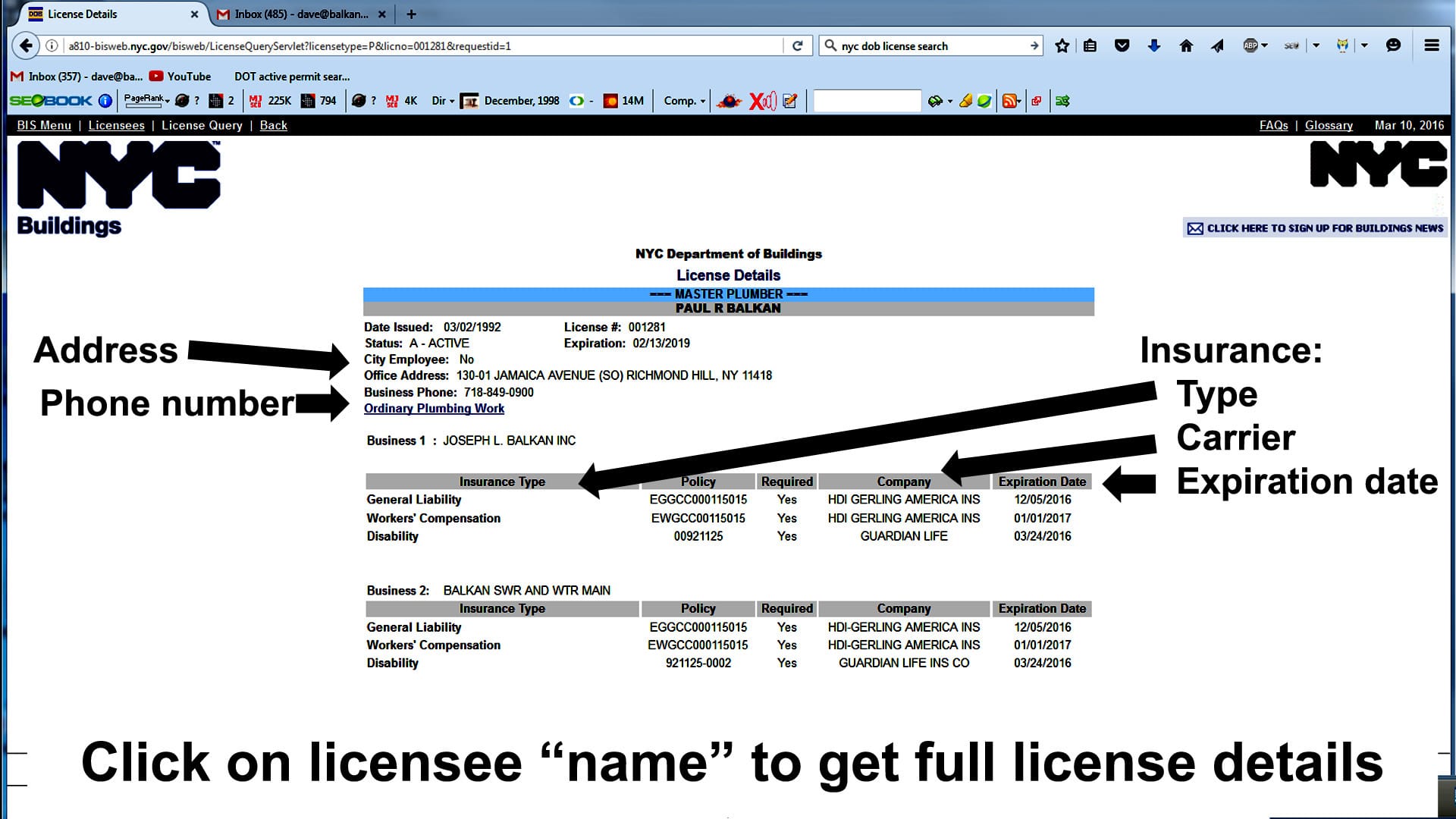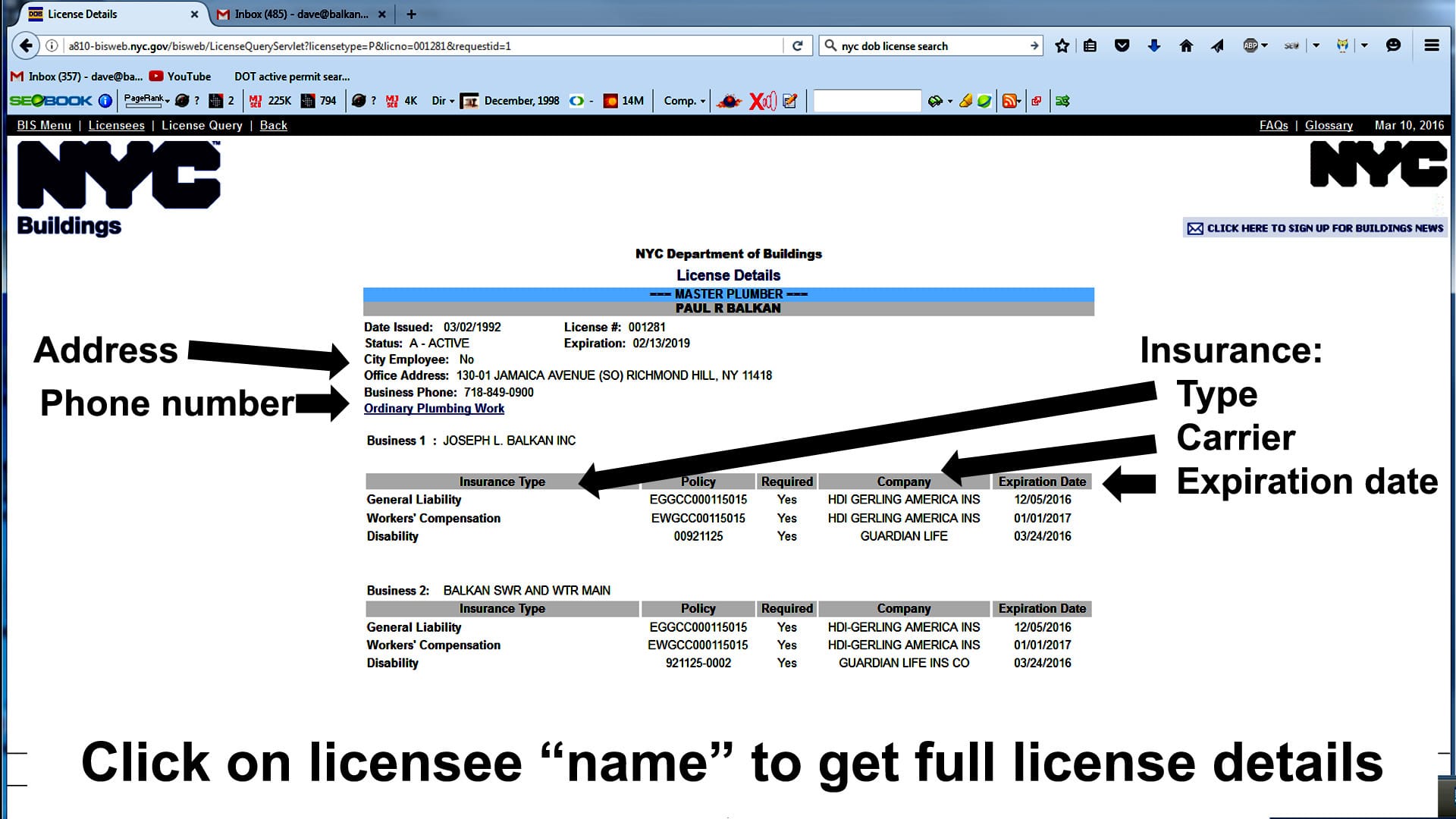 An example of how important this tool can be
If you hire a NYC plumber or other contractor that does not cover his workers with workers compensation insurance you can be 'left holding the bag' if there is a job site injury. An injured worker who does not receive compensation from his employer will look elsewhere for his loss of salary and medical expenses, frequently to the property owner where his injury occurred. In addition, a contractor without general liability insurance can likewise leave you exposed to claims that were not of your making.In this case a little bit of research can save a lot of aggravation, and exposure to unexpected libailities.
The more you know the smarter your hiring decision
This simple NYC DOB tool can save a property owner money and aggravation when hiring for plumbing services, or any other work that requires a NYC license and valid insurance. This guidance and information is brought to you as a public service from Joseph L. Balkan Inc, New York City's premier and most trusted Sewer and Water Main company.
Whether for a NYC plumber a sewer contractor or any licensed trade the more information a property owner has on hand the better their hiring decision will be.