The History and Origins of Balkan Sewer And Water Main
The history of the Balkan Sewer and Water Main Company (Balkan Sewer And Water Main) begins in the year 1952. World War II had been over for seven years and Joseph L. Balkan had a decision to make. He was trying to decide if he should remain at "a secure, lifetime job" at the Brooklyn Navy Yard where he went to work after serving in the Seabees. Or if he should pursue a private profession in the plumbing industry. Joseph enjoyed the plumbing trade and saw the value in performing quality services. The community had a need for quality plumbing services that was waiting to be filled.


At the same time Joseph was mulling over his decision to leave the Brooklyn Navy Yard he quit smoking. This afforded him enough savings to get the plumbing endeavor rolling with a bankroll of $900.00. He acquired three employees and Balkan history was made.
From a decision to leave the Brooklyn Navy Yard, to being the largest sewer and water main service company in NYC, the decision proved that Joseph L. Balkan's tenacity, work ethic, and fearlessness all paid off. All that after being literally a half a step away from never leaving Southeast Asia alive.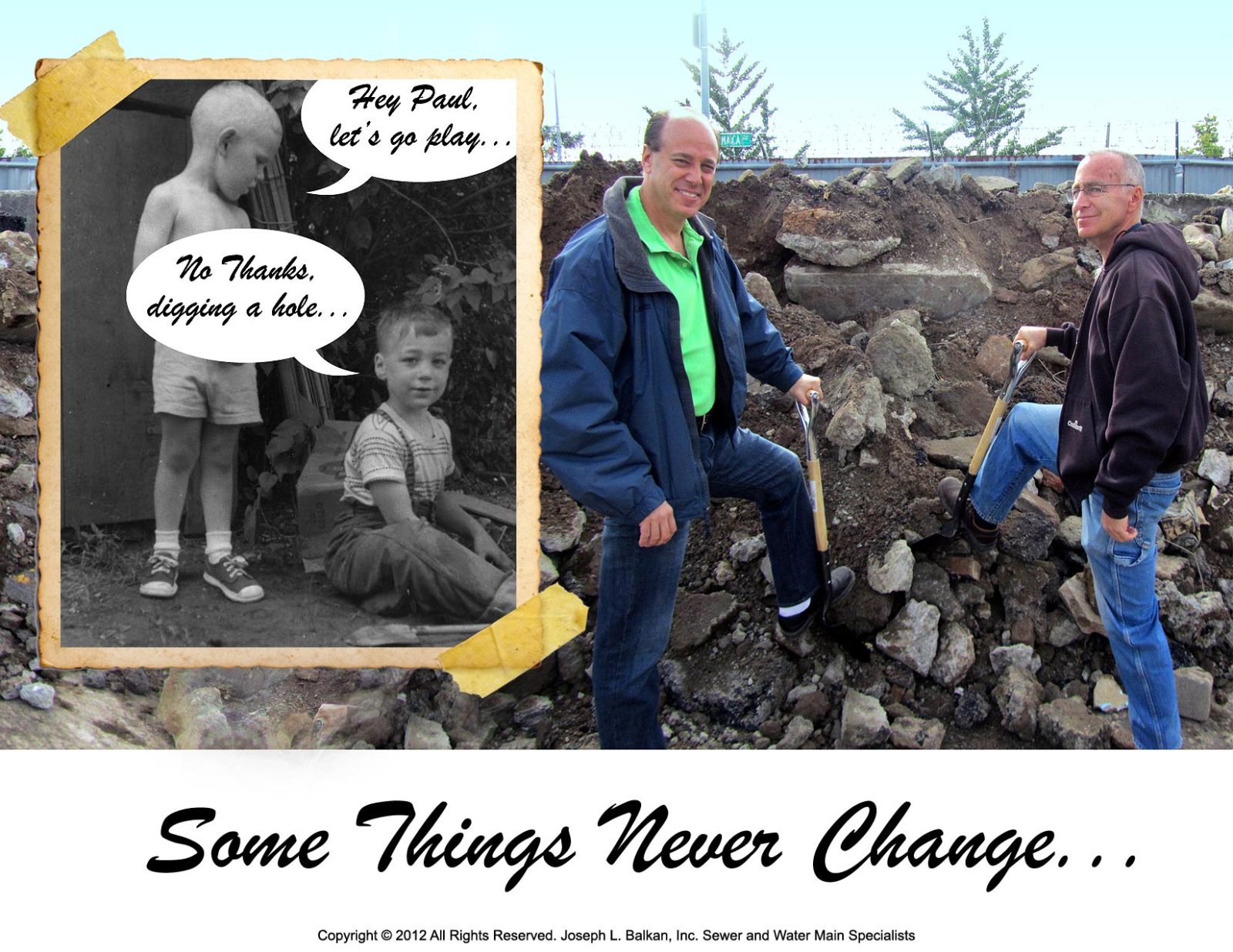 In the late 1970's two of Joe's three sons, Paul and David, entered his sewer and water main business and as was Joe's way, he made them learn it from 'the underground up'. Both sons started as laborers, and had nothing handed to them. Only when Joe was confident in their abilities did he cut back on his work hours until his eventual retirement in 1983. Until his untimely death the day after Christmas in 1996 Joe spoke with great pride and delight about the new levels of success his sewer and water main business reached under his sons Paul and David's guidance.
Balkan Company and History Videos
What's the deal with all the bees?
Homeserve Interview with David Balkan
Providing High Quality & Prompt Sewer and Water Main Service to New York City Since 1952
Founded on the simple principals of doing quality installations and keeping his word the business survived and then thrived throughout the years. Joe's clients counted on his handshake as his bond – and he didn't let them down. From our founders original Brooklyn Navy Yard principals came our motto "Quality & Service". Balkan Sewer And Water Main is proud that after over sixty years of providing the best sewer and water services we are now the oldest subsurface plumbing firm operating under the same original family name in New York City. "A Trusted Family Name For Over 65 Years", and "Quality, Service, and Experience".
Joseph L. Balkan Inc. is still a family run sewer and water main business with Joe's sons Paul and David carrying on the family tradition of high quality work, done at the most reasonable of costs always utilizing a 'uniform pricing policy'. Through this family and company wide dedication to customer satisfaction Joseph L. Balkan Inc. has grown from the Brooklyn Navy Yard, to a small plumbing shop, and on to be the largest sewer and water service contractor in the five boroughs of the NYC metro area. Balkan performs over 2,000 sewer and water service installations a year city-wide.
The company has remained true to its original principals, and is large enough to handle all the potential sub-surface plumbing needs of its clients and customers 24/7. Yet we still provide friendly personal service with all aspects of the operation overseen by a Balkan family member and the most experienced field and support staffs in the industry. Continued success is based upon a company-wide commitment that excellence is not by accident.
Founder Joe Balkan and his Service in the Navy Seabees
No story about Balkan Sewer And Water Main or Joe Balkan the founder of Joseph L. Balkan Inc. would be complete without mentioning the Navy Seabees (actually an abbreviation for Construction Battalion)- a section of our armed forces that people may not be too familiar with anymore. Joe's service in the Seabees in the South Pacific left an indelible impression on him and gave him a fearlessness that he carried with him his entire life. It seems that seeing wars devastation and having a close brush with death can do that to a person. To the day he died Joe Balkan retained vivid memories of WWII and what he witnessed – And how lucky he was to survive.