Water main breaks can wreak havoc, especially in a crowded metropolis like New York City. They are not just an inconvenience for residents and businesses. They are also expensive, time-consuming, and labor-intensive to fix. As a citizen, there isn't much you can do to fix a water main break in NYC yourself. However, there are things that you should do right away if you suspect a NYC water main break. Taking some initial steps can help to protect yourself and your neighbors.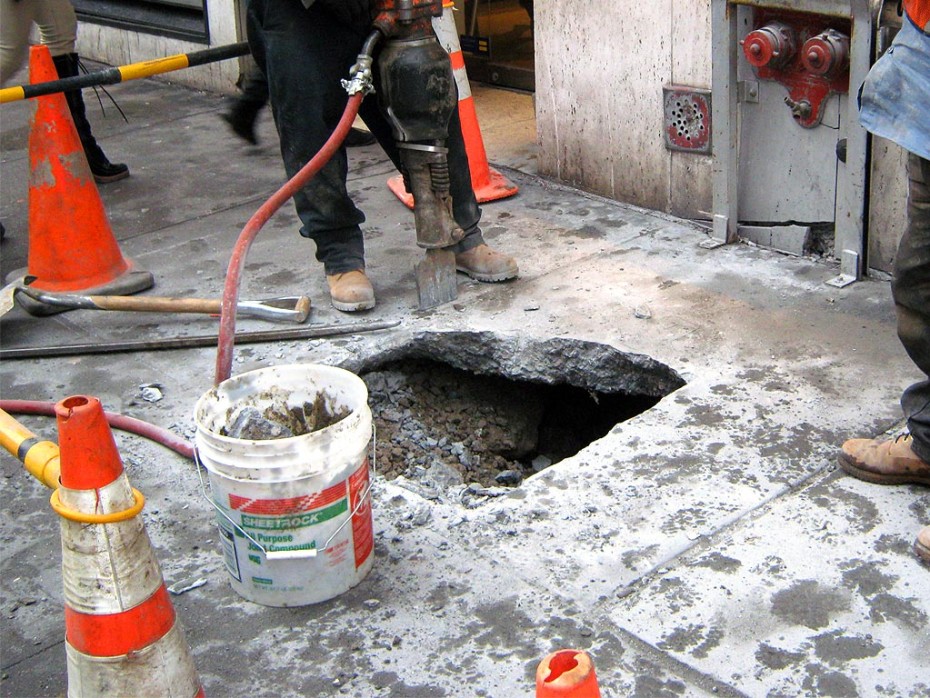 Report the NYC Water Main Break to Authorities
Do not presume that someone else has already called to report the possible water main break. Just because its NYC, doesn't mean someone already took the initiative. You may well be the first person to notice that something is awry within the water system. If you witness water rising from out of the street, or a decrease in water pressure in your home or business, call 311. Then ask to be connected to the New York City Department of Environmental Protection or NYC DEP.
Be prepared to give the DEP details about what is happening, where it is happening and your contact information. The more information you can provide the DEP the faster the correct type of crew can be sent. Make it clear it is a water main break, not a sewer issue. Of course include the location to resolve the situation, or determine the source of the leak.
Turn Off Your Water From Your Main Valve
If you are experiencing water running inside your home or business, turn off the main water valve. If the leak is inside your home, that will stop any additional water from entering the structure. It will likewise save you from and additional potential damage. Do your best to clean up any standing water to avoid issues with mold. Not only will this mitigate any further damage to your structure, but it will also assure that your personal belongings and business assets do not get damaged.
Turning off your main valve may also make it easier for the water main repair professionals to take care of the problem once they arrive. Even if there is no leakage inside, it is a good idea to turn off the water if there is a major break outside. Doing this can prevent dirt, corrosion, or debris from getting drawn into your home's plumbing system. If you hear rumbling on your pipes, or your water meter is spinning wildly, there is a good chance some pipe ruptured inside your property.
A curb stop valve
In many cases you may have a curb stop valve, also known as a curb valve. If the leak appears to be between the front of your home, and the curb valve, you may need it closed. It is best to trust closing a curb valve to a professional. Curb stop valves can be temperamental, and require specialized curb valve keys.
Check With Your Neighbors
The water main break may not be on your property. In fact, it could be an adjoining property that is having the water main break. In NYC there are frequently extenuating circumstances that make determining the true source of a leak difficult for all but trained professionals. You should contact your neighbors and the businesses surrounding you to see if they are also experiencing any issue such as loss of water pressure, or a rumbling sound from their plumbing.
If there is a major problem affecting everyone in the neighborhood, you will find out very quickly. At the same time, you could be the first to notice and your inquiry will alert your neighbors to the issue. Not only will you be looking out for yourself, but you could also save someone else's property. In some cases a city water main break can make it appear as though your service line is leaking when it is not. If a city water main breaks, it would typically affect multiple properties.
Call the Trained Professionals
When a water service line breaks in NYC, is not part of the city infrastructure. It is considered the homeowners property. It is likewise the considered the sole responsibility of the property owner. In these cases you need to call trained professionals. Keep in mind that water main repairs and replacements can only be performed by a company with a Licensed Master Plumber on staff, such as Balkan Sewer And Water Main. The water main repair professionals at Balkan Sewer And Water Main are familiar with the permitting process that accompanies many water main repairs. We can help you navigate this complex and often costly situation with ease. Balkan has field personnel available seven days a week, and after hours as well.
If you are experiencing water main problems, and you've taken the steps outlined above, you are on your way to resolving the issue. If you are in need of assistance, please contact Balkan Sewer And Water Main for a no obligation site visit. Our written estimates are like wise free, and without any obligation to hire. One of our Balkan Team Members will be more than happy to assess the situation for you.