New York, USA (APRIL 9th 2010) FOR IMMEDIATE RELEASE:


When Pratt Institute needednew water main andhouse sewer services for their new 120,000 square foot green building Joseph L. Balkan Inc. was chosen over usgvarious other water main and sewer contractors. Many factors are considered during the hiring process on a project of this scope and magnitude.
Operating under the same name for over 50 years, longer than any other sewer and water main company in NYC, gives Balkan Sewer and Water Main Service unique credentials. Offering unparalleled levels of expertise, service, and safe work procedures made Pratt's hiring decision easy. Since that decision was made Balkan has worked seamlessly to excavate, install the new sewer and water main services, back-fill, and permanently restore disturbed areas without disturbing the day-to-day activities of this vibrant institution. The General Contractor that was selected to oversee the entire project is Triton Construction.
ABOUT THE PRATT INSTITUTE GREEN BUILDING

Pratt Institute's New Green Building Will Become a Gateway to its BrooklynCampus. The facility will serve as a symbol of revitalization for the surrounding community and as a learning laboratory for the environment.
New excitement has taken hold in three gentrifying neighborhoods of low-rise brownstones that converge around the Myrtle Avenue retail corridor in Brooklyn, New York, where Pratt Institute maintains one of its two urban campuses. The highly regarded college of art and design has announced plans to build a sustainable-design green building on the avenue, which is currently undergoingrevitalization.
The new facility, 524 Myrtle Avenue, will not only serve as a local and national model of sustainable design, but also create a living laboratory with educational programming for community groups and public schools. Moreover, the building will anchor commercial redevelopment along Myrtle, providing a link to Pratt's neighboring communities of Bedford-Stuyvesant, Fort Green and ClintonHill.
A $75,000 green planning grant, awarded by The Kresge Foundation, will help to fund the Institute's exploration and evaluation of sustainable building systems and green features. Kresge awards planning grants for building renovation, historic preservation and new construction designed to meet Leadership in Energy and Environmental Design (LEED) certification by the U.S. Green Building Council or the Cascadia Region Green Building Council's Living Building Challenge.
Pratt Institute President Thomas F. Schutte chairs the Myrtle Brooklyn Partnership and has been advocating revitalization and environmentalism in the area for nearly two decades. He says Kresge's green planning grant will ignite enthusiasm and mobilize financial support for the $50 million project among internal and external affinity groups, and further validate the Institute's pioneering efforts to integrate environmental conservation into its academic curriculum and campusexpansion.
Pratt's new building will symbolize the growth and revitalization of the Institute, its surrounding neighborhood and Brooklyn while demonstrating the Institute's commitment to sustainability, he adds. We anticipate that 524 Myrtle will serve as a model of sustainable design for Pratt students, the local community and urban campuses across the country.
In May 2007, Pratt held a community-wide forum and invited neighborhood residents, faculty members, designers and developers to weigh in on what they wanted to see in the six-story building. From this collaboration came innovative ideas and recommendations that were used to develop a plan for program space. The first floor of 524 Myrtle will house retail businesses, and the upper floors will be devoted to Pratt programs and offices, the Pratt Center for Community Development, the Department of Digital Arts Lab, and studios for graduatestudents.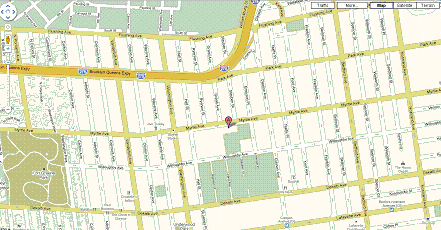 The very location of 524 Myrtle, outside the perimeter of the existing 25-acre Pratt campus, demonstrates the Institute's commitment to the transitioning neighborhood and its socially, economically and racially diverse residents. While the street-side façade will complement the existing 19th-century brown-brick commercial architecture along the avenue's business strip, the building also will convey a visual sense of 21st-century state-of-the-art sophistication that will distinguish it from other new construction in the area. A central atrium will allow views into and through the building from both the campus and avenuesides.
Anthony Gelber, Pratt's coordinator of sustainable facilities and operations, will serve as project director for 524 Myrtle, which is slated for completion by fall2009.
Once finished, this new building will become a gateway to the campus for the community, says Kresge Foundation President RipRapson.
By ClaudiaCapos
ABOUT PRATT INSTITUTE
The mission of Pratt Institute is to educate artists and creative professionals to be responsible contributors to society.
With a firm grounding in the liberal arts and sciences, a Pratt education blends theory with creative application in preparing graduates to become leaders in their professions. Pratt enrolls a diverse group of highly talented and dedicated students, challenging them to achieve their full potential.
Pratt seeks to instill in all graduates aesthetic judgment, professional knowledge, collaborative skills, and technical expertise.
The History of Pratt
On October 17, 1887, twelve young people climbed the stairs of the new "Main" building and began to fulfill the dream of Charles Pratt as the first students at Pratt Institute. Charles Pratt, one of eleven children, was born the son of a Massachusetts carpenter in 1830. He managed to scrape a few dollars together and spend three winters as a student at Wesleyan Academy, and is said to have lived on a dollar a week at times. In Boston, he joined a company specializing in paints and whale oil products. When he came to New York, he worked for a similar company and expanded the interest to Astral Oil. When the company split, Charles Pratt owned the oil business and turned it into the most successful such company in Brooklyn, eventually merging with Standard Oil.
Charles Pratt's fortunes increased and he became a leading figure in Brooklyn, serving his community and his profession. A philanthropist and visionary, he supported many of Brooklyn's major institutions including the Adelphi Academy and the building of Emmanuel Baptist Church. He always regretted, however, his own limited education and dreamed of founding an institution where pupils could learn trades through the skillful use of their hands. This dream was realized when Pratt Institute opened its doors over 100 years ago. Only four years after the opening, Charles Pratt died, leaving the job of guiding the Institute through its early years to his sons, primarily Frederic Bayley Pratt. The energy, foresight, money and spirit Charles Pratt gave to his dream remains even today. Here careers are molded, and goals, like those of Charles Pratt, are encouraged. Inscribed on the seal of the Institute is the motto:
Be True To Your Work, And Your Work Will Be True To You