As a little background information, house sewer and water disconnections are commonly referred to as "plugs". The actual DEP permits required are in fact Plug Permits. A sewer and water disconnection, or plug, is a permanent and irreversible termination of those services. This also results in the DEP closing the associated accounts for those services. Closing the accounts ends the billing cycles for those services as well.
Plugging Sewer and Water Lines vs. Turning Them Off
There is a general misconception by the general public that turning off a water service is the same as plugging it. This is most definitely not true. A water can be shut via the main control valve, a curb valve, or the tap connection on the city main under the roadway. However, none of those actions will result in an end of receiving water bills from the DEP. The only means to eliminate a water bill is to permanently plug the service at the tap connection on the city water main. Furthermore, the only way to cease getting both sewer and water bills is to perform a sewer and water disconnection.
Unlike plugging a water line, sewer lines are typically disconnected and plugged at the curb line. Also unlike a water line plug, a plugged house sewer can usually be re-activated. If the existing connection is verified as in working order, the plug can be removed, and the existing pipe re-connected to the new house sewer exiting the building. Of course the pitch of the pipe and size of the pipe must be carefully checked. In many cases new buildings have deeper basements, or require a larger house sewer line.
Sewer and Water Disconnections: The Process Explained
Similar to all work performed on a house sewer or a water service line, there is a defined process that also requires DEP permits, and typically a DOT permit as well. Note that before the permit process can even start, the owner of the property must submit a notarized permission letter that expressly states their desire to permanently plug the house sewer and water service line.
A notarized plug permission letter from owner
Permit applications submitted to DEP for approval, followed by application for DOT permit.
Pre-inspection site visit to determine the buildings state of readiness, location of the services, and if any site conditions exist to prevent the start of work.
Once permits are approved, typically in 2 to 5 days, work is scheduled. Many times this has to be coordinated with alternate side street parking stipulations.
The DEP Field Inspection Unit is notified and inspections are set up. Each service must be inspected the same day the crew is mobilized.
In most cases sewer and water disconnections are started and completed the very same day.
The day after inspection and backfill all finished surfaces are permanently restored.
The required sign-offs are typically issued by the NYC DEP in 1 to 5 days.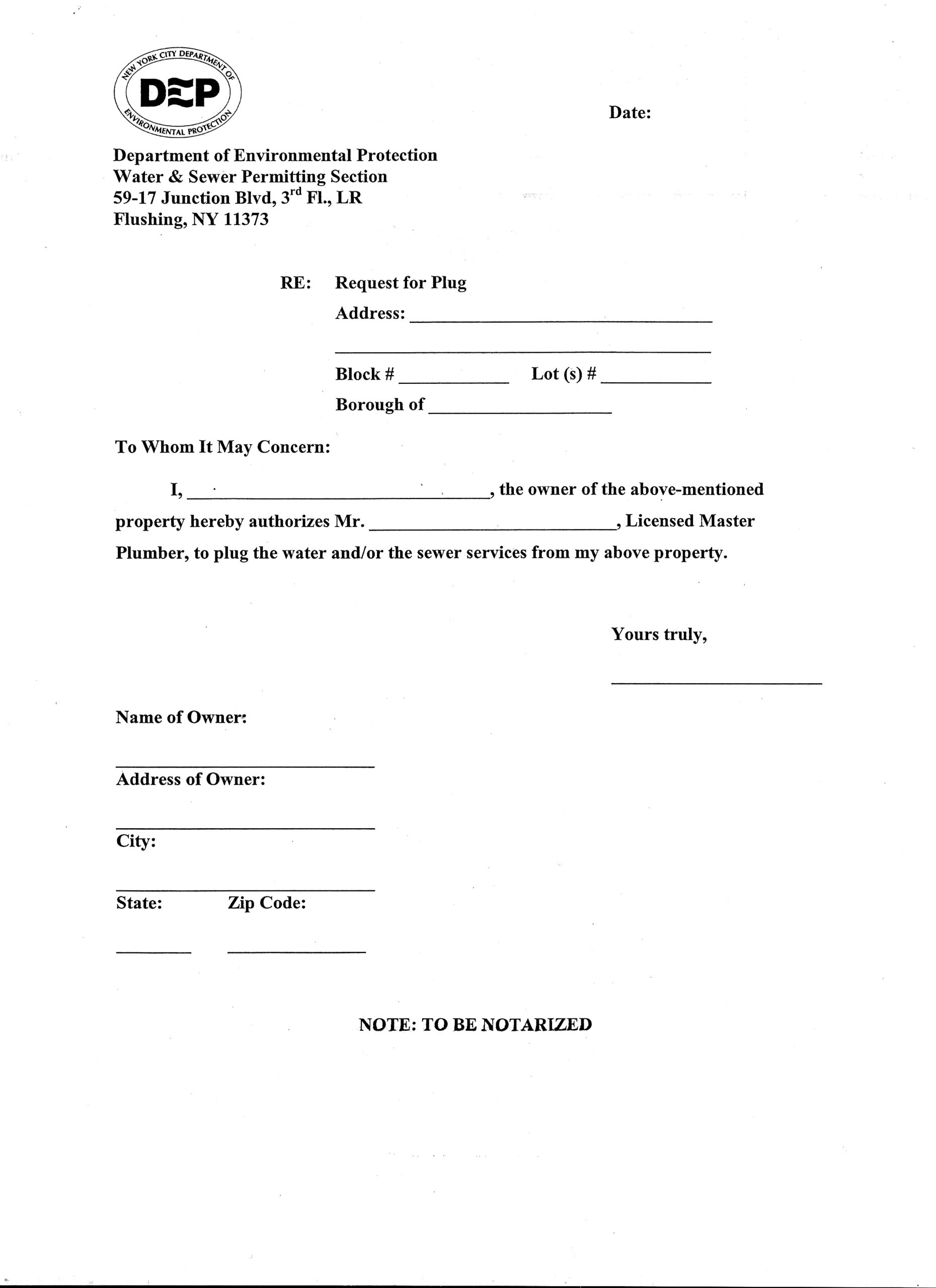 Hiring the Right Sewer & Water Contractor has Advantages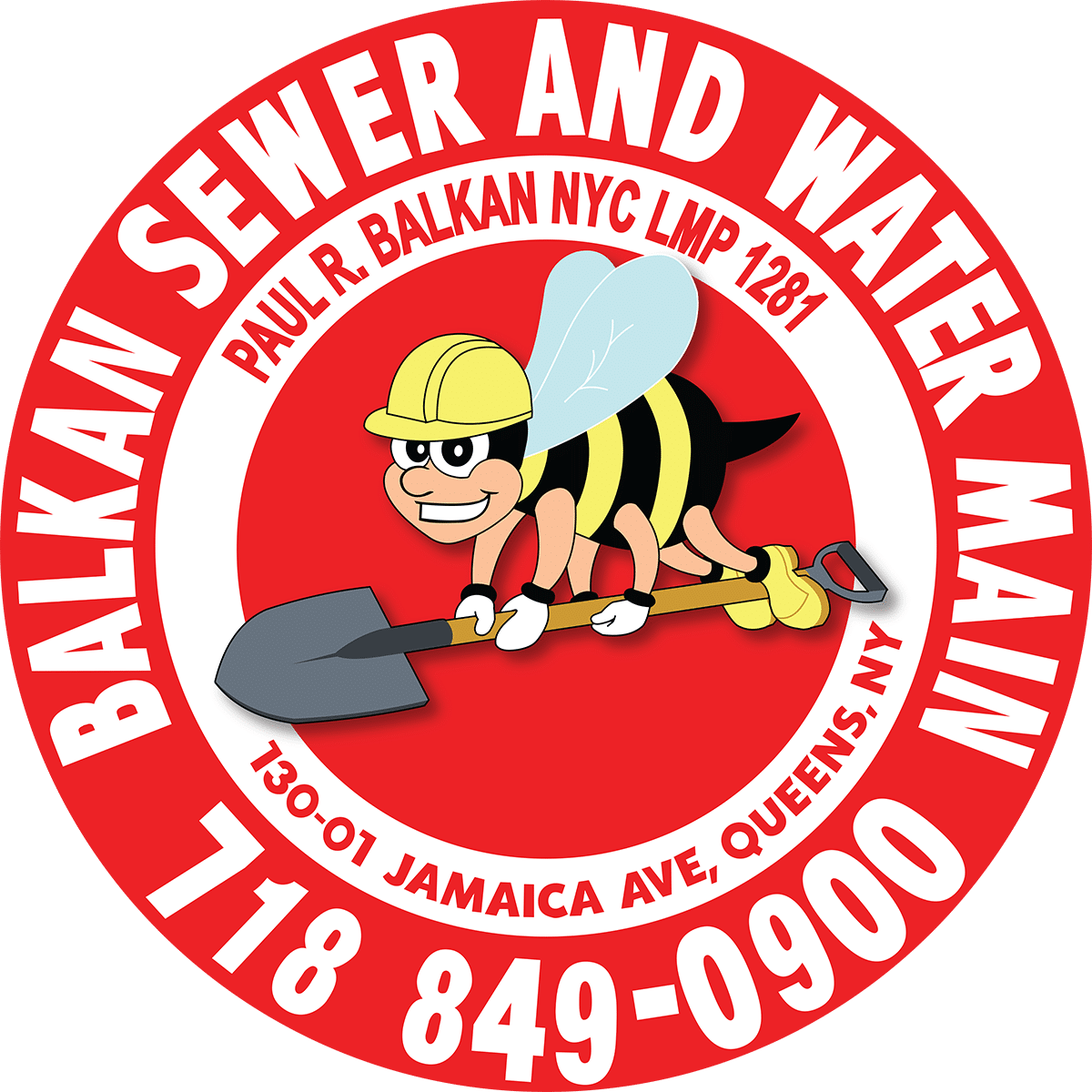 Similar the many types of plumbing work, sewer and water disconnections are a specialty type of work. The vast majority of NYC plumber's plumbers do not perform subsurface plumbing work at all. Furthermore, even the handful of NYC sewer and water main contractors do not specialize in performing sewer and water main plugs. This type of work requires an inordinate amount of coordination, permitting, inspections, and overall attention to detail. Hiring Team Balkan provides you with distinct and definable advantages.
A Quick Response to Requests For Proposal
For most sewer and water main disconnections, Balkan replies with a proposal within one hour. For more complicated jobs, proposals are typically proved within one work day. The Balkan Team will never be the source of holding up your project, or total bid for a project.
Understanding the Permit Process
Having an intimate understanding of job requirements, code, and the permit process, assures you of a documented process and a successful conclusion to your project. Hand in hand with understanding the permit process, is understanding the DEP inspection process. The Balkan Team ensures you of seamless start to finish of even the most challenging sewer and water disconnections.
A Set Process for a Seamless Job
Similar to any service business, any plumbing project needs processes in place for a job to quickly move along. Plugging existing sewer and water services is no different. The Balkan Team can quickly and easily provide updates on your project. We are large enough to handle any size project you may have, yet still provide personalized service.
Expedited Sign-offs for Sewer and Water Disconnections
At the conclusion of a job, receiving your sign-offs is of paramount importance. Without sign-offs your project may grind to a halt. With that in mind, a Balkan Team Member is dedicated to expediting the sign-off process. Any issues or questions are quickly addressed by a Balkan professional with years of experience.
NYC's Leader for House Sewer and Water Disconnections
The Balkan Team performs more disconnection work than any contractor in NYC. Our loyal client base is partly due to a uniform price structure, and an easy to understand item pricing methodology. But more than that, it is commitment to superior service, we call it "The Balkan Way". That is why we are Your Team To Trust. Feel free to submit a bid request, or receive expert advice by contacting Team Balkan.