When you need sewer work or water main work done, you need results. What you don't need is getting buried in the details, that's what you hired a professional water main or sewer contractor to take care of! This is particularly true when you live in a big city like New York, and need NYC water main and sewer work performed. So, let's simplify the hiring process for you by noting the 4 key points you should need to know.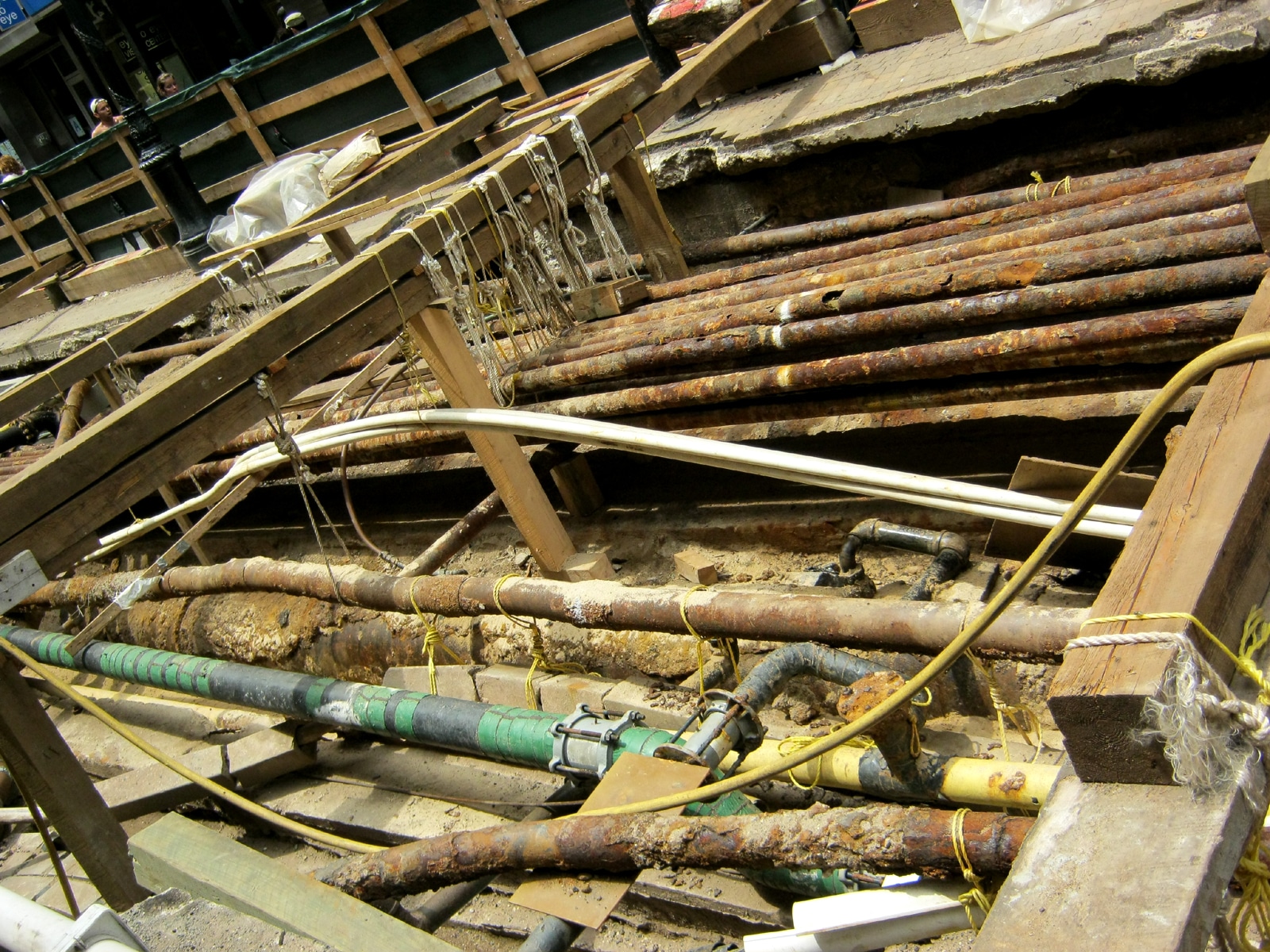 NYC Water Main & Sewer Work: The Why, Who, When & How Much
It can be somewhat useful to understand local codes and rules, but that's really the job of your contractor. The last thing you need to hear about is the contractor complaining about the challenges they face, while you're dealing with an emergency plumbing situation!
The WHY You May Need Water Main or Sewer Work
As simple and clearly evident as it may seem, always verify that you actually need sewer or water main excavation work performed. If you believe you have a water service line leak, it's typically best to call the local water authority and have them verify it. The exception would be is you can visually see the break on your water line. NYC water main work can be particular confusing to verify. Never take anything for granted.
Sewer work is similar in that it's best to completely verify you have a structural defect in your home sewer lines. Frequently one drain technician can clear a clog or blockage that another cannot. Furthermore, always get a HD sewer camera inspection to verify the defect, location of the defect, and depth of the sewer line itself. Never take the chance of doing sewer work that was not really necessary, or digging in an incorrect location.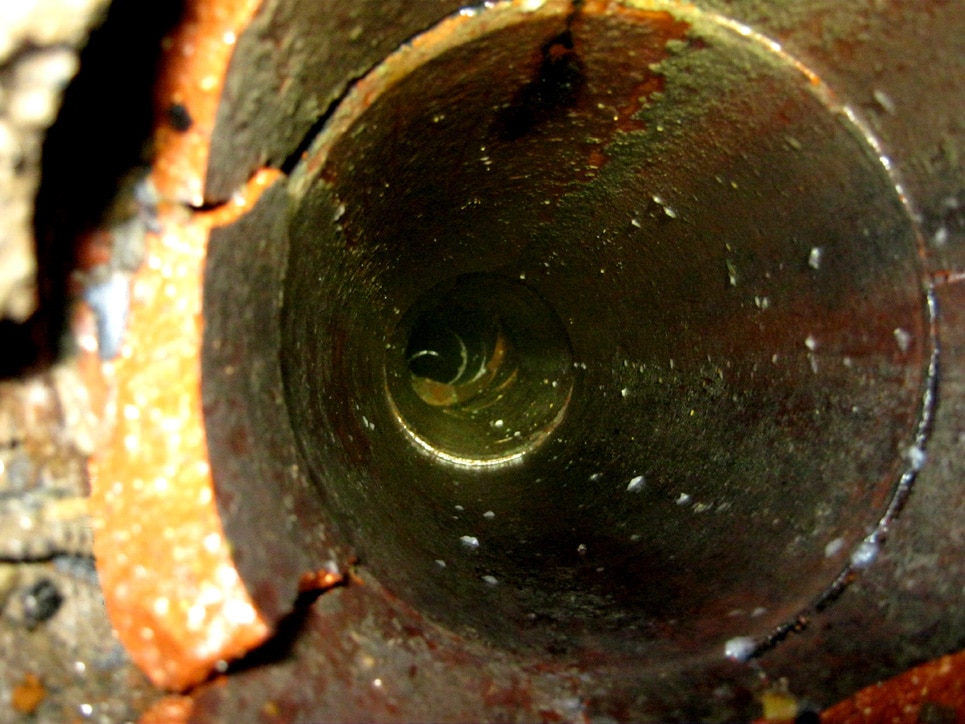 The WHO to Hire For NYC Water Main or Sewer Work
Regardless of if you're doing NYC water main or sewer work, or you live in any other jurisdiction, hire a licensed and insured contractor. That is a simple requirement that holds true universally regardless of location or jurisdiction. In New York City it's fairly easy to verify a plumber's license. Furthermore, it is advisable to deal directly with the contractor physically performing the work, one who has verifiable history of being in business for a long period of time. If your plumber has a history of company name changes that should be cause for concern. Likewise, a history of lawsuits or poor reviews should raise some red flags.
The WHEN Will Work Commence
Promises are promises, but not a defined action or response. Typically, if you're a property owner you need next day service. There is usually no reason you shouldn't get next day water main or sewer work service when an emergency exists. For emergency NYC water main and sewer work, an emergency system exists for same-day response or next-day response. If a plumbing contractor cannot provide that sort of service, you may wish to contact other plumbing firms.If you're the client, your needs come first, not when someone can fit you into their schedule. Listening to details about how busy you plumber is, should simply be of little concern to you.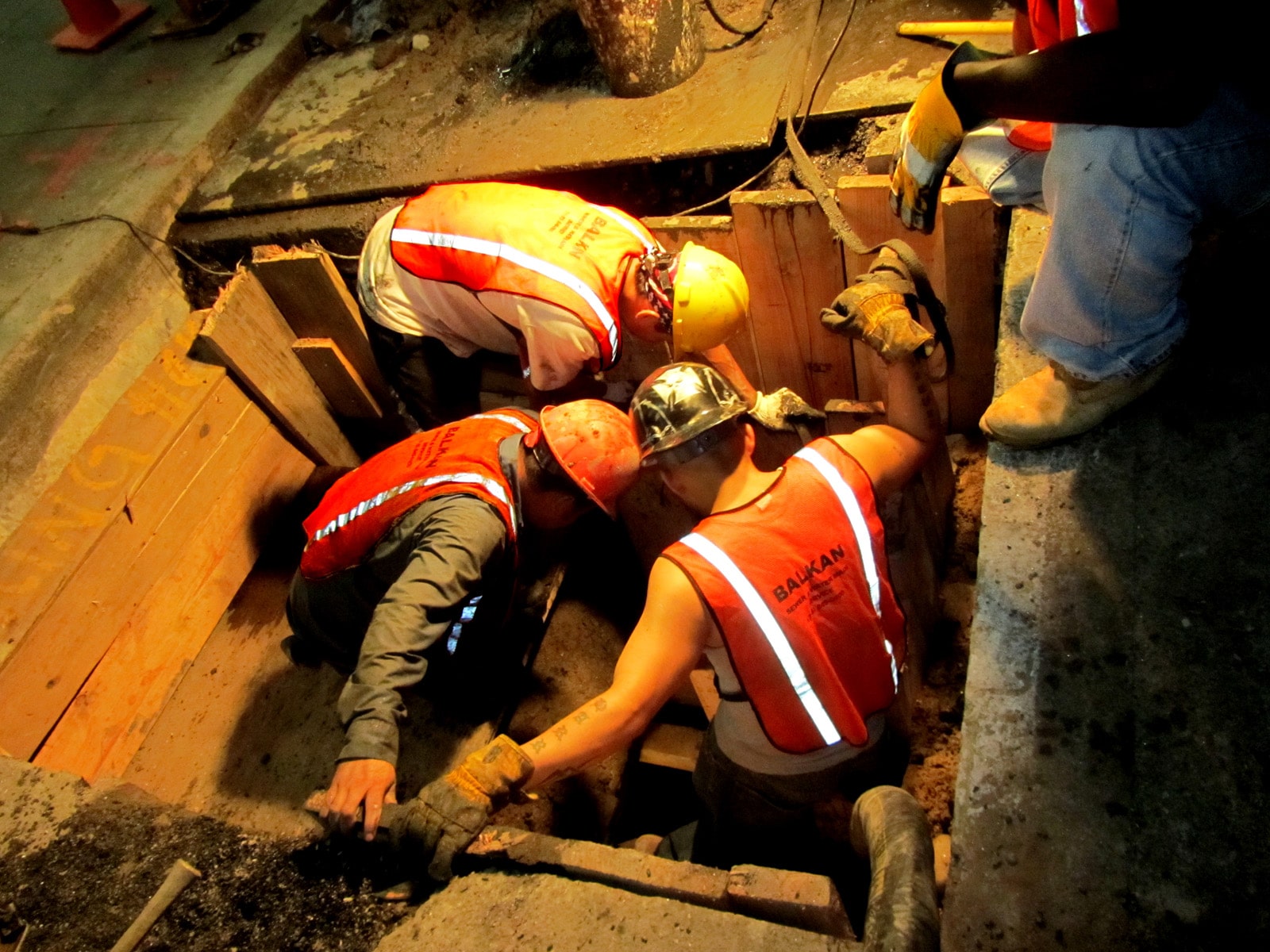 The HOW MUCH Will the Water Main or Sewer Work Cost
Simply put,always get a written quote, with all possible contingencies noted. This is particularly true if you're getting a water main or sewer repair done. Always get the alternate sewer or water main replacement cost, even if you're only considering a repair. Sewer work in particular has a great price fluctuation between a repair or a full replacement. The very last thing you want to do is do price haggling after work has already commenced on your property with open excavations present. Part and parcel of clearly knowing the price, is clearly knowing the guarantee and what is guaranteed..
A Little Bit About Home Sewer Work
Bear in mind that the following information pertains to NYC, Balkan's service area. All sewer work requires a visual inspection from the NYC DEP field inspection division. Likewise, permits from the DEP are required. If the sewer work is outside the property boundary, a permit form the DOT is also likewise required. In terms of materials, domestically produced extra heavy cast iron is the material of choice. Needless to say, as home sewers work via gravity, all pipe should have pitch (also known as slope).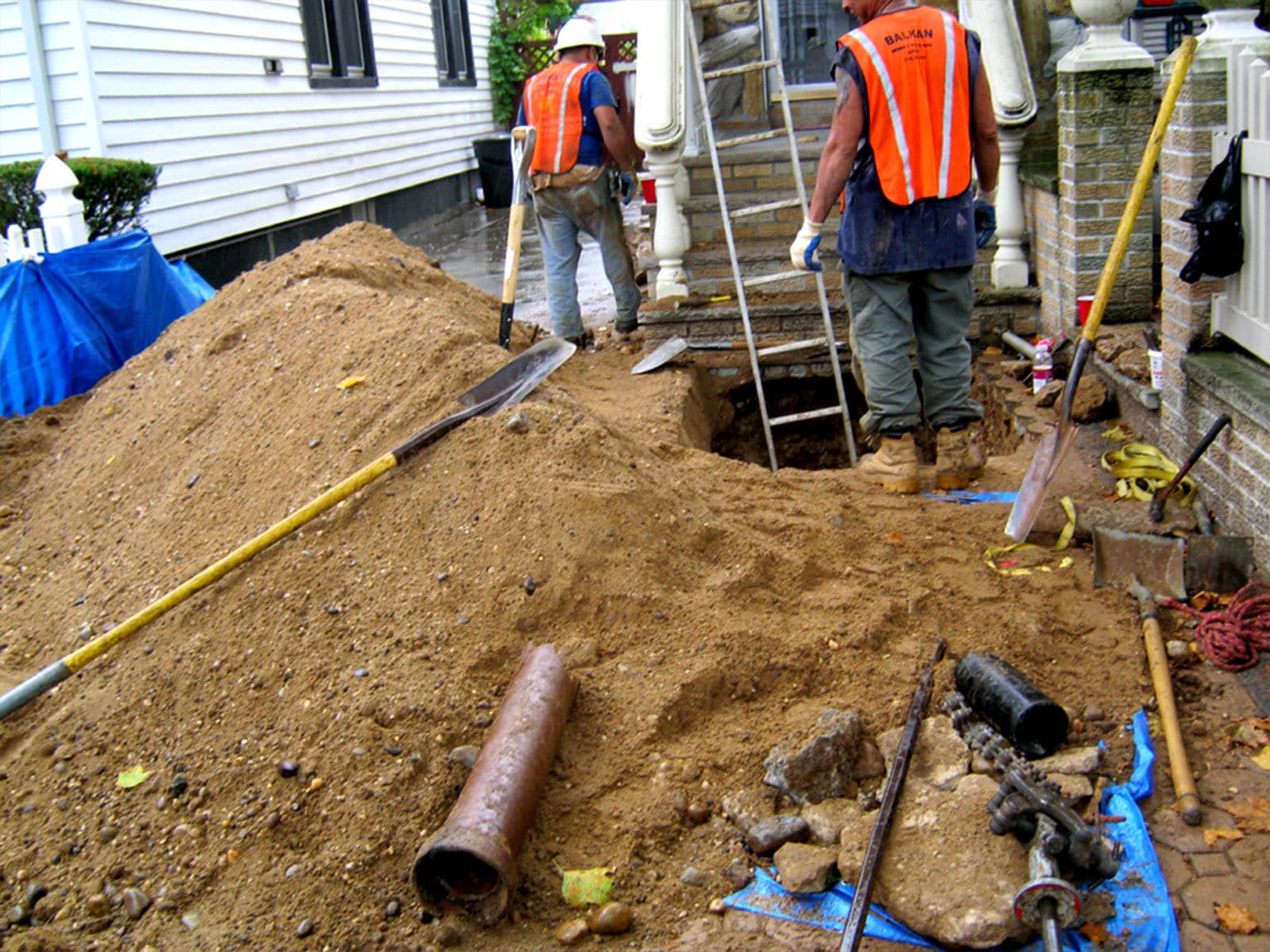 NYC Water Main Repair Work Info & Tips
When it comes to NYC water main work, repairs on lead service lines is absolutely not permitted. Therefore, if you happen to have an old lead water line, you must replace it entirely. Secondly, and as previously stated, always compare prices for both a water main repair and a replacement. The cost difference may dictate your hiring decision. Again, in almost all cases, it's best to have the DEP verify that a leak is definitely form your line. If you hire a plumber without getting verification, you can be left paying an unnecessary bill for a leak from another source.
Expert Water Main Repair and Water Line Replacement
The Balkan Team provides expert home water main repair and water line replacement. We have expertise in all types of NYC underground plumbing. Balkan Sewer And Water Main Service was founded in 1952. Since its inception, the foundation of the company has been based upon integrity and honesty in all of our dealings. That solid foundation has enabled us to thrive in every economic climate. That is why guiding you through the decision of doing a sewer repair vs sewer replacement exemplifies our company culture of educating consumers. We feel the more you know, the better we'll look. The year 2022 actually marked our 70th consecutive year in business under the same family guidance.

As we have grown, we have become increasingly dependent upon a "Team First" approach. What helps ensure a continuation of our high standards, overall integrity, and high company morale, is that same team approach. Complete client satisfaction has always been the number one goal at Balkan Sewer And Water Main. That is why we are NYC's largest and most trusted sewer and water main service in New York City. Simply put, if it's plumbing, and it's underground, we do it. For over 70 years, and for over 90,000 New Yorkers to date, Balkan is "The Team You Trust".