There can be various issues with a wet tap connection for a service line that will affect the service life of the water line and water pressure for the property. A connection to a public water main for a water service line is much more important than a property owner may realize. A wet tap connection for a main water line may be a 'driven tap'. Which means it was installed before power tools were used.
A driven tap can blow out of the main line without warning. This article will act as a basic tutorial concerning the connections from your water service line, that then run into your property, and connect to your house plumbing. Click here to read the NYC DEP explanation of water service line connections and private mains.
3 Common Wet Tap Connection Problems
A wet tap connection can be too small to supply the proper volume of water to a property.
A wet tap connection can leak or be defective.
In some cases, due to age, improper installation, or corroded pipe, a tap can physically blow out of the main itself. This is particularly true of driven tap connections.
Driven Water Tap Connections Explained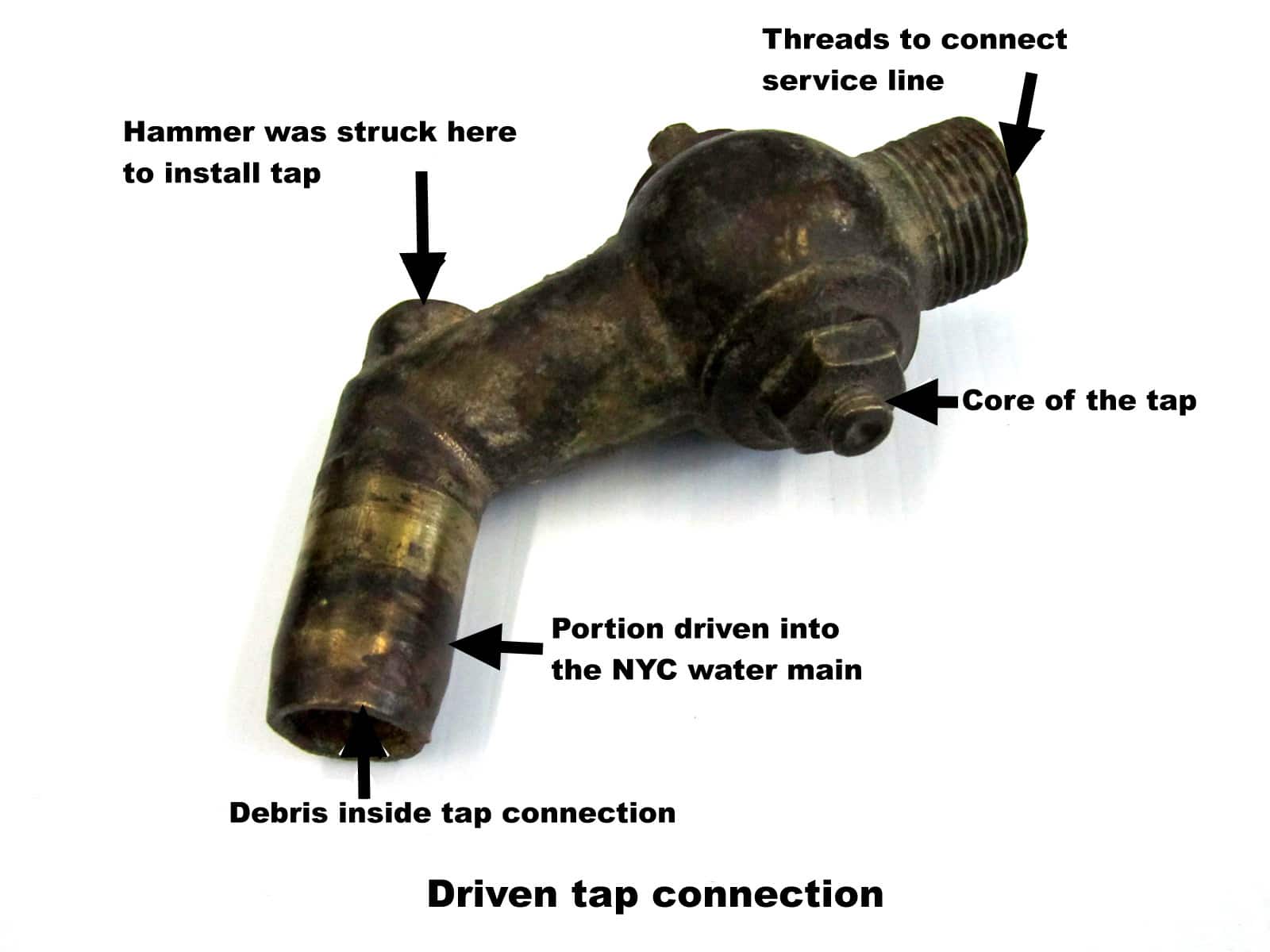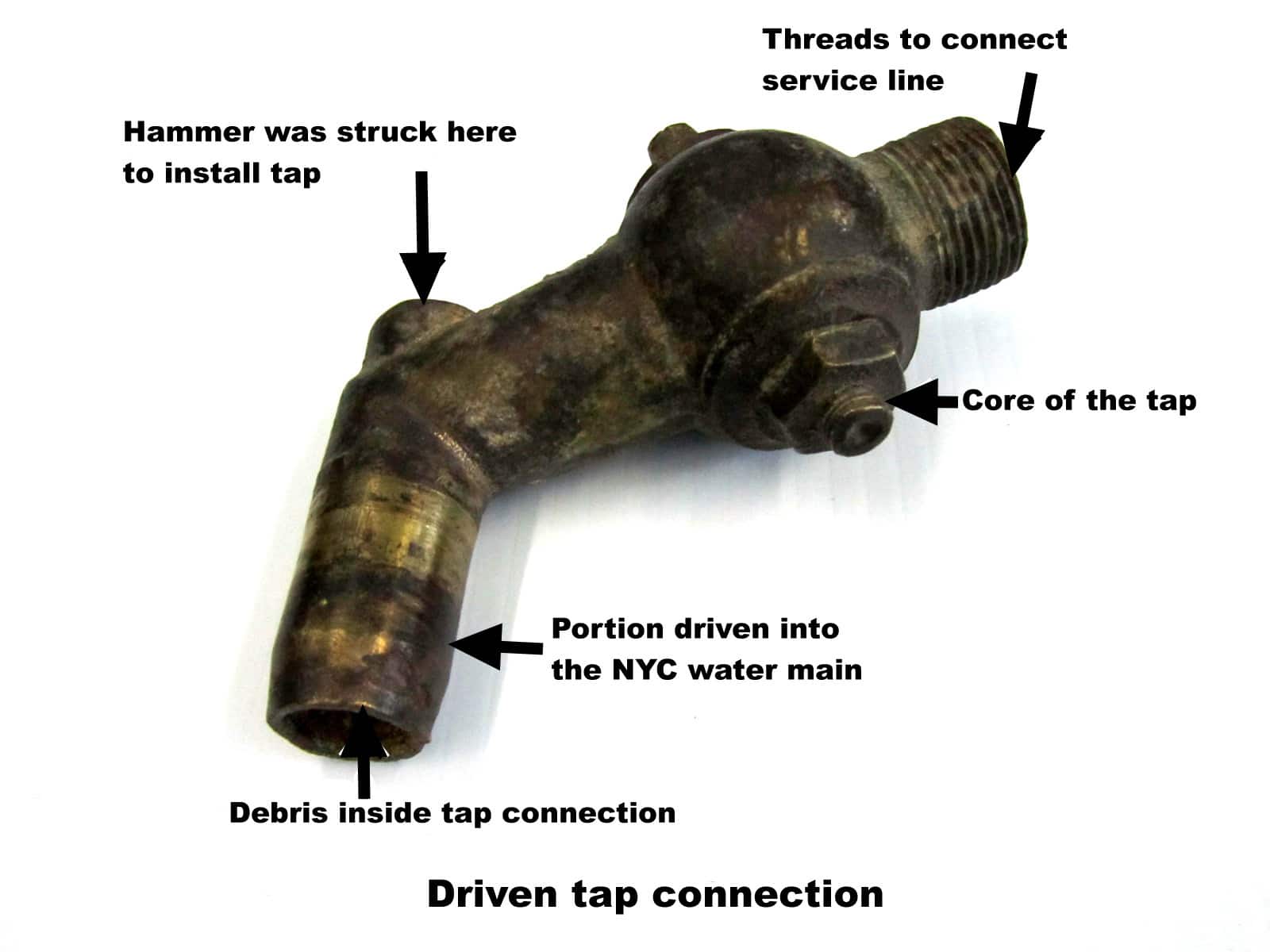 Driven taps are no longer legal in NYC for a water service line. However an existing wet tap connection will not be violated unless a water main repair or replacement is being performed on that particular water line. Whenever a water main repair or water main replacement is performed and a driven tap is found it must be replaced.
Driven taps were installed prior to power tools being utilized by the NYC DEP. They were actually driven into the city water main using a hammer. There are no threads to hold a driven wet tap connection in place and they are prone to blow out. In addition they are typically too small to properly service a property.
An Inadequately Sized Wet Tap Connection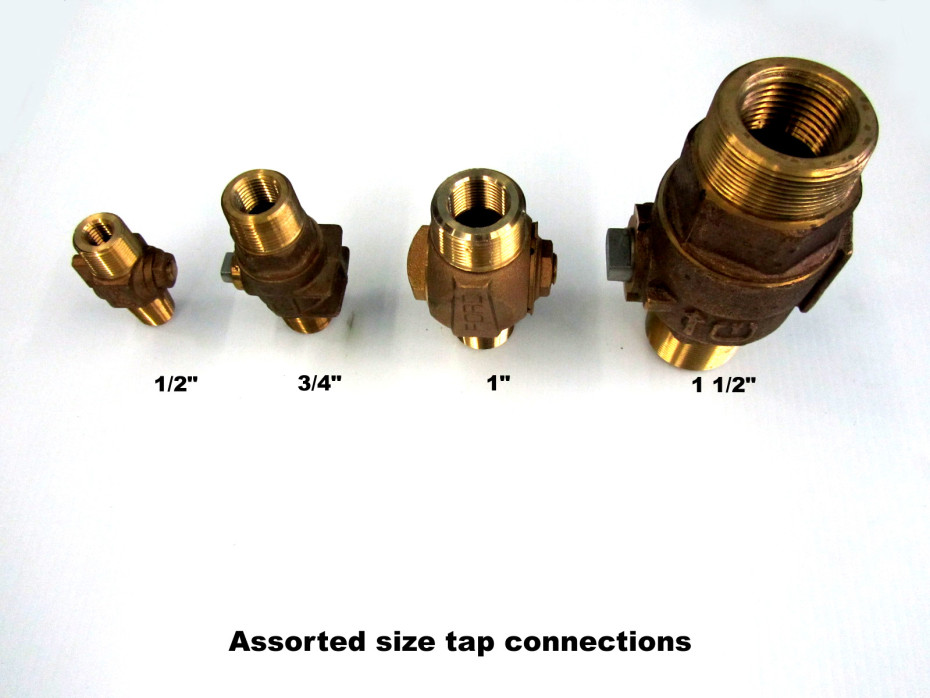 Many NYC properties have added plumbing fixtures or living space to an existing building over the years. A tap that may have been adequate or marginal years ago will now not provide an adequate volume of water and result in low water pressure as well. Water pressure and volume of water are two separate  and distinct issues. No matter how large the actual size of the water service line, if the tap is too small there will not be enough water volume or pressure to property serve the property.
The minimum sized wet tap connection allowed for a service line in NYC is 5/8″ for a one family house. Many older taps in NYC are only 1/2″ and wholly inadequate. However, whenever a new tap connection is required, the minimum size allowed is 3/4″.
A Leaking Tap Connection
On very rare occasions a wet tap connection on a NYC water main may leak or become defective. Sometimes the 'core' of the fitting can be tightened, or the connection itself can be screwed further into the NYC water main to stop the leak. But in most cases it would have to be plugged or removed with a new one installed in its place.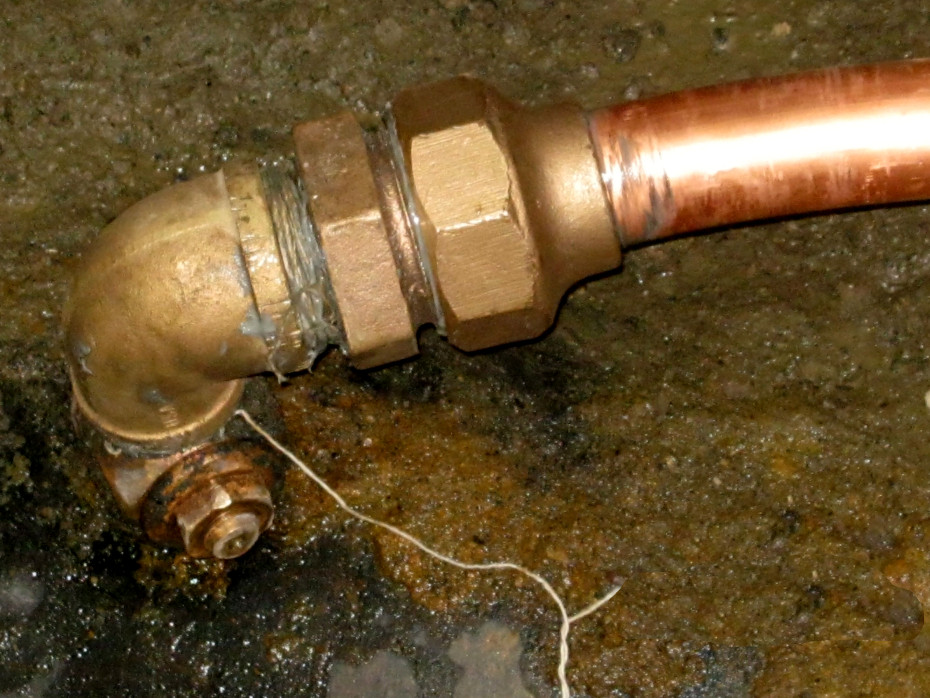 An Important Point:
A brand new properly sized tap installed by the NYC DEP into the city water main costs around $700.00. In almost all cases where low water pressure exists, or there's a chance of a defect, it is good policy to replace the tap for the relatively modest expense of $700.00. As a side note, any service line connection larger than 2″ is considered a wet connection, and is substantially more expensive to install.
The Expertise of NYC DEP Field Forces
The NYC DEP has highly experienced crews specializing in wet tap installations. The DEP can do a complete installation for a water service line in about 20 minutes with a total about a 1/2 gallon of water lost during each installation. Furthermore DEP has crews that install many taps each and every day in all five Boroughs to keep NYC water supply lines up to date and up to code.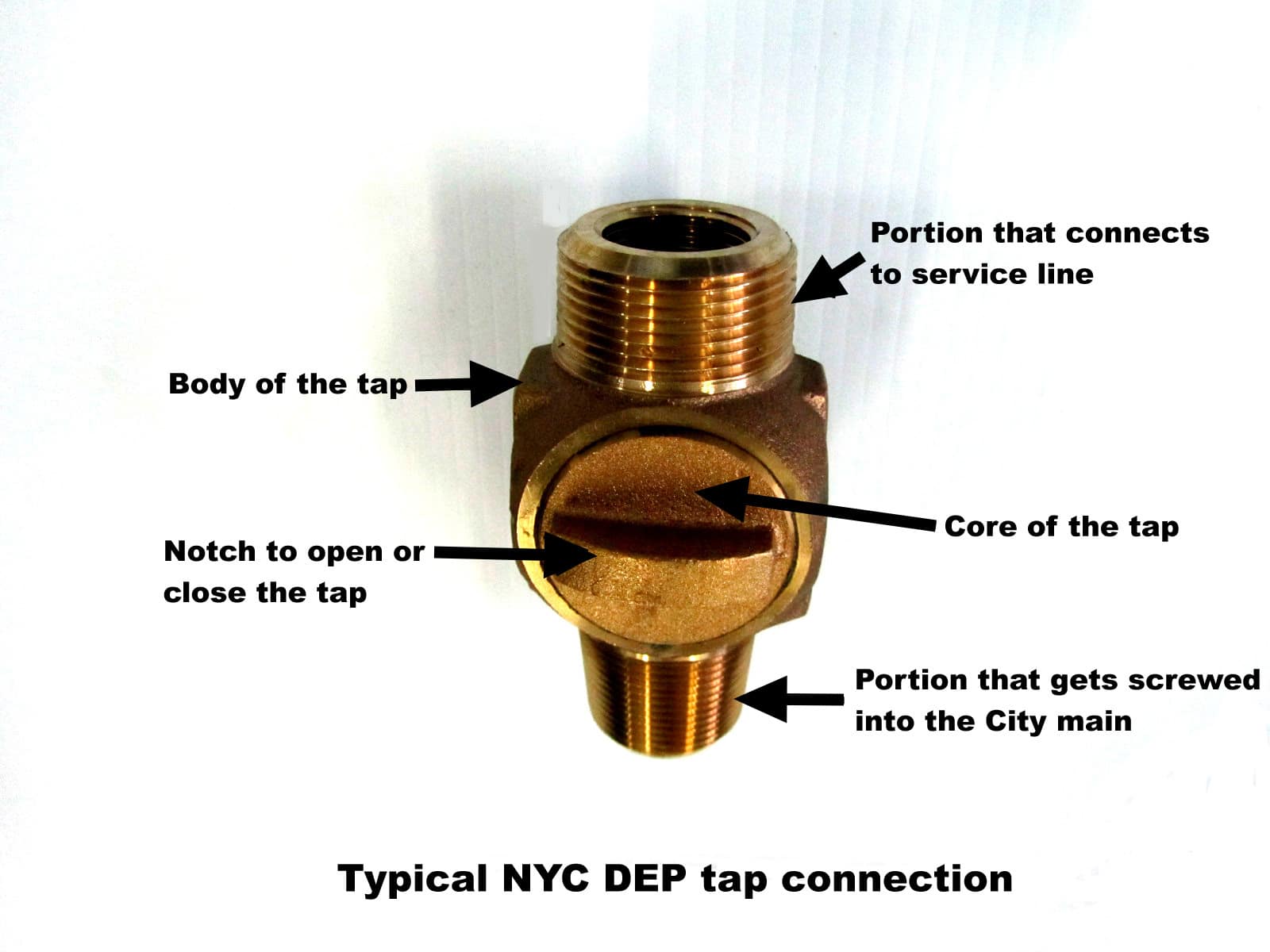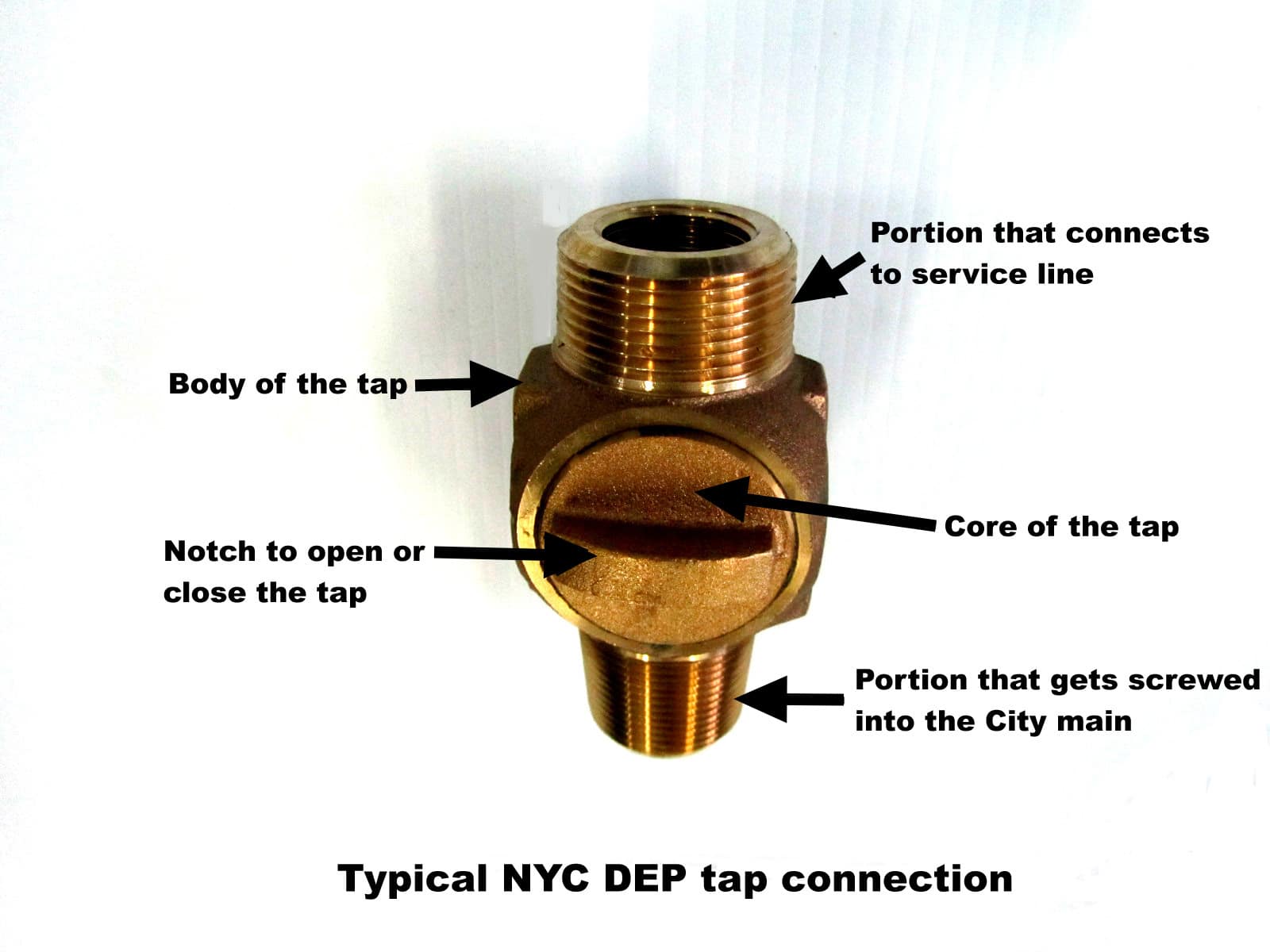 Only Licensed Master Plumbers can request a tap connection or an inspection from the DEP, and only after proper permits have been secured. In some cases, such as in an emergency, the DEP will allow for a tap to be installed or grant an inspection – but proper documentation of the situation must be provided by the licensed master plumber.
About Balkan Sewer And Water Main
The Balkan Team provides expert sewer and water main repairs and replacements. We are experts in all types of NYC underground plumbing. Balkan Sewer And Water Main Service was founded in 1952. Since its inception, the foundation of the company has been based upon integrity and honesty in all of our dealings. That solid foundation has enabled us to thrive in every economic climate. The year 2022 actually marked our 70th consecutive year in business. As we have grown, we have become increasingly dependent upon a "Team First" approach.

What helps ensure a continuation of our high standards, overall integrity, and high company morale, is that same team approach. Complete client satisfaction has always been the number one goal at Balkan Sewer And Water Main. That is why we are NYC's largest and most trusted sewer and water main service in New York City. Simply put, if it's plumbing, and it's underground, we do it. For over 70 years, and for over 90,000 New Yorkers to date, Balkan is "The Team You Trust".