This article and the accompanying video are courtesy of Dave Balkan, the CEO of Balkan Sewer And Water Main Service. The intent is to give you a little tutorial on how to do a lead water main repair to temporarily repair a lead water main service line. This is something that Team Balkan does routinely for our customers, and again the emphasis is on temporary. The reason we say temporary is because once a lead water line leak starts, it will inevitable leak again in the same or another spot. Therefore you should really replace the lead line, in New York City that's actually the code.
You may want to read this NYC DEP article in order to learn more about lead water service lines. There are times that a lead line is leaking, and folks are getting flooded, or they're panicky, and they'll need a temporary fix. In those cases, this article and the two associated videos should be of great help.
Two Ways To Do A Lead Water Main Repair
There are two ways that a lead water main leak can be temporarily remedied. So what will be explained in the video is using a piece of lead. Then smashing it closed on one end, and putting a valve on the other end, pressurizing it. That way it's simulating an active lead water line. Then a hole was put in it by hammering in a nail. This simulates what a typical lead water main leak looks like on a water service line.

Lead is a thick walled pipe by the way, and it's malleable. That's why you can temporarily do a lead water main repair. You can physically move the lead itself to a degree in order to stop most leaks.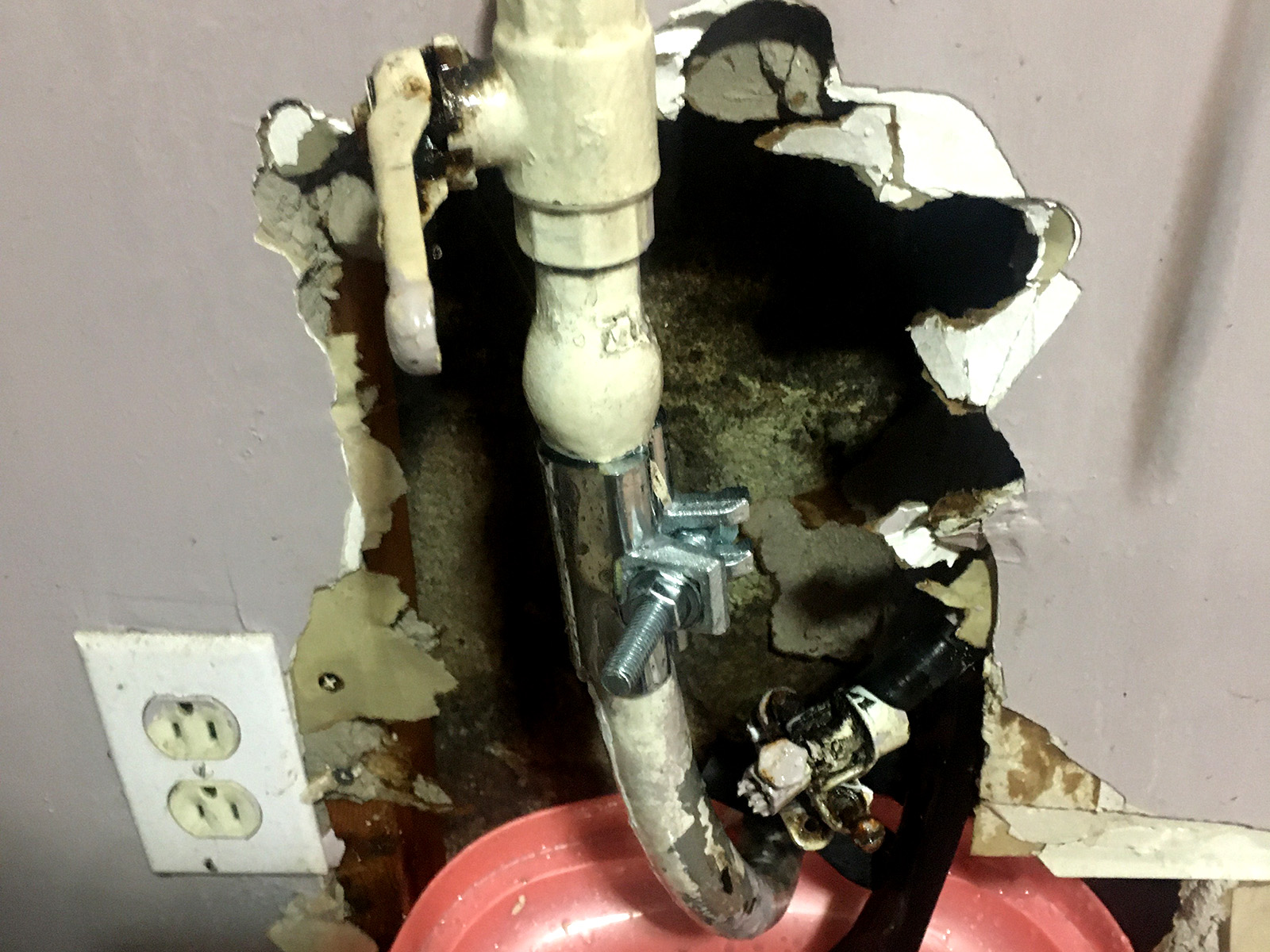 Using A Repair Clamp To Do A Lead Water Main Repair
Now that we have a leak, we'll repair the leak using the first method, which is the easy way. We'll use a stainless steel all-around repair clamp. A repair clamp for a small lead water line only costs around $10.00, and is told in any plumbing supply or hardware store. So you simply place it around the lead line where the leak is. You make sure you put it around the so that the rubber gasket inside is covering the leak. You'll want to tighten the bolt down until the clamp is tight enough to stop the leak. You don't really have to go crazy tightening either. Let's see if that worked.
This is probably something that a handy homeowner could do. But again, if one of Balkan's guys is on a call for a broken lead line, we'll just do this for you as a favor. We're not going to even charge for it. Of course if you're not comfortable doing this task, and are outside of our service area, you just might call your local plumber.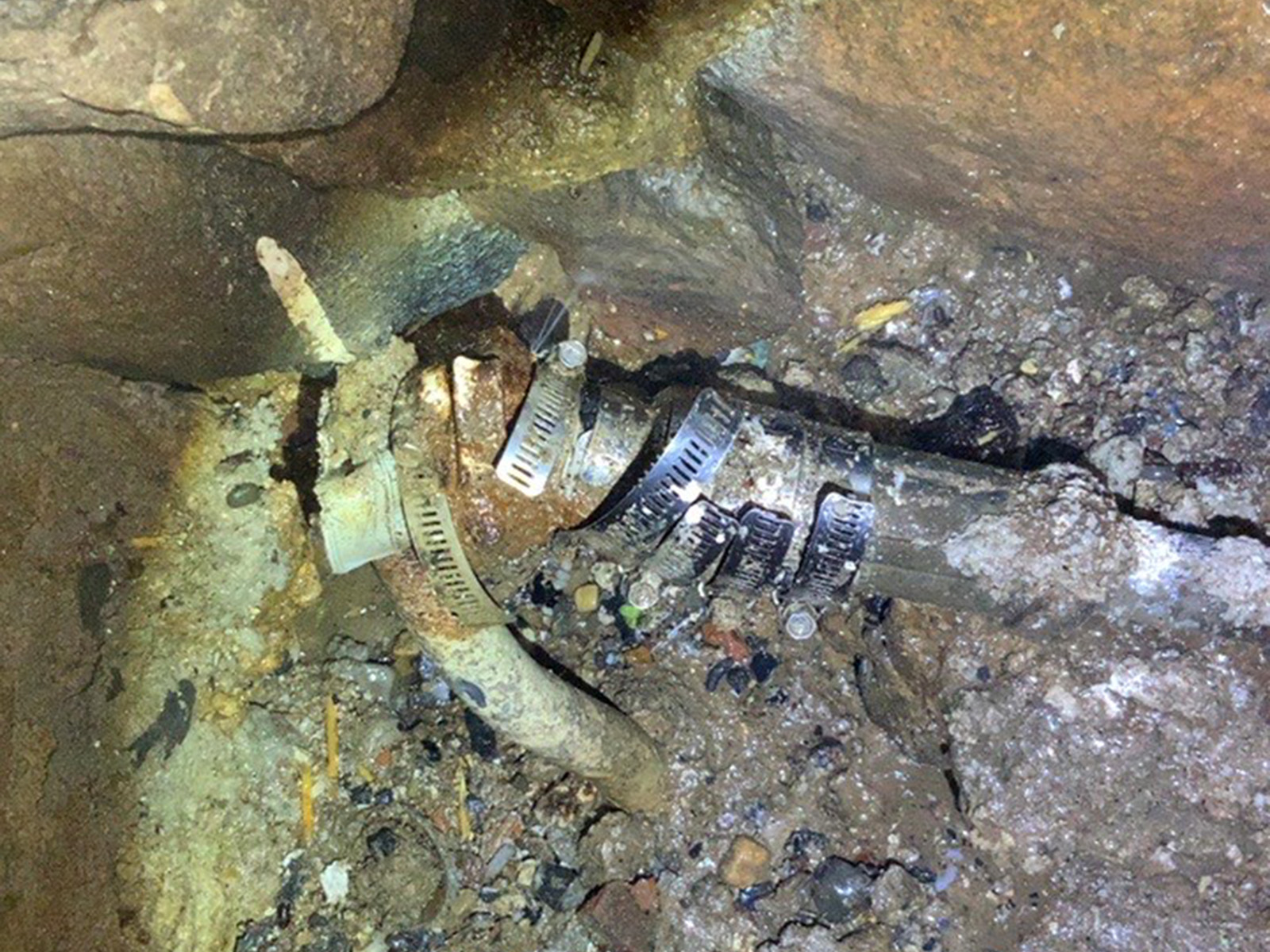 So there you go with the first and easiest way to do a lead water main repair. Now again, that's a temporary repair. Once lead starts to leak, once you have a pinhole leak, that means that line is shot. The leak will grow, it will start leaking in other areas, you have to change the line. And you know
and if this is your home, you have a family, you don't want to be drinking out of a lead water
line. Let's move on to the second method of repairing a lead water line.
Tapping Closed A Lead Water Main Leak
Let's explain how in the old days, and still now, how a lead water line leak can be stopped without using a clamp. The second way that a lead water service line can usually be repaired is because lead is a malleable material. That means that with a screwdriver and a hammer you can move the lead around. The lead surrounding the pinhole leak can usually be gently moved to close up the leak.
Now unfortunately, the existing condition of the surrounding lead can dictate the degree of difficulty. In the case of the video in this article, the hole was made with a nail. So the inside is a pinhole leak, the outside is the is the round part of the nail. So the example in this video is a bit more challenging than in a normal environment.
Team Balkan At Your Service
As a point of interest Team Balkan routinely will help folks out by tapping pinhole leaks on lead water lines closed as a temporary repair. In the video the leak is not completely stopped, but you'll get
the idea. If it was worked on more, the leak in this video could temporarily be stopped completely. If it was a heavy leak it could absolutely slow it down substantially until a permanent repair could be done.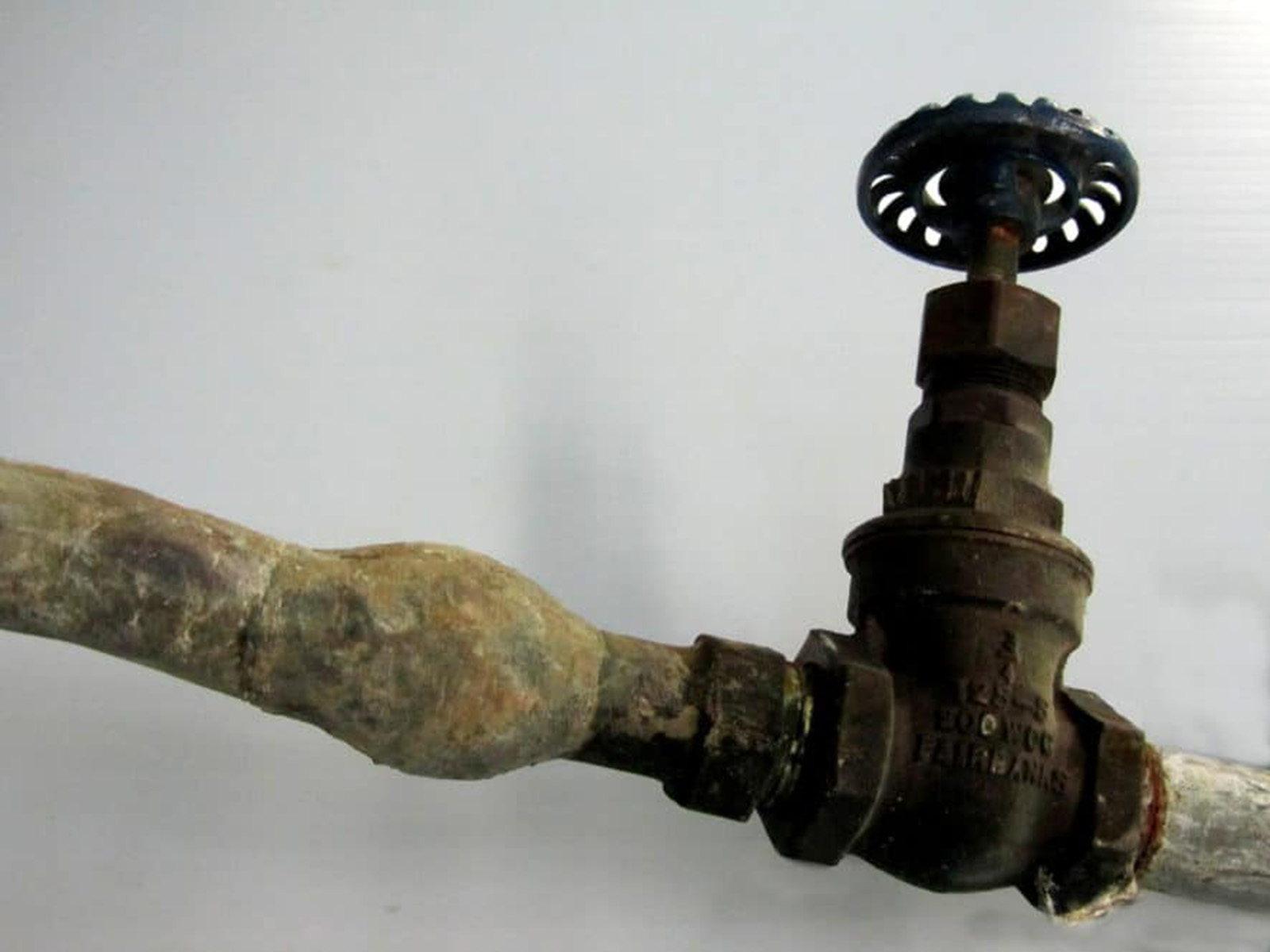 Remember: Once A Lead Water Leaks Any Repair Will Be Temporary
The whole point is, if you have a leak on a lead line, you can substantially eliminate or reduce the
water that's leaking out. This would make an emergency into a non-emergency. But again, the same
way you can repair it because it's malleable, it's the same way that it's going to open up again, and potentially much worse than what it was originally. We at Team Balkan hope that helps you guys out
there. You folks that still have lead water lines, and run into what you think is a calamity,
maybe not so much with this useful information.
Expert Water Main Repair and Water Line Replacement
The Balkan Team provides expert home water main repair and water line replacement. We have expertise in all types of NYC underground plumbing. Balkan Sewer And Water Main Service was founded in 1952. Since its inception, the foundation of the company has been based upon integrity and honesty in all of our dealings. That solid foundation has enabled us to thrive in every economic climate. That is why guiding you through the decision of doing a sewer repair vs sewer replacement exemplifies our company culture of educating consumers. We feel the more you know, the better we'll look. The year 2022 actually marked our 70th consecutive year in business under the same family guidance.

As we have grown, we have become increasingly dependent upon a "Team First" approach. What helps ensure a continuation of our high standards, overall integrity, and high company morale, is that same team approach. Complete client satisfaction has always been the number one goal at Balkan Sewer And Water Main. That is why we are NYC's largest and most trusted sewer and water main service in New York City. Simply put, if it's plumbing, and it's underground, we do it. For over 70 years, and for over 90,000 New Yorkers to date, Balkan is "The Team You Trust".