For a Sewer Line Break, Water Leak, or subsurface plumbing problem of any sort including issues like low water pressure or a backwater valve – Balkan is the most trusted name in the New York City sewer and water main industry. When you recommend Balkan Sewer and Water Main Service to a neighbor you are pointing them in the right direction to professionally correct the issue when frequently they wouldn't know who to call or how to proceed.
Additionally when we are hired to fix  a water leak or a sewer repair you will receive a $50.00 Gift certificate to either The Outback or Olive Garden restaurants as a "Thank You". This program has resulted in thousands of dollars in Gift Certificates being given away, and an assurance of a quality and honest contractor working on the block. It is a win-win situation for everyone!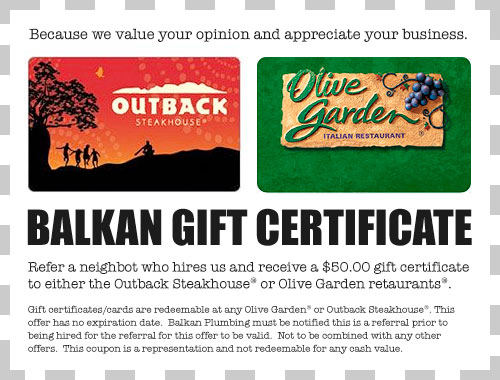 Due to the great positive response from the program there is no expiration date. As a matter of fact the Gift Certificate Program is now touted on Balkans entire fleet of vehicles. Being recognized for superior service is wonderful. It is our pleasure to reciprocate with a gift certificate program for loyal customers. There is no catch to this $50 gift; just let Balkan know before they are hired and choose a restaurant!