When a fire protection system is added to a building it almost always requires a new fire main as well. The term 'fire main' refers to the water service line that connects from the city main in the street to the inside of the building. 
[fix]
When a fire service main is needed in Manhattan it presents challenges that are typically not encountered in the outer Boroughs of NYC. One of the challenges Balkan faced on a recent installation was having to mobilize at night for a portion of the work.
Night work required for new fire main line connection
Manhattan is New York City's most densely occupied Borough. Manhattan has also been the scene of many building booms and changes. Due to this fact, the city water mains in Manhattan have numerous old connections still present on the mains. Old tap and wet connections are not removed when they are abandoned – they are just made unusable for future connections.
Because so many old and abandoned connections were present on the city main fronting the job-site building, there was no room to install the new connection for a fire service main. There was no option left but for a section of the city water main to be physically removed and replaced with new pipe. This would then provide enough room for the new wet connection to be installed on the city main.
Unlike the outer Boroughs, shutting a city main down in Manhattan frequently can only be done at night. This is primarily due to the large number of residents and businesses that would be adversely affected by a loss of water service during the day. The end result was that Balkan field personnel had to mobilize and be on site throughout the night on two different occasions.
Get advice from an expert today
What size water service line is required for a fire main?
There are various calculations and formulas that a Professional Engineer must use to devise the correct size for a fire main. A fire main is the common term used for a water service line into a building that provides fire protection. Even a domestic water service line size must be carefully calculated using a DEP sizing table.
The size fire main required for this particular project was 3″, and this line would also provide for the domestic water usage. This is commonly referred to as a combined water service line. While all water service lines providing fire protection require approved plans, the following chart can be used as a reliable guideline.[fix]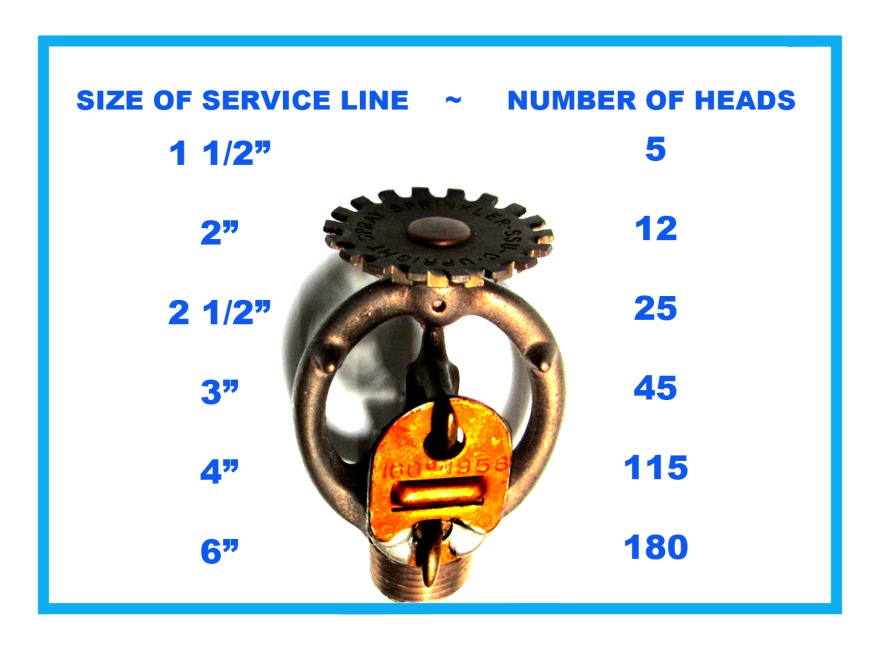 All fire main installations require a DEP sign off
Part of the process of  legally installing fire protection for a building is the inspection process. In this case a DEP Field Inspector had to inspect the new 3″ ductile iron fire sprinkler main, including the three valves required for the installation. The three water valves required for a fire main are the wet connection on the city main, the sidewalk curb valve, and the OS&Y valve located inside the building.
All fire mains and water service lines must be a minimum of 42″ below grade. In NYC the being below 42″ deep prevents the water line form freezing. Being properly inspected also ensures that the fire main is installed at the proper depth. If lines must be installed at a shallower depth, insulation and steel protective plating must be part of the installation process.[threecol_one]
[/threecol_one] [threecol_one]
[/threecol_one] [threecol_one_last]
[/threecol_one_last][fix]

A DEP sign off is known as a tap letter. This is a vital part of getting the entire job signed. it allows for the Department of Buildings to verify that the correct size fire main was installed and was done to code.
This particular fire main installation in Manhattan received multiple DEP field inspections in order to pass all phases of the installation. This resulted in the sign-off being issued promptly, without causing a delay for other aspects of the job.
How a job site is maintained and left is what people remember most
Regardless of the overall quality of a fire main installation, how the job is left is what people remember the most. In Manhattan this is the case even more-so. What is perhaps the 'Balkan Sewer And Water Main signature' is the overall good housekeeping of its job sites.
Each day a site is left all excavations are carefully covered by steel roadway plates that are pinned, ramped, and have anti-skid properties. The site is left broom clean, as even a small pebble can result in a broken windshield or a trip hazard.
But perhaps most impressive are the coordination of the Balkan in-house paving and cement crews. Almost without fail all disturbed surfaces are restored the very next workday. In some cases same day paving is performed. This limits inconvenience to the client and the surrounding community. In the case of this particular Manhattan fire main installation same-day paving was performed the very day the installation was completed.
For reasons like job site safety and their all-around package of experience, service, and quality New Yorkers count on Balkan Sewer And Water Main Service. And after over 60 years in business the Balkan long-term guarantee carries a lot of weight.