When a Brooklyn sewer needs repair or replacement service Joseph L. Balkan is the most trusted sewer contractor in the Borough. Our team of professionals has been providing Brooklyn property owners with complete residential and commercial drain line services for over 60 years. As a matter of fact the company was founded on Blake Avenue in East New York in 1952.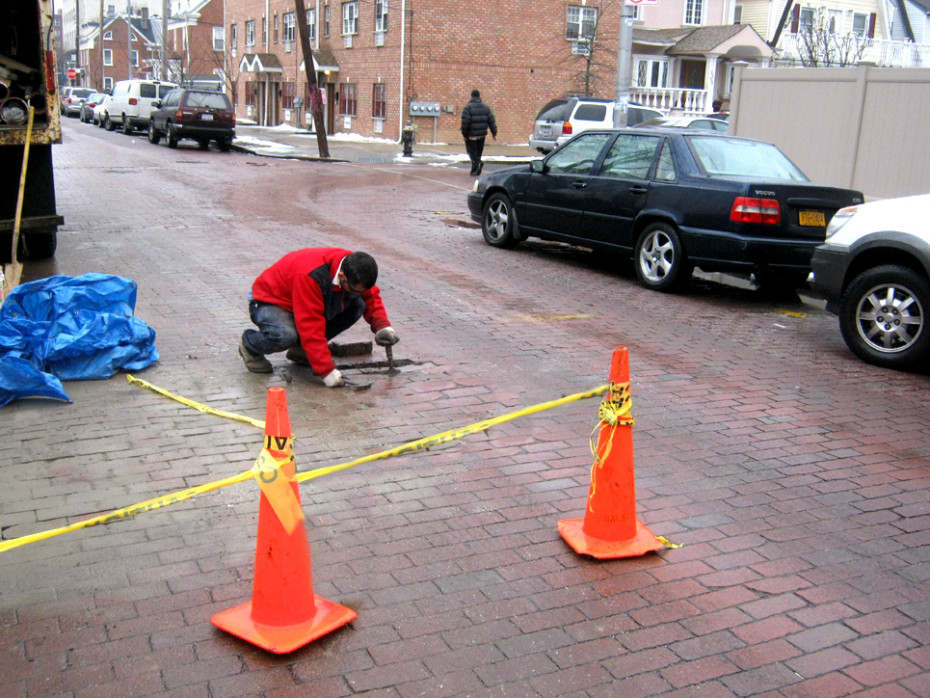 Our trusted family name is recognized throughout the New York City metropolitan area. Our superior service includes the exclusive use of domestic extra heavy cast iron pipe for all Brooklyn sewer repair and replacement work. In addition we will send an experienced Field Representative to your property for a free and no-obligation site visit and assessment of the problem.Free 0n-site visits and expert advice are available 7 days a week, day or night. Written estimates and our expert advice is available for any Brooklyn sewer issue at no obligation to hire.
Residential, Commercial, Industrial Repair Services
House sewer problems are varied and complex. Always trust a licensed master plumber who specializes in this type of work. Careful consideration should be given before any excavation work commences.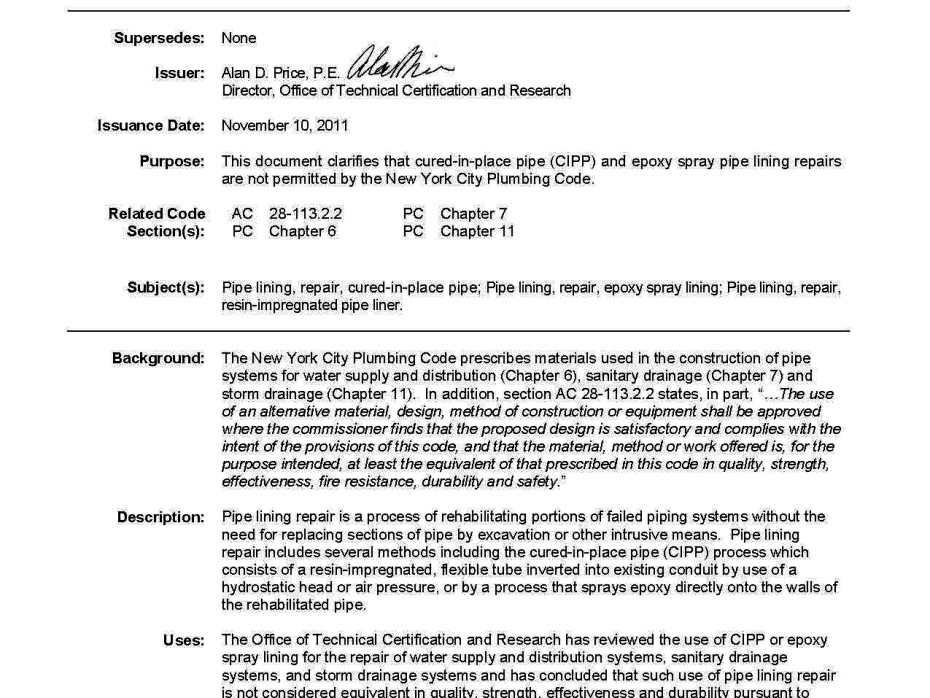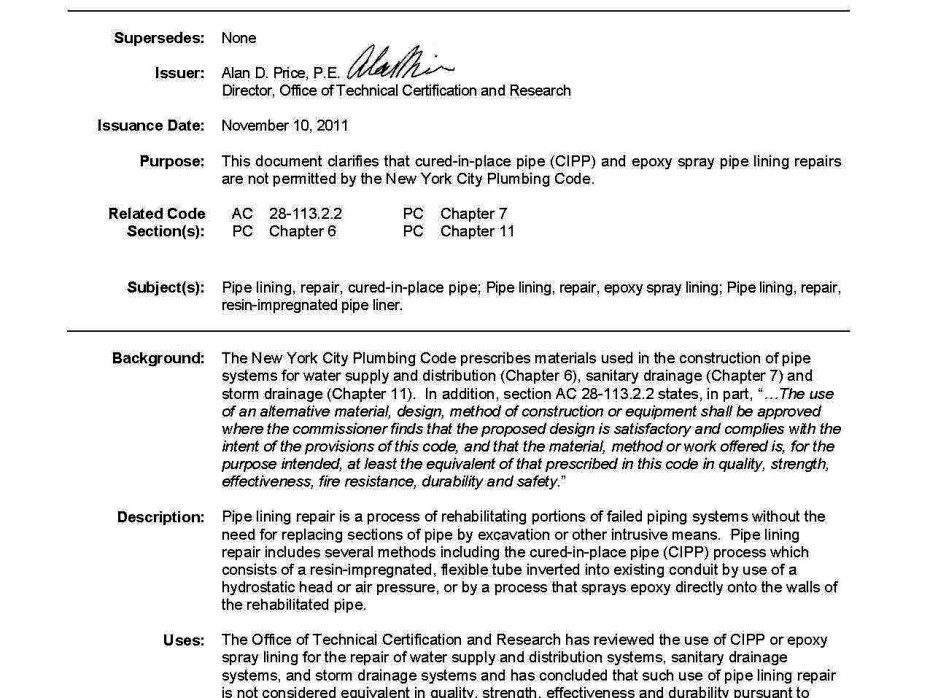 Sewer pipe is back-pitched which prevents the proper flow of waste water.
Heavy root infiltration prevents proper cleaning by traditional means.
Defective pipe joints allowing waste water to leak out and undermine the pipe or enter the premises.
Complete blockage due to a collapsed pipe.
It is important to note that sewer pipe lining is illegal in Brooklyn and all other NYC Boroughs. Once installed inside a house sewer a violation will exist
Why Brooklyn Sewer Work Is Unique
The homes and buildings of Brooklyn are comprised of many historical and land-marked properties. In addition situations routinely present themselves where the utmost  care must be taken. Some of the unique Brooklyn sewer work conditions may include:
Buried main distribution lines for utilities that cannot be disturbed or damaged.
Paved over railroad tracks or old trolley lines that must be left in place, or require special permission to remove.
Restricted work hours due to sensitive or heavily congested work areas, such as in downtown Brooklyn.
Trees located in sidewalk areas whose roots cannot be destroyed or cut.
Protecting landmarked or historical items such as slate, wrought iron, or cobblestone streets.
Balkan can be counted on to have a solution and proper course of action for any condition. All Brooklyn sewer or water main job sites have utility lines clearly marked out. Balkan also works closely with all city agencies to be in compliance as far as work hours hours, work procedures, and protecting public property goes.
As an example a fully licensed Arborist will on site every time Balkan must excavate under the drip line of a tree. A Brooklyn sewer job will never be rushed along by needlessly cutting or destroying the roots of a publicly owned tree.
Restoration After Brooklyn Sewer Work Is Complete
Restoring disturbed areas after Brooklyn sewer work is completed frequently requires great care, skill, and professionalism. How disturbed areas are restored is what a community and client are left to remember about a Brooklyn sewer line replacement. That is why Balkan employs skilled tradesmen able to move and restore various types of work areas. These work areas may include:
Slate sidewalks.
Cobblestone roadways.
Wrought iron fences.
Dyed sidewalk cement.
Land-marked or historical areas.
When you hire us to perform your Brooklyn sewer repair or a full replacement you will be assured that any and all disturbed surfaces will be restored to your satisfaction and to applicable local standards. Balkan employs skilled welders, concrete masons, and asphalt pavers. We will respect your property and treat it as if it was our own.  Your neighborhood is our neighborhood – the owners of the company and our staff are all NYC residents.
See What Balkan Specialty Work Looks Like
Sometimes a few pictures tell the story better than a lot of words that may seem like hype. Recently Balkan performed  a sewer replacement in Brooklyn that required excavating in a slate sidewalk. The slate had to be carefully removed and placed in a safe place. At the conclusion of the work all excavations had to be back-filled and compacted properly to prevent against any settlement. After proper compaction a concrete base was installed so the slate was properly supported.
Our skilled cement crew was then called in to carefully place the slate back in place. It is just  like putting a puzzle back together again. Lastly the slate was grouted around all the edges to prevent and water entering the joints. This prevents water freezing and damaging the slate in the winter time. If water entered the joints and froze in the Winter the slates would pop out or crack. When you hire Balkan all details are attended to – many of these details a typical homeowner may not even be aware of.
Our Customer Service Experience Is Unique
Simply put, we are here for you. It is simple to say, but we back it with a company wide commitment to service. Throughout our company all employees know that the needs of the customer come first.
Whether you are a NYC property owner in distress, or if you have a planned subsurface installation, you will be treated with the same courtesy and care. In addition we stand by a uniform pricing policy. Even if you have a dire sewer or water main emergency you will receive the same price as if it was planned work.
See What Our Customers Have To Say
hese are actual real reviews from real people. All of these reviews and others are available online. Frequently our customers say it better than we can.
"Replaced a broken building sewer. In the most frustrating of times, Balkan was highly professional, did excellent work, and helped me through the process. I would highly recommend them."
"The Balkan family has a long tradition of professionalism. The are very efficient and reliable. Where others fail they stand behind their work. A pleasure to do do business with. All the Best to everyone at Balkan Sewer And Water Main."
"The best price in town compared with 4 other companies. The "rooters" were nearly $2000 more. The best contract terms compared with 3 contracts I reviewed. The fastest speed. Start next day and finished within 2 half days of work. Cooperated well with Con Edison and New York City DEP inspectors – both arrived just on time. The workers are friendly and they followed the City inspectors orders quickly."
When you need Brooklyn sewer work or water main service call the company that your neighbors have trusted for over 60 years – call Joseph L. Balkan Inc.